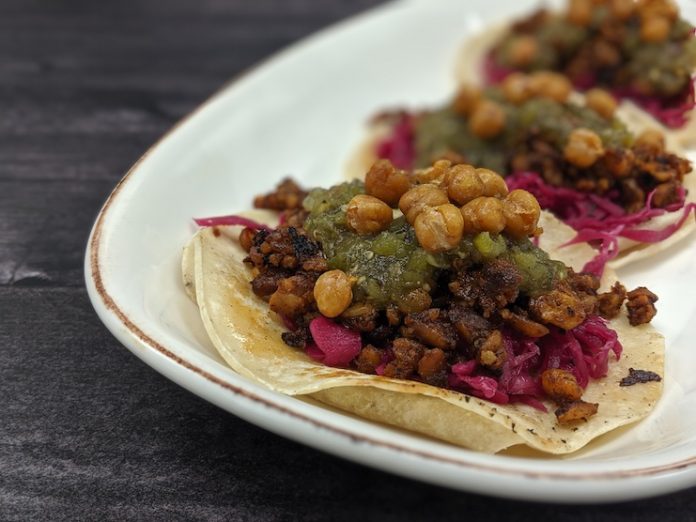 Each year, Kimpton Hotels & Restaurants releases a forecast of food and beverage trends based on a survey of its chefs, sommeliers, general managers, and bartenders. A common theme ran through Kimpton's latest forecast for this year: guests are significantly changing how they eat, giving rise to a dietary shift towards plant-based food.
"Guests are increasingly becoming more conscientious and hyperaware of the origin, ingredients, and sustainability of their food," says Scott Gingerich, Kimpton's senior vice president of restaurants and bars. "This has naturally created diverse health, wellness, and sustainability movements that we don't see stopping anytime soon. With this comes a new wave of dietary preferences, the most common being dairy, gluten, and meat alternatives. Some of this stems from allergies but also from personal health and wellness purposes."
Gingerich says that Kimpton's 2020 Culinary + Cocktail trend report shows that what were once considered "alternative" diets are now becoming mainstream. "Everything from veganism to keto to gluten-free—and healthy ingredients like collagen peptides, hemp, nutritional yeast, and seaweed—is the new norm." In fact, nearly a third of Kimpton chefs surveyed said that it's no longer enough for restaurants to list just one or two "alternative" options on a menu. In response, hotel chefs are giving carb-based dishes a gluten-free makeover and adding dairy-free milks and cheeses as staple ingredients in their kitchens.
Gingerich says that training is essential for hotels that are working to keep up with meeting the needs of guests—whether raising awareness of food allergies or educating staff on various dietary practices. "We take preferences, allergies, and restrictions extremely seriously. We do our best to find out prior to or at a minimum at the time of our guests' arrival, what allergies or preferences they have," he explains. Additionally, Gingerich adds, chefs should aim to create menu items that meet the standards of the restaurant and not just checkboxes for dietary requirements. "Our goal is to create plant-based dishes that non-vegetarians will enjoy or a gluten-free dish that a regular gluten eater will love and want to come back for."
Last summer, Kimpton hosted its first Chef's Collective in Napa, Calif., to discuss what's next for the brand, including plant-based menu items. "The group pressure tested different meatless products and participated in an interactive farmer's market challenge where they were asked to come up with various plant-based dishes that went beyond the standard burger," Gingerich explains. "Some of the most innovative results included a Scotch 'egg' and a full 'charcuterie' board that included a plant-based terrine, sausages, and cheeses."
The Hyatt Regency Dallas has also committed to creating more plant-based dishes for diners, rolling out 15 new vegan menu items late last year. Markus Puereschitz, the hotel's director of food and beverage, said that more guests are expecting to see their food preferences reflected on restaurant menus—and not only those with dietary restrictions. "We see more guests at Hyatt Regency Dallas identifying themselves with a lifestyle choice which includes veganism, vegetarianism, gluten-free, keto, paleo, and low-carb diets," Puereschitz says. "The vegan diet is certainly a hot trend right now, and a lot of people start to experiment with dishes they may not have eaten in the past. In general, we see guests being more conscious of what they eat and reach for more vitamin-dense options and ingredients. We've noticed quite a few non-vegan or vegetarian guests trying vegan menu options out of curiosity."
Puereschitz sees this growing demand as tied to increased consumer awareness. "High-profile launches of plant-based dishes in chain restaurants keep this trend on top of mind," he says. "There is a lot of marketing behind plant-based eating and the list of celebrities advocating the benefits of a meatless diet seems to grow daily."
"With a meat-centric diet being the societal standard, it is important to clarify and introduce people to the abundance of plant-based protein sources."
Markus Puereschitz, Director of Food and Beverage, Hyatt Regency Dallas 
Even as plant-based eating moves into the mainstream, chefs and diners alike still hold misconceptions about meatless and dairy-free diets. "Many people have an assumption that plant-based food is bland, unsatisfying, lackluster, and low in protein. With a meat-centric diet being the societal standard, it is important to clarify and introduce people to the abundance of plant-based protein sources," Puereschitz says. When hotels approach plant-based food with a negative attitude, they may end up serving guests "lackluster dishes that were put together on the fly" or "serving vegans a plate of steamed vegetables," he adds.
If F&B managers have someone practicing plant-based eating on their team, they should consider putting them in charge of menu creation, Puereschitz says. For instance, Hyatt Regency Dallas' Culinary Corporate Management Trainee, Tiffany Pineda, created the hotel's new vegan menu. "There is nobody better suited to come up with great dishes than a person that lives that lifestyle," Puereschitz explains. Foodservice managers should also consider trying plant-based restaurants and dishes to stay abreast of trends, Puereschitz says.
To keep up with guests' needs, Puereschitz says that Hyatt Regency keeps a list of dietary preferences in mind when updating its menu seasonally. "During the planning phase of our restaurant menus, we ensure that about 60 percent of all our dishes are gluten-free, 20 percent are vegetarian, and 20 percent are vegan." The hotel identifies these dishes on its lunch and dinner menu with a marker and has a vegan section on its breakfast menu. Additionally, several dishes can accommodate a different diet by switching one ingredient or sauce. "We make sure our service team is knowledgeable and points this out during their menu overview," Puereschitz says.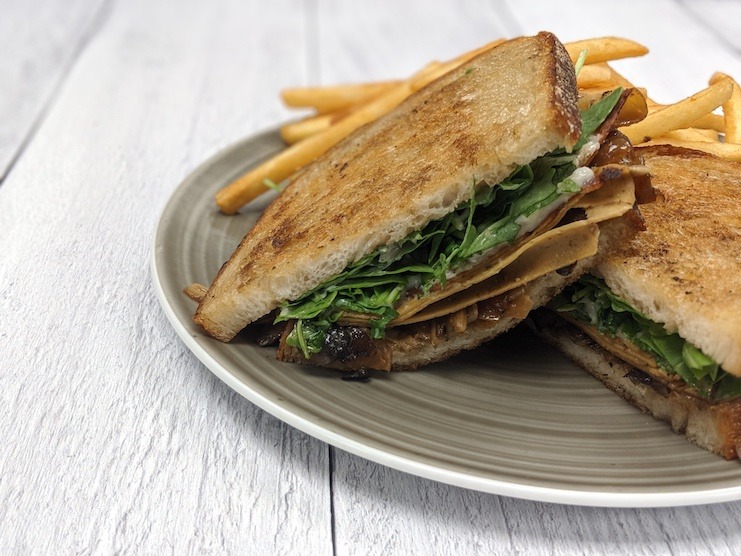 To accommodate various dietary preferences, the hotel keeps plant-based ingredients in stock. "Our staples in the kitchen have changed, and now include mung bean egg substitute, protein replacements, and additions such as tempeh, beans, lentils, seitan, millet, and dairy-free yogurt, among many more," he explains. In banquet operations, Puereschitz says the hotel's F&B team anticipates dietary preferences and prepares to create plant-based options, even if not informed ahead of time by the planner.
Consistently sourcing certain plant-based ingredients—like seitan, mung bean egg substitute, and tempeh, for instance—at a large scale can be a challenge, Puereschitz notes. However, even common produce can be transformed into delicious plant-based meals. "Many fruits and vegetables like mushrooms, squashes, eggplant, and cauliflower are also great for their 'meatiness' and their ability to soak in a lot of flavor from seasonings, marinades, and cooking techniques," he says.
Gingerich says that plant-based food is more varied and exciting than ever, citing as an example that 30 percent of chefs in Kimpton's 2020 Culinary + Cocktail trends report predicted that menus would increasingly include plant-based takes on traditional meat dishes, like vegetable tartare and plant-based jerky. "The majority of our chefs feature a vegan or raw dish on their menu, whether that's a savory dish like spaghetti and beet balls or a sweet treat like raw cashew date cheesecake," Gingerich says. Kimpton's head bartenders have also adapted to these preferences, experimenting with dairy-free options in cocktails like horchata and orgeat.
"Some restaurants feel pressured to keep adapting their menus to specifically fit the trends," Gingerich adds. "It's important to make the distinction between trend-chasing and meeting the needs of your diners while remaining true to a given restaurant's concept."
---
Subscribe to Lodging Daily News for more.