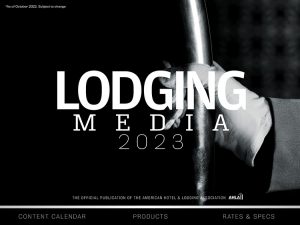 Download LODGING's Full 2023 Media Kit
Download LODGING's Advertising Rates & Specs
Advertising Contacts
To inquire about advertising in LODGING, please contact:
Holly Kaye, Publisher (East)
440-465-0468 | hkaye@lodgingmagazine.com
Don Serfass (West)
215-321-9662, Ext. 164 | dserfass@lodgingmagazine.com
Advertising materials can be sent to production@lodgingmagazine.com.
---
Magazine and Digital Advertising Opportunities
In addition to display and classified advertising, LODGING offers customized added-value and marketing opportunities, including:
SURVEYS AND STUDIES: Using a nationally recognized research group, LODGING offers customized studies based on feedback received from our readers.
COLLATERAL DROP-IN AND POLYBAGGED MATERIAL: LODGING can feature your advertisement or collateral material as an insert or outsert.
CUSTOM DESIGN AND PUBLISHING: LODGING can produce targeted marketing material such as brochures and booklets for your company.
FOCUS GROUPS: Based on your needs, LODGING will facilitate in the organization of focus groups to obtain consumer perspective.
DIGITAL OPPORTUNITIES: From advertising on LODGING's website to digital e-blasts and sponsored content opportunities, LODGING offers a place for your business online.
JOINT ADVERTISING/SPONSORSHIPS WITH AHLA: Sponsorship opportunities include AHLA events—from golf tournaments to conferences.
---
Advertising Specifications
Download LODGING's Advertising Rates & Specs
PRINTING PROCESS: Computer-to-plate; four-color process (CMYK); heat-set; web offset; SWOP specifications. Reproduction quality is contingent upon ad material furnished.
DIGITAL SPECIFICATIONS: Contact your sales representative.
COLOR PROOFS TO ACCOMPANY FILES: A digital, press or offset proof that meets SWOP specifications must accompany the file. Tear sheets from previous insertions cannot be used for color match. Prepress proofs are not available. The publisher will assess a production charge for any advertisement that is submitted without a color proof that meets SWOP specifications.
DELIVERY INSTRUCTIONS: Please email files to production@lodgingmagazine.com.
PRODUCTION CHARGES: Necessary conversions made by the publisher will be billed as a cost to the advertiser. Production charges are non-commissionable.
PAYMENT TERMS: Invoices are due net 30 days with approved credit. Interest of 1.5% per month will be added to all past due balances. First-time advertisers and/or their advertising agency must submit a credit application or provide payment in full with insertion order. The advertiser and/or its advertising agency agree to pay all costs of collection, including reasonable attorney's fees incurred by publisher in connection with the collection of any past due account of the advertiser and/or its advertising agency. All insertion orders are accepted subject to provisions of our current rate card. Rates are subject to change upon notice from publisher. Conditions other than rates are subject to change without notice. Orders that contain rates and/or conditions, which vary from the rates and conditions listed herein, shall not be binding on publisher unless expressly approved in writing by the publisher and may be inserted and charged for at the actual rate schedule.
Publisher shall have the right to hold advertiser and/or its advertising agency jointly and severally liable for such monies as are due and payable to publisher for advertising, which advertiser and/or its advertising agency ordered and which advertising was published. No amendment to the credit terms shall be effective unless the same is in writing and signed by the publisher. All advertisements are published upon the representation that the advertising agency and/or advertiser are authorized to publish the entire contents and subject matter thereof. In consideration of the publisher's acceptance of such advertisements, the advertising agency and/or advertiser will indemnify and hold the publisher harmless from and against any loss or expense resulting from claims or suits based on the contents or subject matter of such advertisements, including, without limitations, claims or suits for libel, violations of rights of privacy, plagiarism, and copyright infringement.
The parties agree that any dispute, controversy, or claim arising under or in connection with the Advertising Agreement, or its performance by either party, shall be decided exclusively by and in the state or federal court sitting in the Commonwealth of Pennsylvania. For such purpose, each party hereby submits to the personal jurisdiction of the state and federal courts sitting in the Commonwealth of Pennsylvania, and agrees that service of process may be completed and shall be effective and binding upon the party served if mailed by certified mail, return receipt requested, postage prepaid, and properly addressed to the party as set by the advertiser and/or its advertising agency accepting the order for publication, regardless of the contractual vehicle used, the advertiser is agreeing to abide by all the terms and conditions as set forth by the current rate card.
CANCELLATIONS: Cancellations must be submitted in writing and shall not be considered accepted until confirmed by the publisher. Space reservations are binding and non-cancelable after closing date.
INSERTS: All inserts, including business reply cards, must be pre-approved by the Production Manager prior to insertion. Availability is limited. For mechanical specifications, quantity, pricing, and shipping information, contact your sales representative.
BUSINESS REPLY AND POSTAL CARDS: Printed cards must be furnished by advertiser, and accompanied by a full-page advertisement. Minimum 75# paper stock. Availability is limited. For mechanical specifications, quantity, pricing, and shipping information, contact your sales representative.
SHORT RATES AND REBATES: Advertisers will be short-rated if they do not use the contracted space.
PUBLISHER'S RIGHT OF REFUSAL: LODGING or AHLA reserves the right to refuse any advertising deemed unsuitable. Failure to publish advertising matter invalidates the insertion order only for such matter, but does not constitute breach of contract.
MATERIALS STORAGE: Storage of materials will be provided for a period of three months after use. If disposal instructions are not received by the end of this period, materials will be destroyed.