LODGING On Demand interviews give hospitality leaders an opportunity to talk through pressing issues in the industry. Subscribe to LODGING On Demand on YouTube or wherever you listen to podcasts: Apple Podcasts, Google Podcasts, and Spotify.
For sponsorship opportunities, please contact LODGING's Sales Reps: Holly Kaye and Don Serfass.
---
March 13. 2023 | Kass Dawson, vp, brand strategy and marketing, SoftBank Robotics America, and Michael Case, general manager, Marriott Denver Tech Center, join LODGING to discuss the increased role of robotic and automation technology in hospitality. The pair discuss everything from collaborative robotics to the implementation and return on investment for hoteliers with regards to robotic solutions. This episode was brought to you by SoftBank Robotics America | LISTEN
---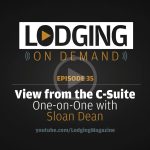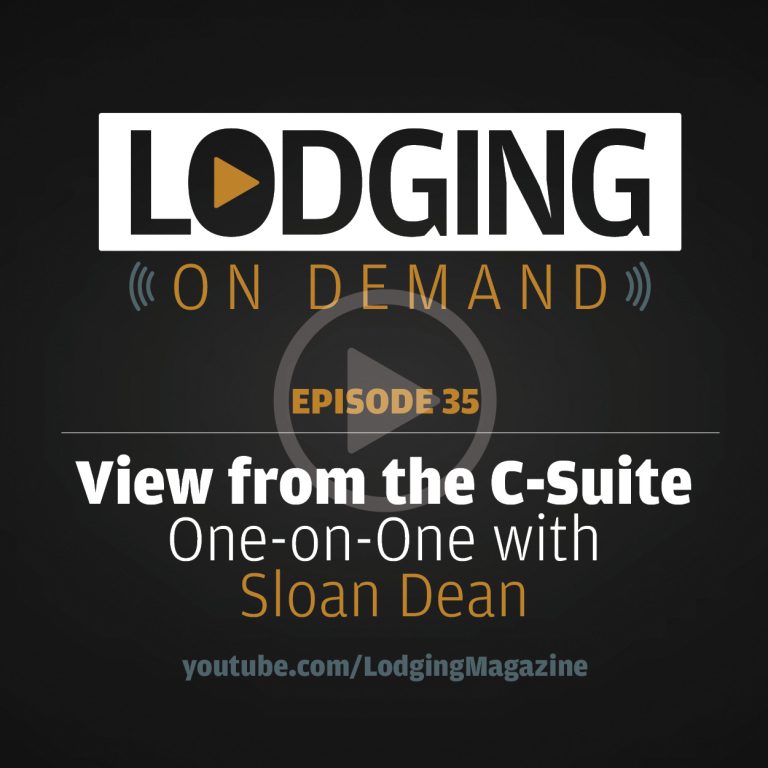 February 17, 2023 | Sloan Dean of Remington Hotels joins Dennis Nessler, Editor-in-Chief, LODGING, to discuss some of the leading industry issues and trends. From the popularity of the 'bleisure' movement to rising construction costs, Dean shares his insights and perspectives while providing an update on Remington. LISTEN
---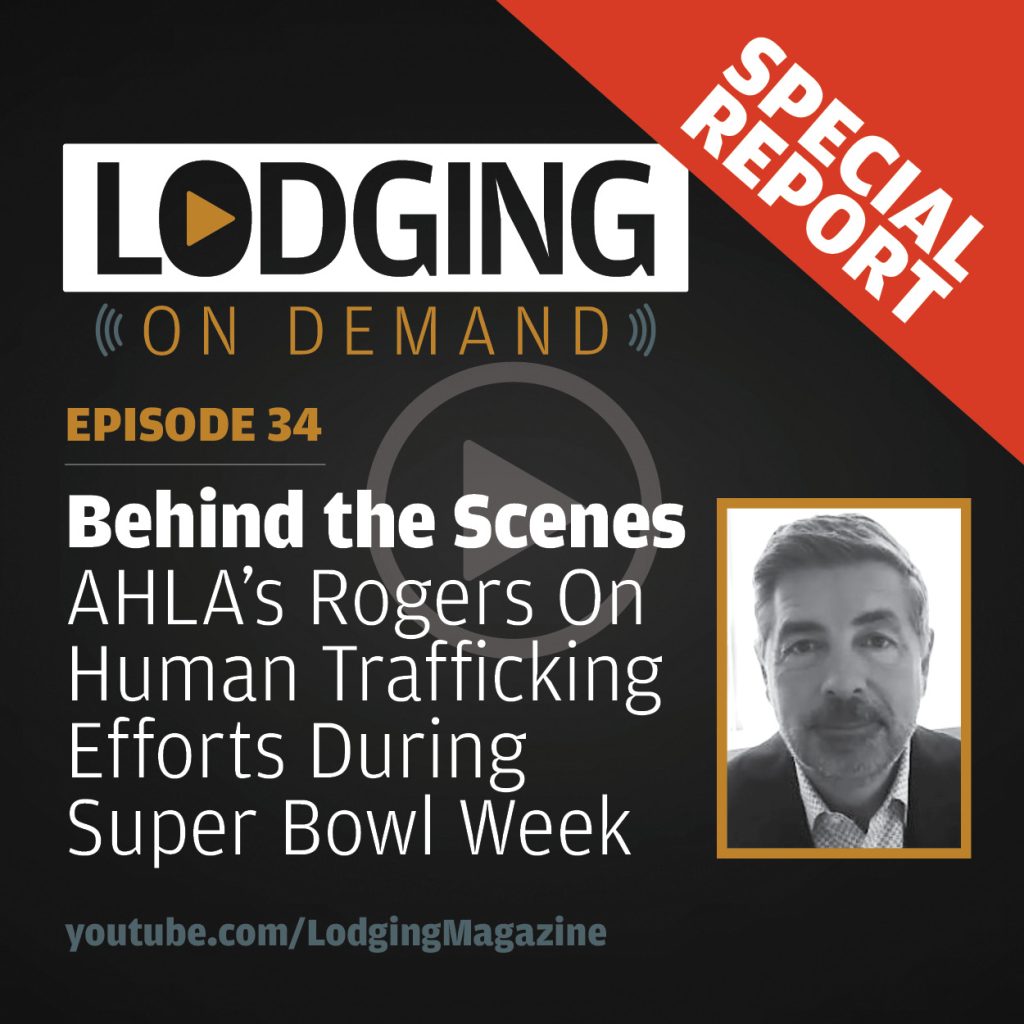 February 8, 2023 | In this special report, LODGING Editor-in-Chief Dennis Nessler catches up with AHLA President and CEO Chip Rogers to discuss the issue of human trafficking as the Super Bowl approaches. Rogers emphasizes the importance of increasing awareness, employee training and a recent fund generated for survivors, all aimed at helping the industry take the lead on fighting human trafficking throughout the U.S. LISTEN
---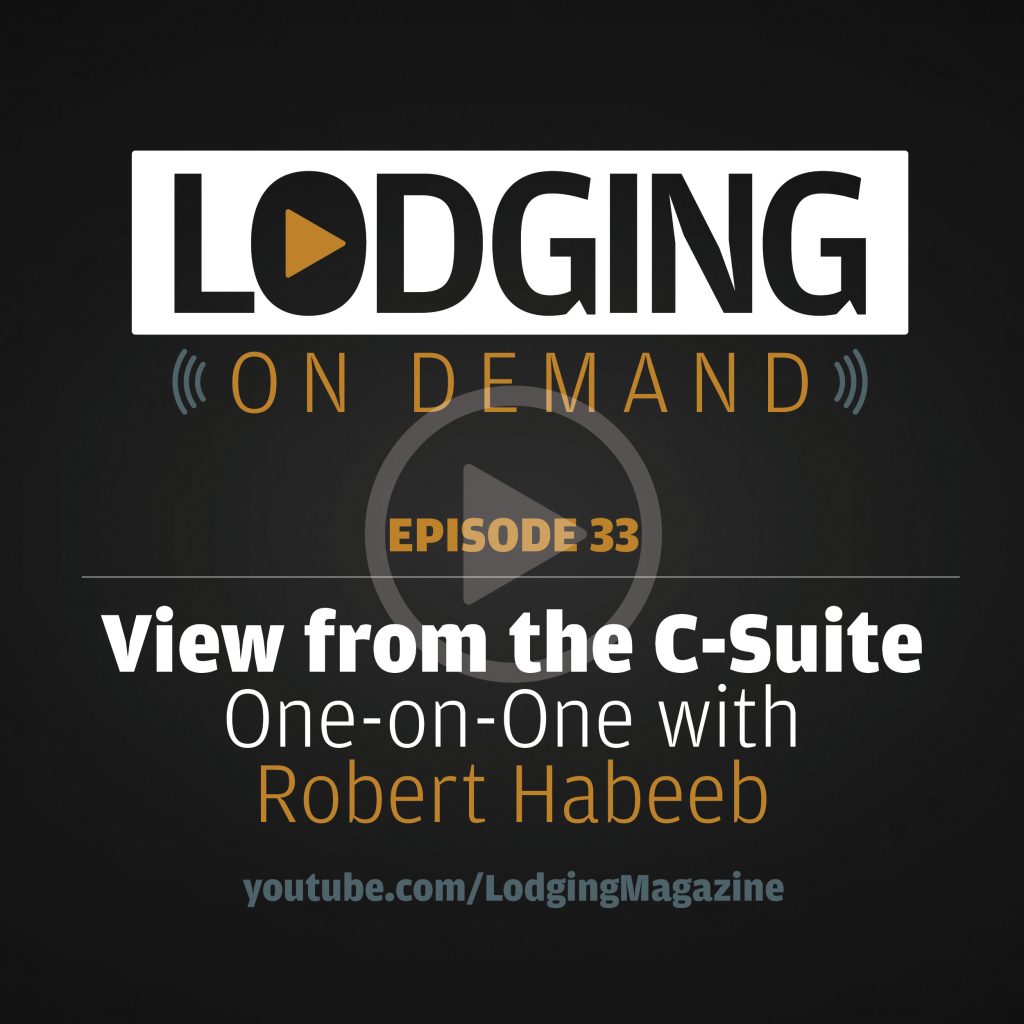 January 17, 2023 | Lodging Editor-in-Chief Dennis Nessler catches up with Robert Habeeb, CEO of Maverick Hotels & Restaurants, to get his thoughts on a number of key industry issues such as current macroeconomic challenges, the growing 'bleisure' trend and the ongoing labor crisis. Habeeb also shares details on the continued growth of Maverick as an operator and how the company's unique post-pandemic culture has positioned them for success. LISTEN
---
January 3, 2023 | In this episode LODGING editor-in-chief Dennis Nessler caught up with Kerry Ranson, CEO of HP Hotels, to discuss the company's recent performance, outlook for the future and a host of other industry related issues. Ranson also reveals some growth opportunities for the third-party management, including a potentially significant transaction in the coming months. LISTEN
---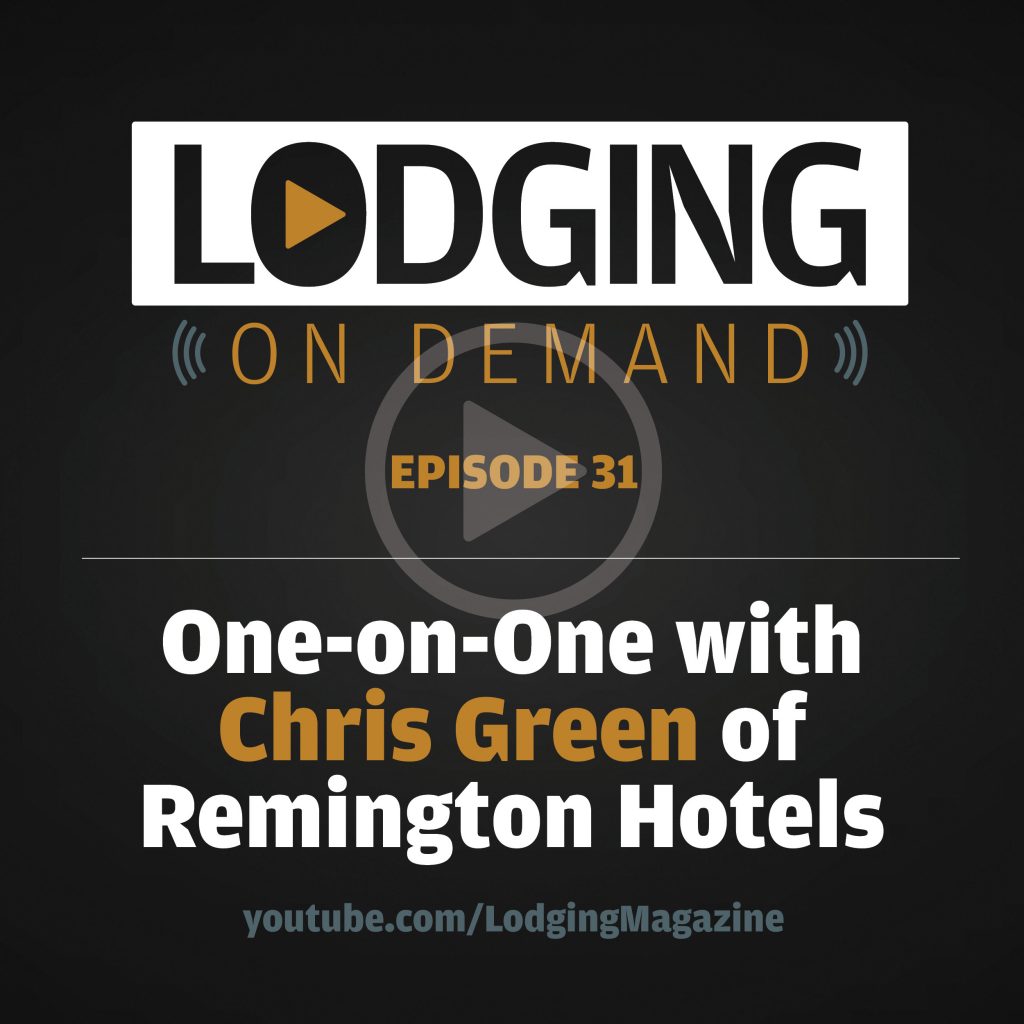 December 12, 2022 | Lodging Editor-in-Chief Dennis Nessler sits down with Chris Green—the newly named President of Remington Hotels—to discuss the state of the Dallas-based third-party management company. During the discussion, Green offers his reaction to the recent promotion from divisional president, as well as the ongoing integration of Chesapeake Hospitality and the unique culture of the combined companies. Green also offers some brief thoughts on a number of critical areas impacting the lodging industry ranging from labor challenges and wage growth to the current transactions market and the impact of the home sharing platform on hospitality. LISTEN
---
In this episode, LODGING editor George Seli speaks with Charlestown Hotels Chief Revenue Officer Johnathan Capps on trends and best practices in post-pandemic budgeting. Focusing on revenue team forecasting and expenses related to sales, marketing, IT, and other areas. LISTEN
---
In this episode, LODGING Editor Christine Killion spoke with Scott Neslage, Director of Lodging Operations, The Indigo Road Hospitality Group, and John Kattato, Senior Vice President, Essex Hotel Management, about their expectations for the 2022 summer travel season and how they are preparing as hotel operators to make the most of guest demand, optimize rate, and mitigate the effects of the latest challenges facing the industry. LISTEN
---
LODGING Editor Christine Killion spoke with UniFocus Founder and Board Director Mark Heymann and CEO Moneesh Arora about how hoteliers can mitigate today's labor challenges by adjusting their strategies and incorporating technology. LISTEN
---
LODGING Editor Christine Killion spoke with Del Ross, Chief Revenue Officer, Hotel Effectiveness, about the pandemic's impact on the hotel housekeeping model and how technology is further evolving the ways in which hoteliers staff housekeeping departments and service rooms. LISTEN
---
Brought to you by: HBO
The holiday travel season is fast approaching and hoteliers are preparing to welcome travelers looking to get back out on the road to see friends and family and fit in end-of-the-year trips. In this episode, LODGING Editor Christine Killion spoke with Jason Fudin, co-founder and CEO of WhyHotel, about the booking trends he's seeing as 2022 approaches, how his company is preparing for holiday travelers, and the opportunities he sees for the industry during this upcoming season and beyond. Brought to you by HBO. LISTEN
---
Episode 25:
Optimizing Pricing Post-Pandemic
Brought to you by: Duetto
LODGING's Associate Editor Robin McLaughlin spoke with David Woolenberg, CEO of Duetto, and John Elston, chief revenue officer for Soul Community Planet, about the pressing challenges hoteliers are facing today and how rolling out the right revenue management system can help them quickly adapt to the changing environment and price rooms appropriately considering staffing issues and guest expectations—meeting the influx of demand head-on. Brought to you by Duetto. LISTEN
---
Episode 24:
Shifting Demand Trends in the U.S.
In this episode, LODGING Editor Christine Killion spoke with Marisa Brooks, Regional Director of Revenue Management at Spire Hospitality, and Roy Madhok, Vice President of Revenue Management at Real Hospitality Group, about what markets they expect will outperform this summer and beyond, and how demand is shifting in the U.S. amid the current pandemic environment. LISTEN
---
Episode 23:
Navigating Hotel Staffing Challenges
In this episode, LODGING Editor Christine Killion spoke with Doug Tutt, CEO of Hcareers, and Tammy Gillis, founder and CEO of Gillis, about the current staffing challenges that hotel owners and operators are facing as travel demand heats up and strategies to help hoteliers attract, hire, and retain candidates. LISTEN
---
LODGING Editor Kate Hughes speaks with Ginny Morrison, VP of Sales & Marketing for Spire Hospitality, Tom Poehailos, SVP of Operations for Hotel Equities, and Josh Nowak, Director of Sales & Marketing for Interstate Hotels & Resorts, about how group business has evolved eight months into the COVID-19 pandemic in the United States. LISTEN
---
Brought to you by: RMS
In this episode of LODGING On Demand, brought to you by RMS, LODGING Editor Kate Hughes speaks with Victor Vesnaver, Global Chief of the Hotel Business Unit at RMS, about how property management systems are helping hoteliers adapt to a new normal and drive success in the current COVID environment. LISTEN
---
LODGING Editor Kate Hughes speaks with Deepak Ohri, CEO of Bangkok-based lebua Hotels & Resorts, and Rick Winn, president of Michigan-based AHC Hospitality, about COVID-19's impact on hotels around the world. LISTEN
---
Since COVID-19 upended the hotel industry more than five months ago, hoteliers have had to adjust their plans over and over—all while preparing for recovery. LODGING Editor Kate Hughes speaks with Chris Russell, CEO of Spire Hospitality, and Michael Cady, VP of Marketing for Charlestowne Hotels, about how they've adapted and positioned themselves for recovery. LISTEN
---
Brought to you by: Robbins, Salomon & Patt
As the COVID-19 crisis continues, hoteliers are having to make difficult decisions about their properties, including considering whether bankruptcy makes sense. Steve Jakubowski, shareholder at Robbins, Salomon & Patt, LTD., joins LODGING Editor Kate Hughes to discuss key issues facing parties in a distressed hotel situation, and what hoteliers should keep in mind as they plan their financial futures. LISTEN
---
Many hotels are starting to bring back furloughed staff. LODGING Editor Kate Hughes spoke with Agnelo Fernandes, chief strategy officer of Terranea, and Sloan Dean, CEO of Remington, about what hoteliers should keep in mind when bringing team members back on board after a furlough. LISTEN
---
Hotels are starting to ramp back up for the summer travel season, but hoteliers looking to promote their properties are facing a new marketing landscape. LODGING Editor Kate Hughes discussed marketing in a post-COVID hotel industry with Sheila Schottland, vice president of brand marketing at Wyndham; Deb Gabor, marketing specialist and author of two books on brand loyalty, Branding is Sex and Irrational Loyalty; and Emily Dille, director of marketing for Classic Hotels & Resorts. LISTEN
---
The summer travel season has officially begun. In the lead-up to Memorial Day weekend, LODGING Editor Kate Hughes connected with Tamara Baldanza-Dekker, CMO at Margaritaville, Gary Gray, Chief Investment Officer at Twenty Four Seven Hotels, and Mark Williams, CEO of Coakley Williams Hotel Management Co., to talk about how the hotel industry is ramping back up for summer leisure travelers. LISTEN
---
Aakash Patel, Chief Development Officer of The Witness Group, and Larry Spelts, Partner and President of the Lodging & Lifestyle Adventures Division of The Indigo Road, join LODGING Editor Kate Hughes to discuss how hotels' approach to renovation and construction has changed in light of COVID-19. LISTEN
---
LODGING Editor Kate Hughes speaks with Adria Levtchenko, CEO of PurpleCloud Technologies, Tim Heim, Area GM of Focus Hospitality, and Phil Cordell, SVP and Global Head of New Brand Development for Hilton, about how the hotel industry's approach to cleanliness will change post-COVID-19. LISTEN
---
Episode 12:
Getting Groups Back on the Books
Brent Jackson, president of Jackson Hotel Management, and Ashley Asher, director of sales for Columbia Hospitality, joined LODGING Editor Kate Hughes to talk about what hotels should do when rescheduling groups that canceled or postponed due to the COVID-19 pandemic. LISTEN
---

In this special edition of LODGING on Demand, Aly El-Bassuni, Americas COO of Radisson Hotels, and John Russell, Interim CEO of RLH Corporation, join LODGING Editor Kate Hughes for a virtual town hall to answer questions previously submitted by LODGING readers. If you have a question for a future virtual town hall, email editor@lodgingmagazine.com. LISTEN
---
Episode 10:
Staying on the Payroll During the COVID-19 Outbreak
LODGING Editor Kate Hughes speaks with hospitality leaders about the steps they've taken to ensure their employees are kept on the payroll during the COVID-19 crisis, including flexing staff roles to meet the needs of this unique time. Panelists include Michael Williams, EVP and COO of The Lodge and Spa at Brush Creek Ranch, Kerry Ranson, Chief Development Officer at HP Hotels, Lisa Lombardo, Chief People and Culture Officer at HGD Hotels, and Nicole Painter, Director of Human Resources at O'Reilly Hospitality Management, LLC. LISTEN
---
Episode 9:
Considerations for Boutique Hotels
LODGING Editor Kate Hughes speaks with Ariela Kiradjian, Partner and COO of Boutique Lifestyle Leaders Association (BLLA), Fran Kiradjian, Founder and CEO of BLLA, and Jonathan Newbury, SVP of Strategic Development for Preferred Hotels & Resorts, about the unique challenges facing boutique and independent hoteliers during the COVID-19 crisis. LISTEN
---
Episode 8:
Crisis Comms and COVID-19
In this episode of LODGING On Demand, LODGING Editor Kate Hughes speaks with Brendan Griffith, Senior Vice President and Milwaukee Office General Manager at Reputation Partners, and Mark Natale, CEO of Smarthinking Inc., about crisis comms and COVID-19. LISTEN
---
This episode of LODGING On Demand examines what hoteliers can do to cut costs during the COVID-19 crisis. LODGING Editor Kate Hughes speaks with Wayne West III, president of Newport Hospitality Group and chair of the IHG Owners Association; Brad Rahinsky, president and CEO of Hotel Equities; and Bob Rauch, chairman and CEO of RAR Hospitality, about steps hoteliers can take to save money during the coronavirus pandemic. LISTEN
---
In this episode of LODGING On Demand, LODGING Editor Kate Hughes speaks with insurance experts Steve Figlin, SVP of Young Adjustment Company, and Jay Levin, principal at Offit Kurman, about the impact of COVID-19 on this sector and what hoteliers need to know about insurance coverage. LISTEN
---
Episode 5:
Hotel Industry Weighs in on COVID-19 Stimulus Plan
LODGING Editor Kate Hughes leads a discussion on the $2.2 trillion stimulus package signed into law on March 27 in response to the COVID-19 pandemic with panelists John Fareed, managing director of Horwath HTL, Michael Sonnabend, managing member of PMZ Realty Capital, and Jerry Cataldo, president and CEO of Hostmark Hospitality Group. LISTEN
---
Episode 4:
Alternate Uses for Hotels During COVID-19
LODGING Editor Kate Hughes discusses alternate uses for hotels during the COVID-19 pandemic with Stephen Nass, director of sales and marketing at The Bostonian Boston, and Rich Castle, co-founder, president, and COO of Cloudbeds. LISTEN
---
Episode 3:
What to Do If You Have to Furlough Employees
LODGING Editor Kate Hughes discusses what hoteliers should keep in mind when furloughing employees during the COVID-19 pandemic with Steven Ludwig, Partner at Fox Rothschild LLP; Abigail Larimer, Attorney at Morris, Manning & Martin LLP; and Vinay Patel, AAHOA Treasurer and President & CEO of Fairbrook Hotels. LISTEN
---
In Episode 2 of LODGING On Demand, LODGING Editor Kate Hughes discusses with industry experts SBA loans and financing options for hoteliers during COVID-19. Panelists include Brock Blake, CEO of Lendio; Harry Spirides, President of Spirides Hospitality Finance Co.; and Dan Weede, Hospitality Attorney at Carlton Fields. LISTEN
---
In this inaugural episode of LODGING On Demand, Kate Hughes, editor of LODGING, discusses how hoteliers are responding to the COVID-19 outbreak with Mike Marshall, president and CEO of Marshall Hotels & Resorts, and Dan Lesser, president and CEO of LWHA. LISTEN