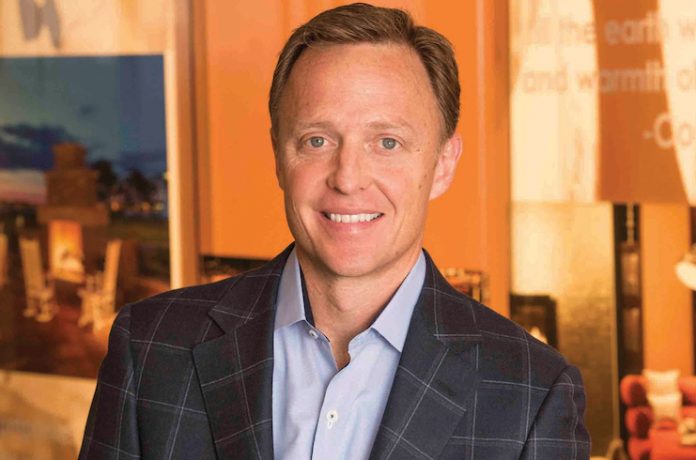 Thom Geshay, chief executive officer and president of Davidson Hospitality Group, took a job as a bellman at a Holiday Inn in Asheville, North Carolina, the summer before entering college, strictly "for beer money," he recalls. Geshay went on to study engineering, but says he found his passion and gained his real professional education while undertaking many essential entry-level hospitality roles en route to the highest leadership positions that have capped his more than three decades at Davidson. He also credits the mentors—including his immediate predecessor and current executive chairman, John Belden, and Steve Margol, the current chief investment officer—who eased his ascent, which was a constant process of self-reinvention.
Getting Started
Geshay, who calls himself "an accidental hotelier," says he had no intention of being in hospitality: "It was just a great part-time job, during which I literally worked through virtually every position while I attended school for engineering. I went from bellman to front desk to night auditor. I also was a dishwasher, a cook, a bartender, and a DJ."
"I loved chasing the deal, finding the nuance in a property to reposition it in a unique way that creates more value."
Following in the footsteps of his engineer father and brothers, upon graduation he headed to IBM, where he quickly discovered that the role "just wasn't him." "I had my swipe card and cubicle, and each day would walk through this long corridor out to the manufacturing line, saying good morning to the people I passed. They were all dressed the same, in navy blue suits with yellow ties and white shirts—and they'd look at me blankly and barely say anything in return. It was very different than the experience I loved of working in a hospitality environment."
After six months, he was contacted by Gregg Adams, an early mentor, who at the time oversaw all the hotels in the region for Davidson. "Gregg, who is still a friend, told me he needed someone to manage the nightclub where I had been a DJ and agreed to give me the lofty title of beverage director to make it easier to tell my father, who had spent his entire career at Johnson Wax, that I was leaving IBM."
Climbing the Ladder
So, at age 21, he took a pay cut to work at the same hotel where he'd worked during college. However, it wasn't long before Geshay was promoted to food and beverage director at the still-small company and working very long hours: "I'd close the bar at 2 a.m., then open up the restaurant at 6 a.m." Next, at age 23, he was asked to become general manager of the 150-room Holiday Inn. Nervous but excited, Geshay, who felt he had a firm grasp of F&B, set out to learn as much as he could about hotel operations by "sitting down with the experts," learning about the numbers from the controller and housekeeping from the department's executive director.
Thus, his on-the-job education continued while Davidson began its transition from running its own hotels to selling them and staying on as third-party managers. In the process, Geshay became "the takeover guy," sent to the newly purchased hotels to execute the renovation, establish the team, and get it stabilized—before moving on to the next asset. As the company began expanding beyond its Southeast concentration, Geshay was transferred from one property to the next, moving 14 times—each time meeting new people, learning a market, and becoming part of the local community. His accumulating experience, he says, taught him much about what it took to make hotels succeed, such as how to identify a property's potential and position it appropriately in its market.
C-Suite Roles
Although he knew he was still basically an operator, Geshay had an interest in the acquisitions and business development discipline. Thus, when the opportunity to join the real estate team came during the company's expansion, he threw his hat in the ring.
Geshay remains grateful that Belden and Margol, who were "the entire development team," chose him over candidates who were technically more qualified. "They took a chance and gave me an opportunity to launch our platform, to do acquisitions, and expand our portfolio on the West Coast." Once again, there was a learning curve. "At this point, I had command of nearly everything that went on in a hotel, but with development, I was in a completely new arena. When you're out chasing deals, you're on your own competing against others, and there's not the camaraderie of working within a hotel." There is also, he says, "a lot more failure—out of the 100 to 150 deals we look at every year, we ultimately do only 15 to 20. So, we walk away from a lot of deals that don't pencil during underwriting."
Yet, he says, "I loved chasing the deal, finding the nuance in a property to reposition it in a unique way that creates more value." Therefore, when he was approached about becoming COO, he needed a nudge, one he got from Belden, then president and CEO. "The company was growing, but not as quickly as John wanted. He recognized that my operations background and zeal for dealmaking combined helped me understand our partners and what they're looking for out of a management team, which is how to create value. He said to me, 'If we can have a COO who thinks like a deal guy and also knows how to maximize the performance of the assets, that would help pour some gas on our growth as a company.'"
So, Geshay reinvented himself once again, serving for three years as COO, beginning in 2016. The position, he says, helped him learn the operations of the company from "an executive level," involved him in the successful launch of Pivot and Davidson Restaurant Group, and prepared him for the next role, president of the company. The last move was made considerably smoother "while walking alongside an awesome CEO," Belden, who was planning to rise to executive chairman.
During his two years as president, Geshay oversaw the company's rebranding as Davidson Hospitality Group and the delineation of clearly defined operating verticals, including the creation of Davidson Resorts. He was then promoted to CEO and president, effective Jan. 1, 2022. This year has been a particularly active one for Davidson, which added seven properties to its management portfolio in May, the Royal Park Hotel in August, and the Wyndham Grand Clearwater Beach in December.
Reflections on His Ascent
Geshay says his professional journey made it natural to transition into his current position. He also points to the longevity of many Davidson colleagues as evidence that he "is not a unicorn." "When I took over as CEO, it was in a company I had known and loved for more than 34 years. I grew up in it, I helped grow it, like John and Steve, my partners, who have been with me at Davidson for 33 and 28 years, respectively."
Geshay expresses the hope that hoteliers change the narrative of their industry, so it will become less of an accidental career discovered mainly during school or a life transition, and more of a conscious choice for all the reasons that motivated him to circle back, stay, and thrive.
A Land of Opportunity: Drawing More Talent to the Hotel Industry, and Retaining It
Davidson Hospitality Group CEO and President Thom Geshay says he is lucky that the career he stumbled into has worked out so well for him. Yet he shares the belief—widespread among his colleagues—that not enough of the promising workers who pass through the industry recognize it as the land of opportunity it has been for him and could be for so many others.
Among the opportunities that hoteliers should promise is professional development, which supports both attraction and retention. He credits Davidson's low turnover and impressive longevity to its focus on retention, which is as or more important than recruiting, he maintains. "Davidson's culture, onboarding process, and our Davidson Academy are keys to our low turnover," he says. Davidson Academy is an online learning platform that delivers training and professional development content to all team members across the organization. He mentions, too, how the company supports continuing education by offering full-time team members with one year of continuous service up to $1,500 per calendar year for tuition expenses when they successfully complete courses or degree work considered business-related.