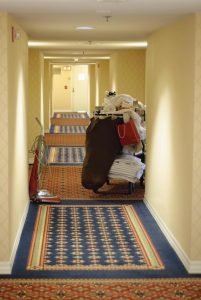 Housekeeping is a methodical and repetitive process that requires acute attention to detail. To ensure that nothing is missed, room attendants are trained to follow the same steps in sequential order in each guestroom. When attendants' attention is disrupted, they are more likely to miss procedures, which can negatively impact a property's cleanliness level and inspection scores, as well as guests' perceptions about the quality of the hotel and their overall satisfaction with their stay.
Below are a few impediments that may disrupt attendant concentration and cleaning efficiency.
Before starting a shift, room attendants should ensure that their carts contain sufficient linens, amenities, equipment, and cleaning supplies for at least half the shift. Trips to and from the housekeeping closet or the hotel laundry result in longer cleaning times, carts being left unattended in the halls, and greater overall energy expenditure. At mid-shift, after a rest break, the room attendant can restock the cart for the remainder of the day.
Though often unavoidable and necessary, requests by the front desk or guests for on-the-spot room makeups or for service later in the day will also hamper the efficiency of guestroom cleaning. Attempts to minimize these special last-minute requests will help bolster inspection scores, the speed of cleaning, and the inventory of clean rooms for arriving guests.
3
Insufficient inventory of linens and terry.
Every hotel should maintain at least three par of bed and bath linens: one in the guestroom, one ready for use, and one in the laundry process. Insufficient pars will likely force room attendants to wait until linens are cleaned by laundry personnel before they can completely turn a guestroom.