Health-, weight-, or spirituality-focused properties such as destination spas, weight-loss resorts, and ashrams have nearly always been around for those with the means and desire to radically transform their bodies, minds, or both. But what is now being identified as a "wellness trend" in the mainstream hotel industry 
is lower key and wider reaching.
It's not just that these properties now 
have more gym equipment (that actually works) or that you can pick up 
a microwavable "diet" meal at the grab-and-go; it's that there are healthier choices—gluten-free, vegan, and dairy-free—on restaurant menus, 
upgraded fitness equipment in gyms, and even spas and exercise classes, all designed to meet a growing demand for hotels to accommodate the healthier lifestyles of guests who wish to maintain their at-home 
routines while traveling for business or pleasure.
LODGING recently spoke to hotel trend watchers, setters, and followers about why and how this transformation is taking place, including:
Jennifer Hawkins, CEO, Hawkins International Public Relations, which serves mainly high-end lifestyle and travel clients, luxury hotels with spas, and international hospitality companies;
Anne Dimon, who is president of the non-profit Wellness Tourism Association (WTA), which focuses primarily on networking and education to support the industry, and is also founder/editor of Travel To Wellness, a resource for "the wellness-minded traveler" (i.e., consumer);
Jason Moskal, vice president, global marketing, Hotel Indigo and EVEN Hotels, IHG, who described major initiatives at the company's EVEN Hotels brand; and
Brian Povinelli, senior vice president and global brand leader for six Marriott International brands, who discussed how Westin Hotels & Resorts fits into the mix of wellness options among mainstream hotels.
Wellness Drivers
According to the Global Wellness Institute's (GWI) 2017 Global Wellness Economy Monitor, the wellness-tourism sector is a $563 billion industry, and the wellness economy is now worth $4.2 trillion and represents 5 percent of global economic output. Yet, also according to GWI, on a micro level, it is apparent that there has been a marked shift from transformational travel to travel that supports well-being—i.e., living well and feeling good while traveling.
On this point, Dimon takes care to make the distinction between wellness travelers and wellness visitors. She says wellness travelers are specifically focused on wellness components, which, according to a WTA survey, most importantly include: "a variety of healthy food options" (84.57 percent), "accessible nature" (72.9 percent), "access to spa treatments" (69.91 percent), and "a wide range of scheduled fitness activities" (68.86 percent). In contrast, she says, wellness visitors—who are the focus of this article—are those who mainly wish to maintain a healthy lifestyle while on the road for business or leisure.
Wellness Mindset
Hawkins emphasizes the difference between the pampering to be expected at high-profile and high-dollar destination spas "already doing uber-wellness"—like Arizona's Canyon Ranch and Miraval—and mainly luxury hotels that are transforming and adapting to the wellness lifestyle traveler with accessible wellness options like yoga classes and smoothie bars.
"People are willing to pay a premium to maintain their health and wellness while on the road, so providing a product that people are willing to pay for makes good business sense."
Jason Moskal
VP of Global Marketing
Hotel Indigo and EVEN Hotels, IHG
"The wellness services trend gaining traction in the last five years—mainly at the more luxurious hotels—is being driven by the need to adapt to travelers' lifestyles, as a growing number of them wish to continue to eat healthier and maintain their exercise routines, even while traveling. These hotels are adapting to travelers' lifestyle more than they are embracing lifestyle for its own sake," she says.
Hawkins adds that this doesn't just pertain to the business traveler, but also the leisure traveler. "Whether it's a romantic weekender, honeymooners, girls' getaway, or family travel—people want to eat healthier, be able to maintain their exercise regimen, and, often, to try something new like a spin class or a surf lesson."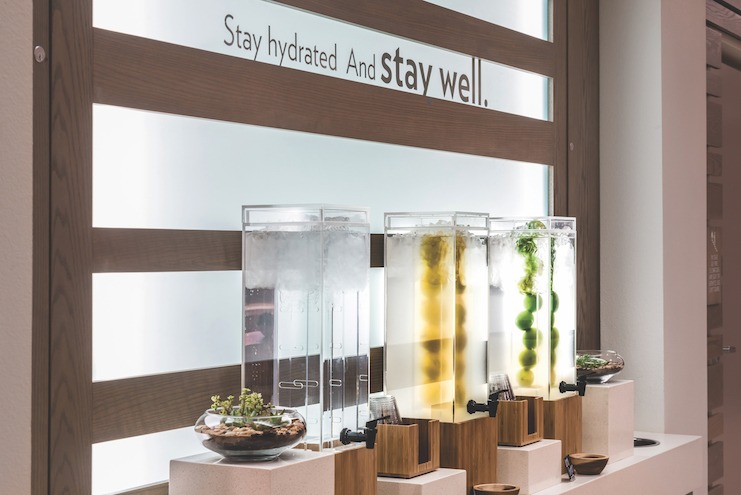 Hawkins believes that women are playing a significant role in the changes being seen—both as consumers and spa managers. "Women have traditionally been more geared toward health and well-being than men, and they are increasingly making the booking decisions. There are also more women running hotels; this is certainly true of the spas."
But she also notes a "wellness mindset" that goes beyond enabling guests to maintain their routines. "Hotels with special wellness services also enable travelers to try something not in their normal routine—like embracing their destination away from the gym with nature immersion experiences, or by adding spa treatments that utilize indigenous ingredients."
She says the impact of a wellness mindset is also being felt on a larger scale—e.g., among group travelers—in other ways. "Hotels are offering yoga breaks, healthier snacks, and outdoor meetings for guests attending weddings, meetings, and conferences."
Wellness Done Well
As their respective representatives explain, both EVEN Hotels and Westin Hotels & Resorts aim to please those who Dimon calls wellness travelers.
Catering to travelers who prioritize their healthy habits was most definitely not an afterthought for IHG's EVEN Hotels, says Moskal. "We intentionally designed every aspect of the EVEN Hotels experience to empower guests to maintain their wellness routine while on the road." This, he explains, means "getting a good workout, a good night's sleep, a great shower experience, and healthy food options"—delivering "these different elements/levels of wellness to the individual to enable them to do what they need to do to be productive."
Moskal describes special features for this market, which, in addition to the fitness offerings described below, include cooling bedding and signature mattresses, plus mood lighting to help guests relax. In addition, he says the menu at its Cork & Kale cafe includes items much like those guests prefer to eat at home.
Povinelli traces Westin's commitment to wellness back to the début of its Heavenly Bed nearly 20 years ago, followed in 2011 by the introduction of its six well-being pillars: Sleep Well, Eat Well, Move Well, Feel Well, Work Well, and Play Well. However, says Povinelli, the stakes are higher now.
"Today, the difference is that guest expectations demand that brands continue evolving their offerings in an authentic, consistent and meaningful way that gives travelers choices."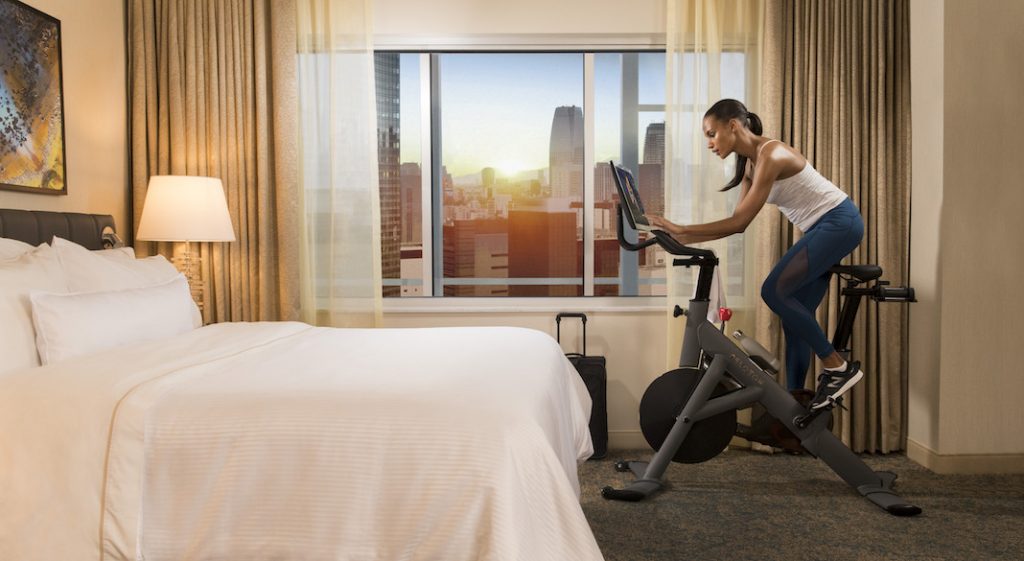 These choices, he maintains, enable them to deal with the inherent unpredictability of travel. "The Let's Rise campaign we launched takes on the disruptions of travel and empowers travelers to embrace well-being as a way to regain control of their routines while on the road. Given that so many aspects of travel are beyond our control, we want our guests to know that we are truly their partner in wellness."
Currently under development, he says, is a new guestroom design model with sensory devices and lighting designed to help with jet lag and promote restful sleep and mindfulness. "This intuitive design is flexible, adaptable, and allows moments of focus, creating a sense of refuge to alleviate the stressors of travel."
It is perhaps most of all in the fitness realm that both Westin Hotels & Resorts and EVEN Hotels seek to wow those wellness travelers.
Povinelli describes Westin's fitness initiatives, which include group fitness classes; TRX equipment in more than 200 WestinWORKOUT Fitness Studios around the globe; "Run Concierges" to facilitate runners; and a partnership with Peloton to enable its devotees to bring their passion with them when they can't bring their own bikes. They also don't need to bring their other workout gear, he adds. "With carry-on space at a premium, guests can leave their sneakers and workout gear at home and borrow New Balance shoes and apparel during their stay for only $5 per 
day, eliminating the hassle of 
carrying equipment along through-out their travels."
Moskal says IHG's now four-year-old EVEN Hotels offers staff-led fitness activities and a fitness studio, which, he calls "world class"—with three different zones: for stretching, strength, and cardio." In one zone, there are treadmills, bikes, and ellipticals; another has free weights, bands, and yoga mats; and a third is a designated area for stretching. "It's not one size fits all; there are different options for different people," he comments.
Beyond that, and especially unique, is EVEN Hotel's in-room workout zone for those who prefer to exercises privately. "In each guestroom, there is an area with cork flooring and equipment including a yoga mat, exercise ball and bands, and 18 different custom videos from 5-20 minutes," 
says Moskal.
Well Being Good for Business
Moskal confirms that focusing on fulfillment and wellness is indeed profitable. "People are willing to pay a premium to maintain their health and wellness while on the road, so providing a product that people are willing to pay for makes good business sense. Many of our properties have hit number one in their respective markets on TripAdvisor, which allows us to command higher rates. Many are selecting EVEN Hotels over generic brands, because they know there are different aspects of the brand that allow them to maintain their wellness, and they are willing to pay for that."
Povinelli, too, sees a correlation between actively supporting guests' wellness goals and both growth and profitability. "This wellness positioning is resonating with customers—and developers—and giving Westin one of the most robust pipelines in the upper-upscale segment. It is clear that guests are willing to pay a premium not only for well-being generally, but also to keep up their well-being routine while they're on the road. Westin has seen more than six years of RPI growth, significantly getting more than its fair share, and commands $20-$40 RevPAR premiums over its competition."
Getting on Board
Reiterating that Westin was a leader in wellness for the hospitality category "even before the wellness industry was valued in the trillions," Povinelli says remaining competitive now demands addressing wellness travelers' ever-evolving expectations, and continuing to innovate in response.
Dimon agrees. She adds to the list of wellness initiatives such as those described by Povinelli and Moskal in their respective hotels the growing popularity of sleep programs. She says, too, that many mainstream hotels are beginning to develop their own multi-day wellness packages.
Dimon observes that while her newly formed association is aimed mainly at properties such as wellness resorts (formerly called destination spas), wellness retreats, and tour operators—all of which specifically target wellness travelers—a growing number of hotels can or do meet WTA's membership requirements if they offer significant support programs/options for guests who are wellness travelers. Examples of this, she says, would include: a menu of healthy food options in at least one food-and-beverage outlet, year-round fitness options in the form of yoga classes or other wellness or fitness-focused sessions (indoors or outside), some accommodations that are designated for wellness-minded guests (i.e., a quiet floor or wellness rooms), and the development of all-inclusive multi-day wellness-focused packages, which must be offered at least three to four times a year—something that would fit in nicely with marketing to both wellness visitors and wellness travelers.
"So many hotels—whether or not they qualify for WTA membership, as described—want to cater to that growing segment of the travel industry. Packages that include, for example, access to a menu of healthy food options, a daily yoga class, a mindful-walking hike, a healthy cooking class or demo, and at least one session with a wellness expert on topics such as managing stress or making better food choices, can broaden your consumer base."
---
Like this story? Subscribe for daily updates.