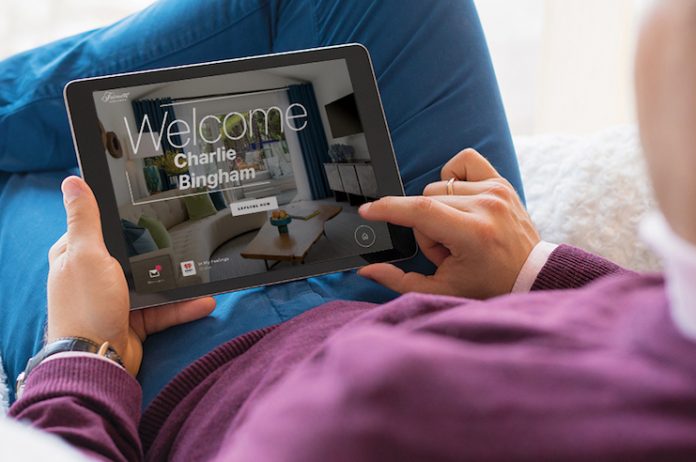 In a day and age where consumers have an endless amount of information available at their fingertips and average attention span is at a record low, brands struggle to create opportunities to connect and engage with potential customers. The hospitality industry faces an additional obstacle—a saturated market with new competitors popping up daily. These factors make conveying a brand's message to an audience seem like a daunting task.
How can hoteliers reach a target audience and capture their attention? Focus on spreading the message to the audience whose attention the hotel already has—its existing guests. There's no better way to reach an audience than to address those who are already listening. This is where in-room technology comes into play—specifically in-room tablets.
In-room tablets not only allow hotel staff to update directories and in-room marketing materials in real time, but they also create a new channel where hoteliers can communicate special offerings and promotions directly to guests. In-room technology, including tablets, smart TVs, voice solutions, and branded mobile apps, gives hoteliers the opportunity to reach customers when they're paying the most attention—in their rooms.
In-room technology allows hotels to leverage guest profiles created during the booking process to send personalized offerings and messages tailored to their preferences. By using the business intelligence gathered from in-room technology, hotel staff can create personalized offers for each guest that tie directly to revenue generating opportunities. According to a recent study, 57 percent of U.S. travelers want brands to create personalized experiences and recommendations based on their data and 90 percent of travelers want hotels to provide personalized services based on their understood preferences. In-room technology can be used as a platform to share special offers and promotions that are specific to each customer's interests and needs, make real-time updates to menus and other directories, and communicate directly with your guests through text message or in-app messaging.
Using in-room technology also provides guests the ability to choose which offers and promotions they want to engage with and eliminates the disruption other marketing methods may cause. In an industry where consumers' decisions are based primarily on experience and reviews, it is increasingly important for hotels to foster loyalty with guests through enhanced experiences and service.
In-room technology also helps guests feel at home by providing them access to the on-demand services they are accustomed to. Studies show that 49 percent of guests' hotel selection is influenced by the availability of advanced in-room technology and 60 percent of guests believe its extremely important for hotels to invest in new technology. By providing guests increased control over their stay, hotels can use in-room technology to present guests with a personalized experience that is tailored to their preferences.
In-room technology is one of the most efficient and effective ways to remain relevant in this new digital age. These solutions modernize the way guests experience a property and create a direct connection to a captive audience. Leverage technology to create a captive audience that is more likely to be loyal to a hotel's brand and share their positive experience with their network.