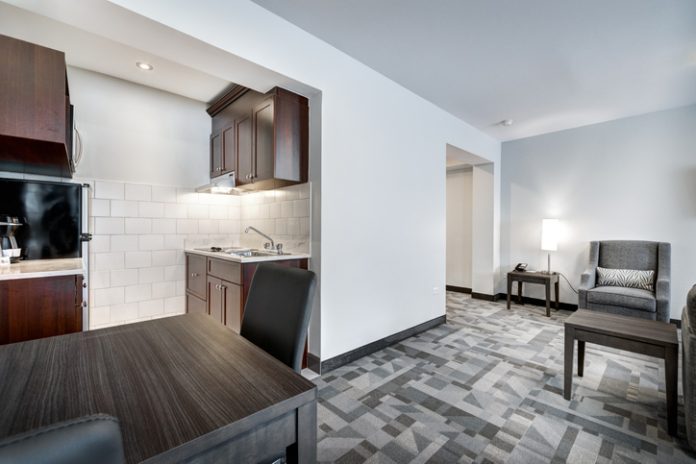 Hoteliers are continuing to enjoy strong performance in the extended-stay segment. These hotels' home-like amenities are responsible for their rising popularity among travelers, and a profitable operating model is fueling further development. Additionally, the longer lengths of stay make extended-stay properties particularly attractive for hoteliers, as this model defrays the labor costs associated with room turnover while buoying occupancy.
Hoteliers' satisfaction with the model is evident: Extended-stay hotel supply in the United States grew by 6.9 percent from January to November 2018, adding more than 28,000 rooms to the segment's inventory. This level of growth is not an outlier. In fact, extended-stay hotels outstripped overall U.S. hotel supply growth for the past six years.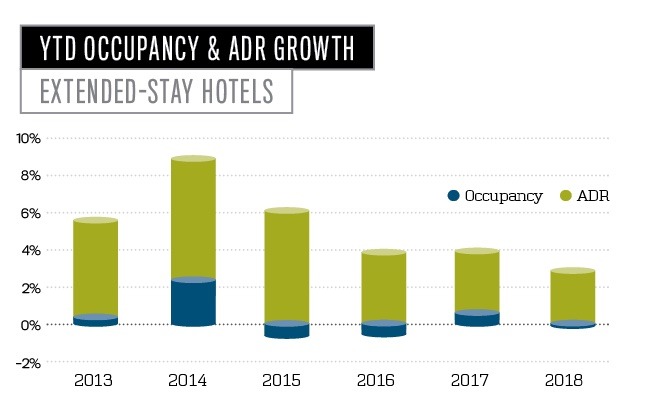 The supply growth has been well-received, with occupancy growth in four of the past six years. During the first 11 months of 2018, demand grew 6.9 percent and absolute occupancy landed at 76.9 percent, nearly 10 percentage points higher than total U.S. hotel occupancy. With continued high supply growth, such high occupancy indicates the popularity of extended-stay hotels. However, it could also be a function of length of stay, as extended-stay hotels are marketed to longer-term travelers.
Average daily rates for the sector are lower than the U.S. average—$107.48 compared to $130.23—but ADR growth is stronger. Extended-stay ADR increased 2.8 percent between January and November 2018, compared to the industry's overall 2.5 percent growth.
The difference in rates may be a result of the class makeup of extended-stay hotels: 98.9 percent of extended-stay hotel room supply falls in the midscale and economy or upscale and upper-midscale collapsed segments, with the upscale and upper-midscale class accounting for 55.8 percent of rooms supply and 72.1 percent of rooms revenue. Indeed, upscale and upper-midscale ADR ($130.33) is closest to that of extended-stay hotels.
With such high occupancy, it shouldn't be surprising that RevPAR growth for the sector is driven primarily by ADR growth. While the past two years have seen minimal occupancy gains, moderate ADR growth pushed RevPAR growth to 3.8 percent in 2017 and 2.8 percent in 2018. Absolute RevPAR was $82.66, similar to the upscale and upper-midscale RevPAR of $92.59.

Business travel is one of the biggest drivers of extended-stay hotel strength. While weekend occupancy is slightly higher—78.5 percent compared to weekdays' 76.3 percent—weekday ADR is higher and faster-growing than weekend ADR. As of November 2018, the weekday rate at extended-stay hotels reached $108.26, with the weekend rate trailing at $105.59. Weekday rates have surpassed weekend rates the past five years, a trend opposite to what is observed for the country as a whole, where leisure travelers have driven weekend rates higher than weekday rates for the past four years.
Drilling down into day-of-week data highlights this phenomenon. Tuesday and Wednesday see the highest occupancy, ADR, and RevPAR of the week. From January to November 2018, Tuesday and Wednesday ADR was 6 percent higher than Friday and Saturday ADR, for instance.
Overall, high occupancy levels and incredibly strong mid-week performance make extended-stay hotels an accommodation segment to watch.