Asheville, N.C., has become an increasingly popular tourist destination over the past decade. On top of attractions like Great Smoky Mountains National Park and The Biltmore Estate, which was built by George Vanderbilt and is America's largest home, the city's downtown has experienced an influx of independent restaurants and a robust craft brewery scene that is drawing travelers from across the country. These draws made Asheville a perfect fit for Best Western's boutique, upper-midscale brand, GLō. HP Patel, president of Krish Hospitality and owner of the new GLō Asheville, recently opened the property next to the company's existing 95-room Best Western outside of the city's downtown.
"People coming to Asheville are always looking for different types of lodging," Patel explains, adding travelers visiting the area often choose alternative lodging, boutique hotels, or boutique-style brands in the city's downtown. "We wanted to provide a newer option to our Best Western guests. It's a fresh look for Best Western, and it fits today's mold of what guests are looking for."
GLō is a new construction brand aiming to break the suburban cookie-cutter hotel mold by shifting the focus to a memorable arrival experience, shared lobby-space, contemporary guestrooms, and stylish and cost-effective materials that are attractive to both owners and guests.
"The footprint and open lobby space is very different from your typical upper-midscale hotel brand," Patel explains. "It's a very big lobby space with a gaming area, a good-sized breakfast area, and different seating arrangements that get the guests away from their rooms and spending more time in the lobby. It's just a different feel—instead of tile, you have polished, stained concrete that goes along with the seating elements. The way it's set up creates a very inviting and relaxing atmosphere."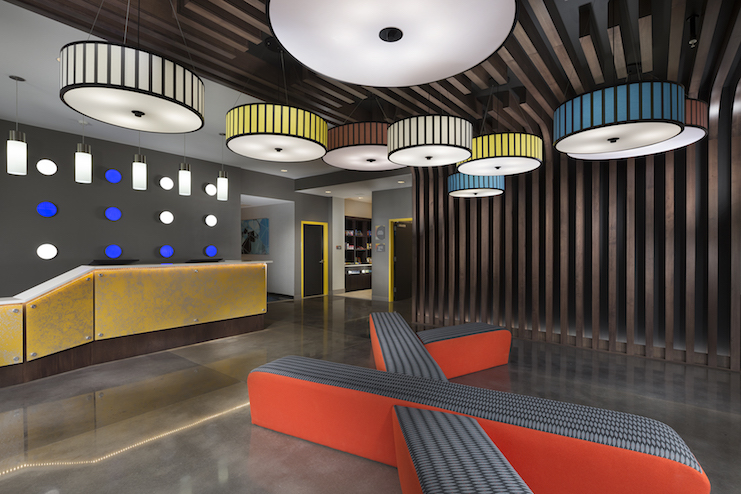 The brand also offers a smaller footprint and more flexible prototype. Patel says that GLō Asheville adapted the design to cater to its predominantly leisure market by adding an optional indoor pool for traveling families. The property also includes a state-of-the-art fitness center offering the latest equipment to guests.
In addition to the public spaces, the property's 72 guestrooms are designed to maximize space and function. "The guestrooms are a little smaller than typical guestrooms, which helps save square footage and construction costs," Patel notes. However, he adds, the design of the furniture and GLō Asheville's nine-foot windows make the room feel open and spacious. Instead of carpet, the hotel has luxury vinyl tile (LVT) for a cleaner, modern feel. Contemporary platform beds have padded headboards and are topped with custom, Sealy gel-top mattresses. The rooms' fixtures, including unique lighting, complement the boutique style.
While GLō's design caters to today's guests, it also creates efficiencies that benefit both guests and owners. Patel explains the layout of the building has center-loaded bathrooms, which both streamlines construction for owners and creates a seamless, flowing room design for guests. Dual-purpose barn doors serve as bathroom and closet doors. Stand-up showers with glass doors and a stylish vanity design are also elements that make the brand attractive to guests and easier to maintain for owners.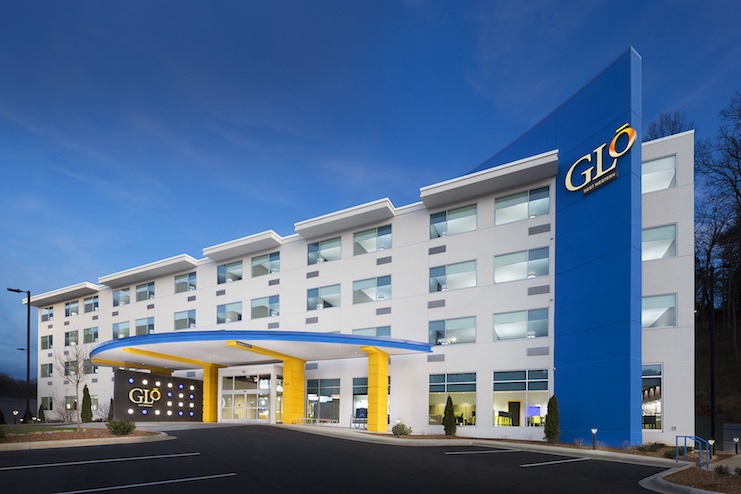 "GLō's footprint and layout makes it easier for four-story wood construction, which is the way to go right now with projects of this size," Patel says, adding that larger projects must use alternative construction methods that are typically more costly. "The style is unique, and it has a boutique feel to it—it's a good fit for our Asheville market."
For more information, visit BestWestern.com or BestWesternDevelopers.com.