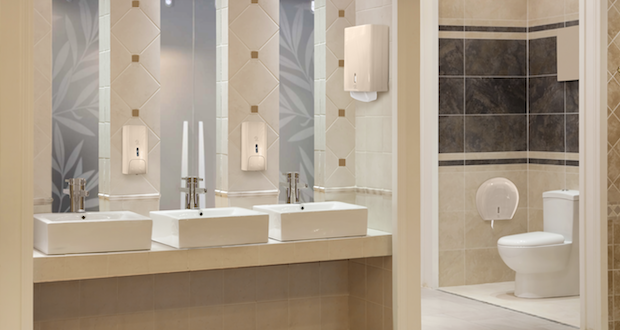 Staying at a hotel should be a relaxing, worry-free, and clean experience. When it's not, guests are sure to complain. Today, most travelers read online reviews about a hotel well before booking their stay, meaning that negative reviews could be detrimental to business. In fact, a 2018 poll found that 91 percent of Americans say that negative online reviews about restrooms would deter them from visiting a hotel. Maintaining spotless restrooms will help guests feel comfortable and at home during their hotel stay and may even impress them enough to leave rave reviews for the property.
Common Restroom Complaints
Because online reviews have the power to influence future business, it's important for a hotel's operations team to understand key issues that might drive patrons away. The following are common restroom issues listed in online reviews that would give travelers a reason to avoid a hotel:
Unpleasant odors. Sixty-nine percent of Americans say if smells are mentioned in an online hotel review, this would deter them from visiting. Cleaning restrooms regularly is a simple way to ensure that they are free from foul odors.
Clogged toilets. If a toilet is clogged, guests see–and likely smell–the problem right away. Therefore, it's no surprise that two in three Americans would avoid booking at a hotel if clogged toilets are mentioned in online reviews.
Closed or out-of-order restrooms. Closed stalls in restrooms near pools, spas, and lobbies or even having entire restrooms inaccessible due to maintenance issues can quickly lead to time-consuming lines, irritated guests, and front desk complaints. An open and functional restroom is key to a worry-free and seamless guest experience.
Out-of-stock essentials. There is nothing worse than the sinking feeling of reaching for toilet paper and finding none or pushing on an empty soap dispenser. Items like toilet paper, soap, and paper towels need to be regularly stocked and checked frequently to ensure a full inventory at all times.
Greeting Guests with Cleanliness
Regularly maintaining restrooms is an effective way to show guests and patrons that the hotel values their business. A dirty restroom may give the impression that rooms or restaurant kitchens within the hotel are also dirty, which could cause guests further unease. Plus, with well-maintained restrooms, hotels limit the chances that negative reviews mentioning restroom cleanliness will be posted online, helping to secure repeat business from guests and future business from those who have not yet stayed at the property.
Managers should create a daily cleaning schedule and train workers on cleanliness standards to ensure housekeeping staff understand their responsibilities and maintain consistent results throughout the property. In addition to tidying up guestrooms and bathrooms, they must also dedicate time to cleaning and restocking restrooms near main guest areas such as restaurants, event spaces, and fitness centers.
Hotel managers should also consider purchasing paper products that are proven to reduce the risk of toilet clogs. To help eat away dirt in pipes, advanced biodegradable toilet paper activates non-pathogenic microorganisms when it contacts the water. The enzymes then biodegrade and flush away without leaving behind any residue or odor. Fewer clogs reduces costly plumbing issues and maintenance downtime down the line.
A Home Away from Home
Don't risk a hotel's reputation by overlooking a clean restroom. Travelers often have busy schedules, and entering clean, functional facilities is a simple way for them to see that they are valued. Providing clean, well-stocked facilities ensures guests feel at home in your hotel–and leave glowing reviews.
About the Author
Fabio Vitali is vice president AFH marketing and sales for Sofidel, a manufacturer of paper for hygienic and domestic use, including Papernet Bio Tech, toilet paper that reduces the risk of toilet clogs and odors.