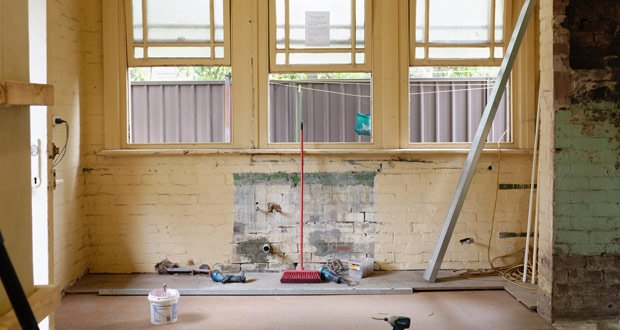 "Conversions, renovations, and franchise affiliation changes, oh my!"—this doesn't have to be your theme song if you find yourself embarking on a hotel repositioning effort. It's important to be aware of the myths surrounding hotel conversion projects to dispense with some of the headaches that plague others who are not in the know.
Myth 1: "To reduce renovation costs, commercial area HVAC, major mechanical, and plumbing replacement/repairs can wait until after re-opening when revenues start flowing."
Mistake. This cash flow decision is not rooted in proper long-term asset management decision making and diminishes ROI unnecessarily because it defers true cash flow. During a recent $12 million conversion and renovation to become an upscale property, a full-service, 178-room, 30-year old midscale brand took this approach. Once open, old issues that previously plagued the hotel immediately came back to life. Repair costs surged with crews trying to avoid unsightly damage to brand new walls, floors, and public spaces. Meanwhile, guest scores tanked. If you're contemplating renovating, you must budget accordingly for key components to the operation during that process, not after.
Myth 2: "A new franchise will deliver 40 percent reservation contribution our first year."
Not likely. Franchises market perceived brand value to potential hotel guests in order to generate interest, which hotels then meet upon arrival, perpetuating the value cycle. Depending on your market, brand affiliation, supply and demand, and whether you're converting up or down within your scale, among other factors, the franchise will deliver something, but don't expect the higher percentage range a Franchise Disclosure Document (FDD) might portray. In year one and going forward, success stems from in-house, on the ground, sales and marketing efforts. Do not rely solely on brand delivery for success.
Myth 3: "With a new franchise and ownership, we get a clean reputation slate within the market."
Incorrect. If you've acquired a troubled hotel, the initial sales efforts must be about mending fences. Problems with vendors, disparaging past Trip Advisor posts, and poor relations with convention and visitors bureaus all take time to correct. It's critical to undertake a dedicated and consistent effort to reaffirm relationships and show how the hotel, its new brand, and the new owners will benefit its community partners.
Myth 4: "My contractor worked on XYZ branded hotels before and knows the standards."
Maybe. Are you willing to invest potentially millions based on the notion that the contractor is familiar enough to meet every brand standard? If so, expect issues with periodic site progress inspections by the brand. Recently, a contractor failed to install panic hardware on exterior-leading utility room doors because local ordinances didn't require it. The brand, however, stated that in an emergency, staff would need access and required them to be installed as brand standards exceeded local codes. In this case, the oversight cost several hundred dollars in unbudgeted additional expenses. Whichever requirement is more stringent wins the day. Know the standards and verify them regularly.
Myth 5: "The hotel is pre-selling three months from opening, so there will be ample revenues on the books when we open in order to hit budget."
Doubtful. Expectations will be high the first several months as ownership wants to recoup renovation costs quickly and turn a profit. A company recently spent millions to acquire, renovate, and rebrand an extended-stay hotel, and ownership expected 70-percent occupancy in the first month. In actuality, it fell short by half, and by year's end, they mustered 55 percent occupancy. Pre-selling helps ensure something is on the books—however, pre-selling alone will not ensure you hit budget. You must deploy an on-the-ground sales effort.
Myth 6: "We can hold off hiring senior staff until 30 days prior to opening."
Wrong. If affiliated with a brand, you are required to have key positions in place and fully trained well before opening. Secondly, openings are stressful, staff revolve, items go missing, systems malfunction—department heads are key to plugging holes and filling gaps during this period. A general manager and director of sales should be on board six months prior to opening, engineers should be on board during renovation, and front office managers and executive housekeepers should be hired 60 days in advance of opening—especially for ordering supplies, coordinating deliveries, interviewing, hiring, and training. You don't need a full staff on payroll for months on end, but key individuals must be in place to ensure success.
Myth 7: "It's better to have a classically trained GM in place with opening experience to open the hotel than anyone else."
Not necessarily. Having opening experience doesn't prove that the person runs a good hotel. Some folks are good openers but fail to maintain enthusiasm or keep staff. If you want to achieve long-term success, hire a general manager who is an inspiration maker—someone who captivates the team, gives them something to aim for, and is the head cheerleader. Opening experience is nice, but once you're open, that experience is no longer of value. Hire a driver for your hotel.
Whether you're contemplating a fixer-upper of a hotel or are already underway on a project, remember: following the yellow brick road will invariably bring you moments of happiness and calm as well as moments of doubt and despair. However, by avoiding falling under the spell of these seven common myths, your overall decision-making will be properly aligned and you will position your property appropriately for a memorable journey, now and into the future.
About the Author
Daniel A. Johnson, CHA, CHIA, is a vice president of operations at Argeo Hospitality, an Anthony Melchiorri Company.