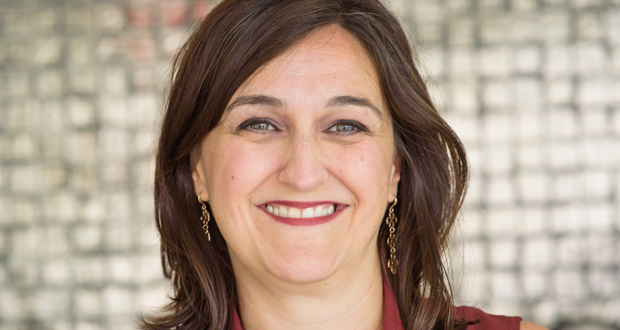 Rosanna Maietta loves to tell a story—this has been the connecting thread of her lifelong passion for communications. Maietta launched her career as a reporter in Rome, Italy, before moving into the corporate communications space. During the eight years she worked for an agency handling a mix of nonprofit and Fortune 500 clients, she came to a realization. "The job of communications, especially on the foundation side, requires the convergence of two skills. One is telling a good story—people donate and give if they feel that it's a good cause," Maietta explains. "The other piece is about problem solving. How do you take complex challenges and find effective solutions?"
Developing those quick-thinking, creative storytelling skills set the stage for her entrance into hospitality. Four years ago, Maietta became the American Hotel & Lodging Association's senior vice president of communications and marketing.
"My role at AHLA was to help tell the story of this terrific industry and association, connect it with our mission of advocacy, and then to make these issues relevant to people on Capitol Hill. And, let's not forget, sharing the value of that mission with our members and encouraging them to get involved," she says.
Now, as the incoming president of AHLA's not-for-profit affiliate, the American Hotel & Lodging Educational Foundation (AHLEF), Maietta is finding new ways to share the hotel industry's story while also helping hotel employees realize their own individual tales of success through career development and training. "We're building on a legacy of great stories on the Foundation side and the generosity of the hotel industry," Maietta explains. "Telling that story draws people in, and also compels them to give back."
Giving back is critical for the Foundation because it is funded solely by donations. And AHLEF is entering a pivotal point in its three-year strategic plan that is part of AHLA's broader roadmap. "One of the goals of AHLA, the Board, and AHLEF's Board of Trustees has been to take the legacy of the Foundation and make a clearer connection with our membership about what the programs are, all of the good work that's happening, and the ways that members can get involved."
The Foundation Board of Trustees is made up of CEOs and senior leaders across the industry who represent brands, management companies, hotel owners and operators, and executive partners. "Without their guidance and thoughtful insight, we wouldn't be nearly as good at our jobs as we are," Maietta says. "They're ensuring that we have a really solid endowment so that we can keep giving out scholarships for years to come, while also investing in programs and giving back to this industry now."
When it comes to giving back, Maietta says that hoteliers actively support the Foundation in a multitude of ways, including by encouraging employees to further their careers through the many development and educational opportunities that AHLEF offers. The Foundation operates several programs and partnerships to help develop hospitality careers through apprenticeships, scholarships, and training, led by Shelly Weir, AHLEF's senior vice president of career development. And the momentum of these programs is growing—in February, AHLEF announced a new pilot program in partnership with AHLA and Pearson's AcceleratED Pathways program to offer associate and bachelor's degrees to adult hospitality workers for little-to-no cost. As part of the pilot phase, 10 hospitality companies are implementing this program across nearly 1,500 hotels.
To recruit more young people into hospitality careers, AHLEF and AHLA are providing grants to community-based organizations in select cities to train youth for local hospitality jobs. The program aims to help fill the more than 600,000 vacancies nationwide by targeting the millions of Opportunity Youth—those between the ages of 16 and 24 who are not in school or working, but possess the drive and resilience to succeed in the workplace.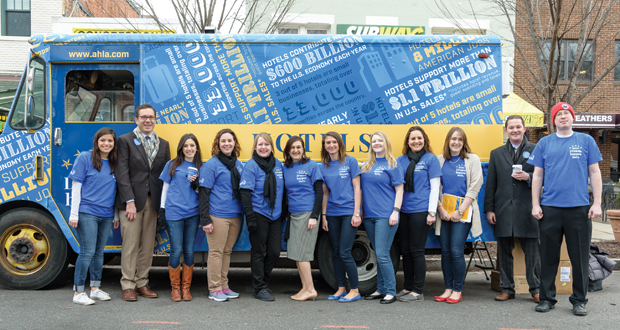 AHLEF and AHLA have also partnered with both the National Restaurant Association Educational Foundation and Jobs for the Future to create career opportunities through registered apprenticeships. Funded by a $1.8 million award from the U.S. Department of Labor, the program offers a direct path for individuals to attain credentials and upper management positions. AHLEF's apprenticeship partners will enroll at least 2,250 apprentices over the next five years—though they are aiming for thousands more.
"Over the course of its life, the Foundation has given out millions of dollars in scholarship funds to those who wouldn't have gotten into the industry otherwise," Maietta explains. "We're finding new ways to keep that story fresh and also more firmly embed the Foundation into our broader AHLA membership."
Maietta says that these programs matter to the industry because they continue its essential practice of giving entry-level employees a path to leadership. AHLEF is working to show hotel staff that hospitality jobs offer growth opportunities and the support they need to reach the next level in their workplace. Not to mention, help fill an urgent job shortage in this industry. "That first job in the industry is about growing an individual and showing them that there is a lifelong pathway," Maietta explains. "That is something that is so unique to our industry and that we want to foster very early on in an employee's career. We're looking at how to amplify our apprenticeship program, our Opportunity Youth project, and our cost-free college initiative, all of which are about building up the workforce for the industry."
Among the Foundation's plans for the next year is to increase awareness of these critical programs so that the Foundation can invest more in giving back. That includes an updated website that makes it easier for users to navigate scholarship applications and find information on AHLEF programs.
While strengthening the industry's talent pool is a key goal, Maietta says the Foundation plans to also maintain its focus on the individual people it supports and represents. "We want to be seen as the igniter of the pipeline, and while the 'pipeline' sounds like such a cold word, it's anything but," Maietta explains. "We're such a people-driven industry. Everyone in this industry—whether a CEO or general manager or entry-level person—has such a humbleness in the way that they approach their work. I think that selflessness is what makes them so special. It's also what makes them so good at their jobs."
Maietta adds that hospitality's culture of service and generosity does something else—it transforms AHLEF's mission into a reality. "It makes the job so much easier when you're surrounded by people who want to do well and bring others along with them."