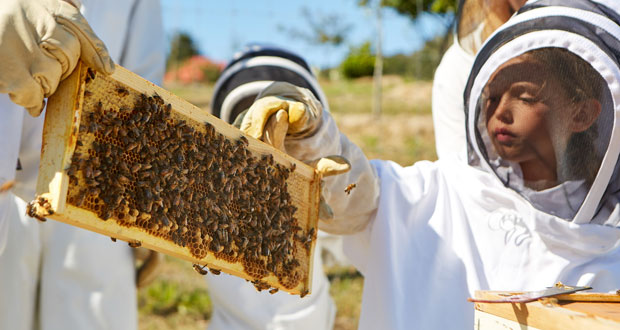 Each September, National Honey Month celebrates nature's sweetener and the honey makers, beekeepers, and busy bees working hard across the country to bring honey to consumers. Hotels throughout the United States have recognized the versatility of this ingredient and are incorporating honey into their food and beverage, wellness offerings, and experiential programs, some even going beyond offerings to support local bee populations. Below are nine hotels and resorts that have added honey into their offerings and programming in unique ways.
Calistoga Ranch in Calistoga, Calif.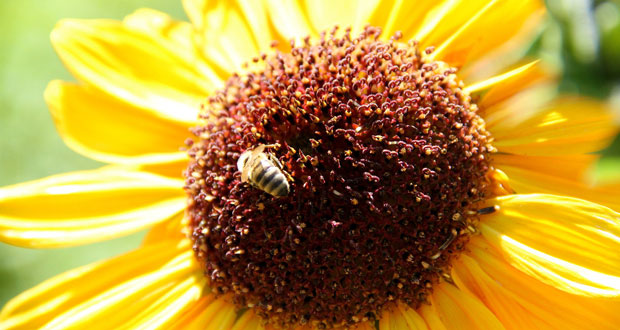 As part of Calistoga Ranch's commitment to nature, the "Bee Well" program seeks to help re-build the honeybee population in Napa Valley and educate guests about the benefits of the honeybee and their honey. The comprehensive program not only includes eco-luxe, honey-infused spa treatments such as their honey body quench, but weekly tours, too. The bee population at Calistoga Ranch has now grown to five hives, with up to 30,000 bees per hive. The honeybees create a special varietal—a mixed floral honey including orange blossoms, lavender, rosemary, and roses from the garden and indigenous wildflowers throughout the canyon. Guests are invited to join the resident beekeeper for a course on the Honeybees at Calistoga Ranch, the importance of their survival, and all they do for the vegetables and flowers in the Napa Valley.
Sanderling Resort in the Outer Banks, N.C.
Through the work of two on-property hives dubbed "The Sanderling Bee's," the resort incorporates honey into its F&B program in a range of ways. From the Keeper's Watch cocktail in the historic No. 5 Bar—honey-infused bourbon, ginger ale, and fresh lemon juice—to the liquid gold and honeycomb incorporated into the Outer Banks Cheese Tray of specialty cheeses from local artisans. The hotel also offers a custom candle created in partnership with the Outer Banks Candle Company and honey from The Sanderling Bees is available to be experienced throughout the resort all September long.
Ojai Valley Inn in Ojai, Calif.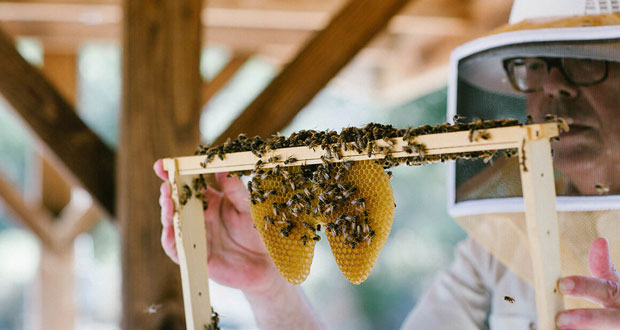 The resort recently announced the arrival of an on-property apiary and launch of an immersive beekeeping experience, available for guests daily. With each excursion, guests receive an immersive, hands-on beekeeping experience. The outings include an educational journey, tour of the hives, and raw local honey tasting on the patio of the Inn's new apiary set amidst a lavender and wildflower-studded meadow.
The Lincoln Marriott Cornhusker Hotel in Lincoln, Neb.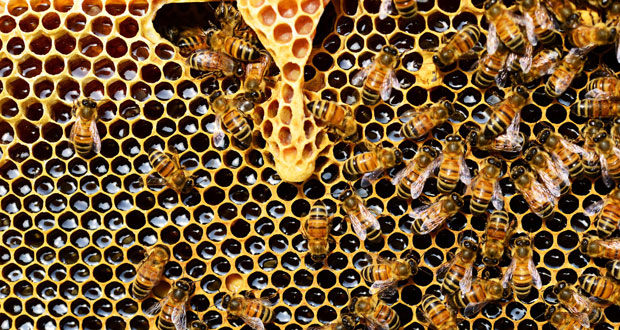 The Lincoln Marriott Cornhusker Hotel, owned and managed by Marcus Hotels & Resorts, has implemented numerous programs designed to support various community initiatives and last year became home to over 80,000 honeybees. Influenced by the hotel's former Artist-in-Residence Margaret Berry, who created paintings using resin, pigment, and beeswax, the hotel began raising honeybees on its roof to generate awareness of the decline in honeybees over the years, while also using the honey for menu items and honey-inspired beer. The honey, called 'Bee Our Guest', is also available for purchase in the hotel's gift shop.
Hotel Wailea in Maui, Hawaii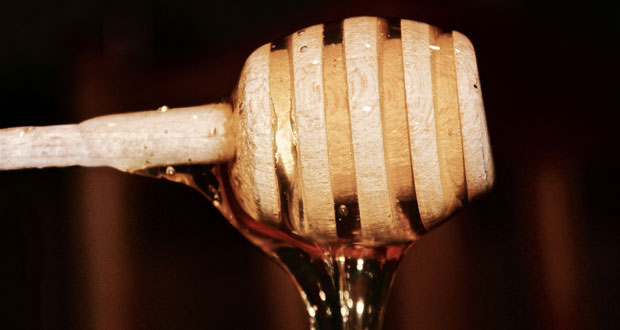 Hotel Wailea is home to five beehives which are sustainably harvested and cared for by native Hawaiian and Master Beekeeper Emil Lynch. Lynch's beehives are responsible for making Hotel Wailea's raw, unfiltered, GMO- and chemical-free honey. This signature honey is used throughout the hotel in both food and beverages, is available for guests to purchase, and will soon be used to create Hotel Wailea's signature scent crafted by all-natural skincare and beauty company, Lather.
Mauna Kea Beach Hotel on Hawaii's Big Island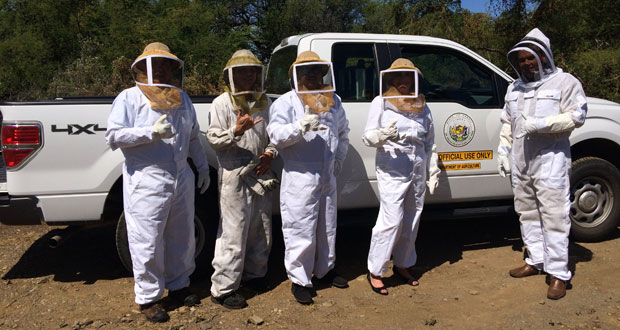 The only resort that works in cooperation with the State of Hawaii's Apiary Division to sustainably maintain honeybees, MKR's 'Bee Mauna Kea' initiative is activated at Mauna Kea Beach Hotel and The Westin Hapuna Beach Resort–the two resorts located in MKR. Guests can take a paid one-hour tour that includes: a walking tour of the beehives, complete with beekeeper suits and conducting "honey pull" if the hive is ready to harvest; a demonstration of how the Flow Hive works with hands-on experience; a raw honey tasting and sampling of resort's food and beverages that use the sourced honey; and a jar of MKR honey.
Carmel Valley Ranch in Carmel Valley, Calif.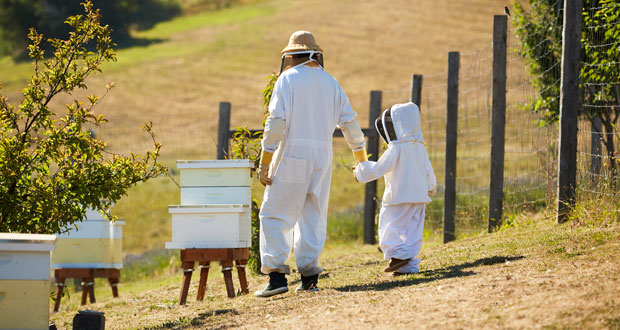 The Carmel Valley Ranch's 'Amazing World of Bees' program begins in the three-acre organic garden with a discussion and demonstration, followed by the opportunity to suit up in a bee suit and head into the apiary, and finally taste honey from the different hives which are infused with the flavors of herbs growing nearby. In addition, its 'What's the Buzz' children's program allows kids to explore what it takes to become a bee through a series of interactive and educational games—from body identification to swarming, pollination, and making honey. For adults, Spa Aiyana's 'Honey Harvest' spa special in September incorporates fresh honey made at the resort.
The Broadmoor in Colorado Springs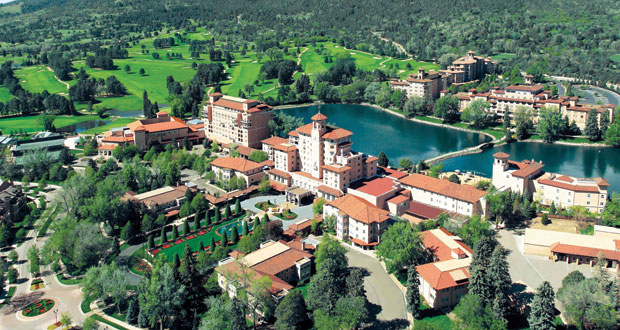 The Broadmoor has a garden and greenhouse for its 20 restaurants and cafés and harvests honey from its own hives. As part of the sustainable food movement, the resort is leading a "Food Rescue" program in partnership with Springs Rescue Mission in Colorado Springs to provide a steady supply of donated food originally prepared for buffets and events in hotels across the city that otherwise would have gone to waste–food that has never been out of the kitchen and is repurposed for those in need.
Chatham Bars Inn in Chatham, Mass.
Chatham Bars Inn has long been known for its farm-to-table culinary program. This summer, the Cape Cod resort unveiled two signature products for its spa–a lavender-honey sugar scrub made by Make Scents Natural Spa Line using Chatham Bars Inn Farm's honey and infusing lavender oil. The scrub is made from natural, organic, vegan, and cruelty-free ingredients, and are available for spa treatments and purchase.
Top photo: Courtesy of Carmel Valley Ranch, Carmel Valley, Calif.