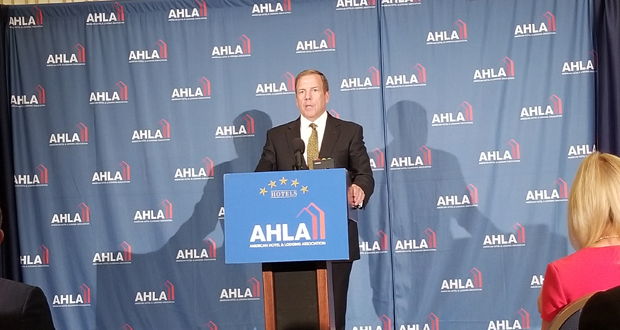 Yesterday at the National Press Club in Washington, D.C., representatives from the American Hotel & Lodging Association (AHLA), as well as leadership from Hilton, Hyatt, IHG, Marriott, and Wyndham, joined for a press conference announcing a new safety initiative that will impact the entire hotel industry—the 5-Star Promise. The 5-Star Promise is a pledge to provide hotel employees across the United States with employee safety devices and a commitment to policies, training, and resources aimed at enhancing hotel safety, including preventing and responding to sexual harassment and assault.
"Our business is centered on people taking care of people. That has always been the top priority," said Katherine Lugar, president and CEO of AHLA. "I couldn't be more proud of today's announcement. It's really building on that legacy of AHLA-member companies coming together to proactively address the issue of safety and providing yet another layer of security for hotel employees."
AHLA released the following breakdown of the 5-Star Promise:
"Build on our industry's longstanding commitment to hospitality and a people culture. AHLA will continue providing industry-wide training and materials on safety and security matters, and retain expert guidance, such as Tina Tchen, a partner at Buckley Sandler LLP and co-founder of the Time's Up Legal Defense Fund, to work with AHLA and its members on workplace diversity and safety matters.
Ensure mandatory anti-sexual harassment policies are in place in multiple languages.
Provide ongoing training and education for employees on identifying and reporting sexual harassment.
Provide U.S. hotel employees with employee safety devices to help them feel safe on the job.
Broaden vital partnerships with wide-ranging national organizations that target sexual violence and assault and trafficking and promote workplace safety, including the National Alliance to End Sexual Violence (NAESV), End Child Prostitution and Trafficking (ECPAT-USA), and Polaris."
Lugar added, "This is an ongoing challenge. The hotel industry is steadfast in our commitment to be part of the solution. Protecting our employees and the millions of guests who stay in our hotels each day is of paramount importance to the industry."
Also present at the press conference was Tina Tchen, partner at Buckley Sandler LLP and co-founder of the Time's Up Legal Defense Fund. Tchen said that it is vital that industries like hospitality band together to combat an issue as pernicious as sexual harassment. "It's been three decades since sexual harassment was outlawed by the Supreme Court, and yet we are where we are today. That's because the tools at hand over the last few decades haven't met the job, haven't done the work, and we need to develop new tools, like the new tools you've unrolled in the hotel industry today," she said.
Tchen added, however, that the unity she's seen in the hotel industry is heartening. "I do a lot of work across a lot of industries, and this is the first industry that I've seen come together across this broad range of competitors […] I want to commend the industry for doing that, for standing together. I really look forward to the continuing work that we're going to do in years to come."
The brand leaders, which included Chris Nassetta, president and CEO of Hilton, Mark Hoplamazian, president and CEO of Hyatt, Elie Maalouf, CEO, Americas, of IHG, Arne Sorenson, president and CEO of Marriott, and Geoff Ballotti, president and CEO of Wyndham, all announced steps that their companies would be taking to further these safety initiatives, from implementing new brand standards that make the use of employee safety devices mandatory in trainings and resources aimed at preventing and responding to sexual harassment policies. They also all reiterated their commitment to growing and changing their programs overtime as needed.
"This is not a static commitment, this is an evolution. And as circumstances change, as technology evolves, and as needs change, we will continue to assess, evolve, and iterate our policies and our procedures and how our hotels actually operate," said Hoplamazian.
Chair of the AHLA Board and president of B.F. Saul Hospitality Group Mark Carrier noted that as a franchisee of many of these brands, the commitment at the top to making these initiatives work on a property level will be integral to their success. "It won't be one size fits all, but what will be very, very important is [that the program will be] executed well, the technology is sound, and we have in place processes and procedures so that it actually works when a team member is calling [for assistance] on the device."
Beyond the companies that attended the press conference, other major hospitality brands, including AccorHotels, Best Western Hotels & Resorts, Caesars Entertainment, Four Season Hotels and Resorts, G6 Hospitality, Las Vegas Sands Corp, Loews Hotels & Co, Montage International, Outrigger Hotels and Resorts, Radisson Hotel Group, RLH Corporation, and Red Roof, have made a commitment to participate in the 5-Star Promise.
"This is an amazing opportunity to do things that we can align on that make a real positive difference. For me, it's a great example of the power of the AHLA, the maturity of it, and the momentum that it has. I feel great being part of it. Engaging with other folks across the broad industry that we have. It's fantastic," Carrier said.