Located in the heart of the Nashville central business district (CBD), the Music City Center (MCC) is a $623 million convention center that opened in May 2013. In honor of the MCC's fifth birthday, we leveraged STR data to conduct a pre- and post-MCC opening analysis to measure its impact on the CBD's hotel performance.
When the MCC opened, there were 41 hotels encompassing a total of 7,241 rooms in the Nashville CBD submarket (as defined by STR). By May 2018, supply increased by 20 hotels, to a total inventory of 11,371 rooms. That 4,130-room increase ranked fourth out of 643 STR-defined U.S. submarkets during that span, falling behind only Midtown West/Times Square, N.Y. (5,825), Midtown South, N.Y. (5,949), and the Chicago CBD (7,324). Growth will not stop there, however, as the pipeline of new supply into the Nashville CBD had another 3,339 rooms under construction as of June 2018. This would represent a 29 percent growth in supply if all 3,339 rooms were to open tomorrow.
The Nashville CBD sold 2.1 million room nights in the 12 months ending May 2013. Fast-forward to the present, and demand swelled to 3.2 million room nights sold in the 12 months ending May 2018. The additional 1.1 million annual rooms sold post-MMC opening account for a 55 percent growth rate over this five-year period.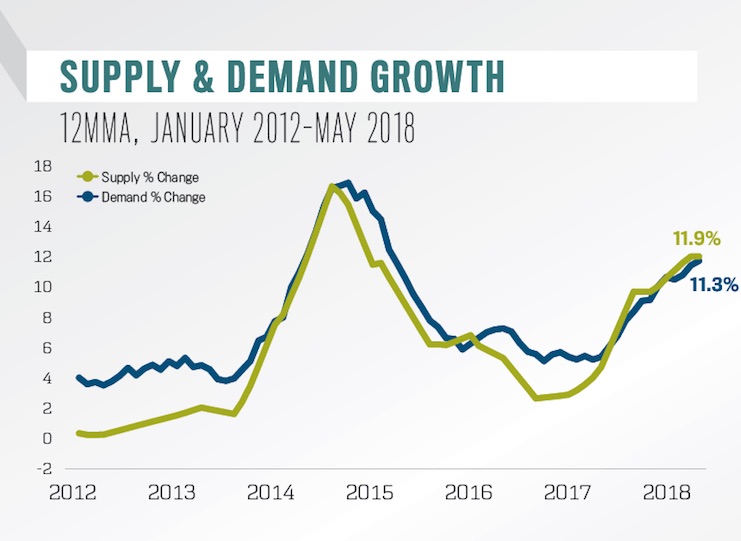 Nashville CBD hotels were already quite full prior to the opening of MCC, to the tune of 78.3 percent annual occupancy. Since then, absolute occupancy levels increased to 81.4 percent, which is the 19th-highest occupancy of all U.S. submarkets. Hoteliers certainly took notice of the strong fundamentals, growing average daily rate (ADR) from $142 to $221 during that time. The $79 increase in ADR is the fifth-highest of any of STR's U.S. submarkets over this span.
As one would expect, strong occupancy and ADR growth equaled solid increases in revenue per available room, which jumped from $111 to $180 over the five-year period. This $69 increase in RevPAR was the second-most of any of the U.S. submarkets, behind only the Maui Area ($122).
Since the 2008-09 recession, total U.S. transient-demand growth outpaced group-demand growth. In the case of Nashville CBD, however, we have seen the opposite. In the 12 months ending with May 2013, the segmentation mix was 56.9 percent transient and 39.3 percent group. After that, group share expanded to 42.4 percent, while transient shifted down to 56.1 percent.
It is clear that the MCC's opening boosted overall Nashville CBD performance. Although harder to quantify, we should tip our hats and recognize other demand drivers as well. A few months prior to the opening of the MCC, the television show Nashville debuted, shining a national spotlight on the city. In February 2016, Condé Nast named Nashville one of the 10 best places for bachelor and bachelorette parties. Lastly, the city's restaurant and rooftop bar scene has exploded. These combined factors led to a period of unprecedented growth, and Nashville should continue to be a very lucrative market in the years to come.