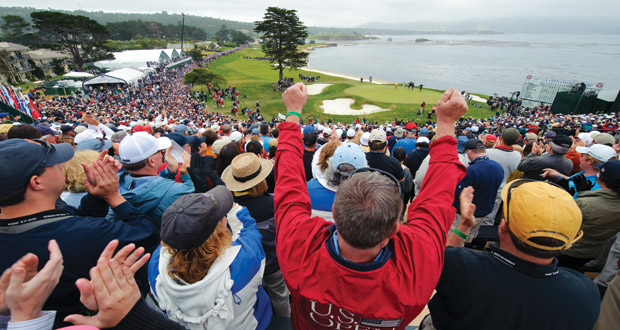 Major sporting events are big business for hotels—just ask the Minneapolis hoteliers who were swamped during the Super Bowl earlier this year. Trying to go about "business as usual" when a major sporting event is in town—or, in some cases, at your hotel—is next to impossible. Hoteliers have to find a perfect balance between accommodating guests who are there for the event, guests who aren't, and, sometimes, the event itself.
Pebble Beach Company, headquartered in Pebble Beach, Calif., which owns and operates several hotels and golf courses at Pebble Beach Resorts, is well-practiced in achieving this balance. The property has hosted the U.S. Open Championship five times, and is on deck to host it again in 2019, among many other major golf tournaments. "You have to understand and cater to the needs of the different types of guests at the hotel. There are people who are there for the event, spectators and fans just visiting the property for the day, and guests who have nothing to do with the event at all. You need to understand what those three customer groups are looking for and then meet each group's individual needs," David Stivers, president of Pebble Beach Company, explains.
When catering to guests looking to experience the event, "It all starts with partnering with the right event organizer," Stivers says. This event organizer should work with the property on a marketing plan, attracting guests and communicating that the property will be an ideal place to stay if they're in town.
While large events can become all-engrossing, Stivers cautions hoteliers not to forget about the guests who aren't staying at your property for the big match-up. "Your staff has to provide top-level services to guests who may just be passing through," he says. "And, even if 95 percent of your guests are there for the event, the 5 percent who aren't still need to be receiving a quality experience."
Stivers also says that hotels should not be averse to hiring outside help if an event will sap their resources. "Caterers and other supplementing services will help handle the volume. And, if you have an issue come up, they can deal with it quickly and resolve it. Providing resolution is just as important as preventing problems in the first place," Stivers says.
Expanding on that, Stivers adds that past mistakes help identify problem areas that need to be remedied, and that the more a property hosts, the more seamless their events will become. "Learn from your past, both the good and the bad, to prepare for the future," he says.
If Stivers had to choose one piece of advice for hoteliers looking to host a major event, it would be to start early. "It takes a tremendous amount of pre-planning to pull off these events. We've taken some of our team members and dedicated them almost full-time to preparing for our events. And, as an event comes closer, more people will spend time preparing. You want to have a good, solid, and strong communication plan so you're prepared for anything that comes your way."
Photo credit: TGO Photography