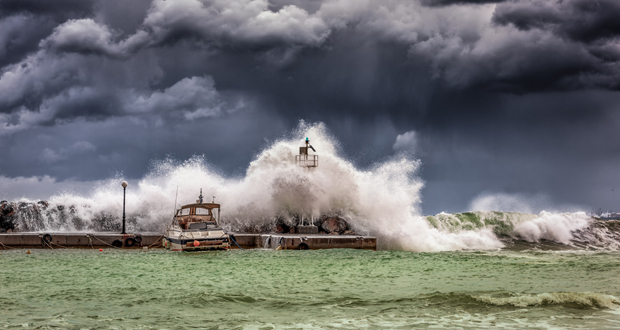 When your property is located in a risky location—such as on Baltimore's Inner Harbor—it makes sense to get ahead of the weather forecast and be prepared to spring into action before, during, and after a hurricane, says Justin Jabara, Meyer and Jabara Hotels' vice president of development & acquisitions. Jabara says, at MJH, they don't just talk about the weather—they do something about it. This, he told LODGING, starts with gauging their properties' vulnerability, tracking the weather event, and adhering to a plan designed to protect their assets, guests, employees, and community.
Jabara says MHJ, which owns and manages hotels, has a number of properties that are especially vulnerable to hurricanes. "We've grown to the point that we have a number of great prestigious assets in risky areas. Especially concerning is Baltimore because of the properties that are on the water—including Pier Five Hotel, a Curio Collection Hotel, the Admiral Fell Inn, and the Inn at Henderson's Wharf."
To deal with the risk there and elsewhere, he says, his company has put a plan in place that involves having its hotels prepare individually but also as a group to mobilize resources to weather the impact of the storm and its aftermath on people and property.
"About five years ago, we started developing a plan, which is directed by our risk management head Terri Stanganelli to coordinate both the operations and asset issues when there is the threat of a hurricane to any of our properties," he explains. Jabara says, overall, the plan is designed to set the stage for everything the hotel and community will need first to weather the storm, then rebuild after it's over.
As those who are accustomed to trying to second-guess hurricane behavior know, even the experts can't always predict what will happen. For that reason, Jabara says, as soon as there is news of a tropical depression heading toward any of its properties, Stanganelli initiates communication with the VP of operations of those that may be affected and they share increasingly frequent updates and prep calls until the threat materializes, or, as is often the case, passes. "On the asset side, we have hurricane plans for all of our hotels that are within the typical hurricane pattern. For example, for each of our Baltimore hotels, we know how many sandbags we need and where they will go; and we have dams, dikes, and auxiliary pumps to deal with flooding, as well as generators to power them." Jabara says all MJH hotels have hurricane check lists and a special cabinet with emergency supplies, but, when there is an immediate threat, everything is double-checked. "We need to re-inventory everything. We need to be sure there's sufficient bottled water, food, and gas, as well as plywood and glow sticks; and we check our generators and emergency lighting, and make sure we have our backup keys and that batteries are fresh."
He describes two different possible scenarios that can transpire when a property is actually hit by a hurricane—including the winter blizzard version known as a nor'easter: "We either stay with the asset or evacuate the asset, but we generally don't know which scenario will play out until the last minute, so we need to get out in front of it. Once we know more about the path and strength of the hurricane, we need to bring resources from outside the hurricane zone to the properties likely to be impacted."
For example, he says, "In the most recent hurricane, construction crews, restoration crews, electricians, our personal project managers, extra management staff, general managers and operations staff all stayed outside the hurricane zone, but were prepared to help. We call all this shuffling 'mission control.'"
Jabara says these measures help prepare the property to reopen not only for guests but also for members of the staff and community displaced by the storm. "From an operations standpoint, we need to consider our staff and their families, many of whose homes may be damaged. We therefore set aside blocks of rooms for staff. But it's a hallmark of who we are that we house people in the community as well as staff who have lost their homes."
Housing people—sometimes in ballrooms—he says, can also involve feeding them. "Both full service and select-service assets have kitchens and can stretch to serve three meals a day with chefs from other properties stepping into the breach."
Jabara says hotels need to be prepared to work together to deal with catastrophic events such as these, which he expects to increase in frequency, and says having an effective plan is good for everyone. "We feel a huge responsibility to our guests, staff, and community, as well as our shareholders. If we have 350-room hotel in a community hit by a storm and no one has power, we're opening our doors, and doing all we can to restore normalcy. The faster we do that, the sooner we can all go back to work."