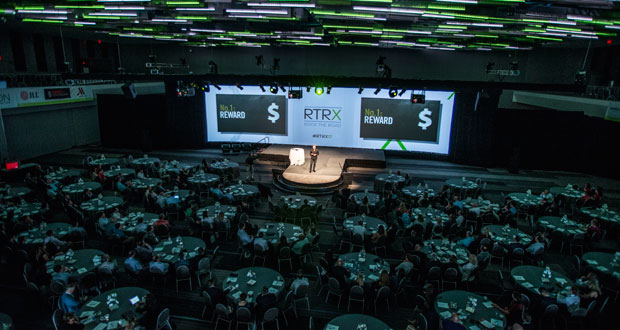 Cancer research is a cause near and dear to Rockbridge CEO Jim Merkel's heart, and he and the entire Rockbridge team have made funding for important scientific research a top priority with their yearly charity event, the Rock the Road Experience (RTRX).
RTRX is an annual leadership and innovation event where attendees can take in presentations from inspiring speakers, connect with their colleagues, and, perhaps most important, participate in a bicycle ride that raises funding for cancer research.
The event is produced in partnership with Pelotonia, which donates to cancer research at The Arthur G. James Cancer Hospital and Solove Research Institute, the patient-care component of The Ohio State University Comprehensive Cancer Center. RTRX launched in 2011, and since then, the event has raised $3.2 million for the cause. This year, Merkel says that Rockbridge planned to raise another $1 million.
The 2018 event took place in the beginning of August, and Merkel says, "Partnering with Pelotonia makes the event successful. This cause really resonates with our team members, who also participate to ensure we have the biggest impact possible."
He adds, "Attendees find RTRX appealing not just for the ride, but also to network and spend time with their colleagues. We try to make it better each year so that guests will connect to it and support it in bigger and more meaningful ways."