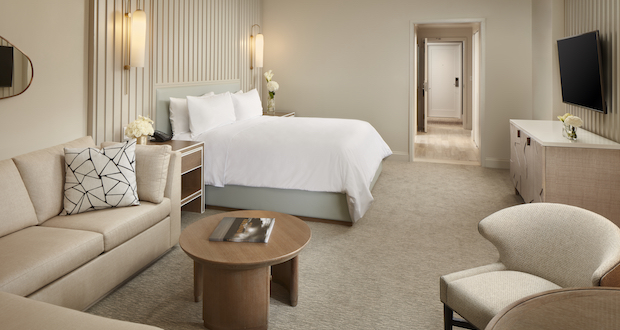 AVENTURA, Fla.–Turnberry Associates and Marriott International announced that Turnberry Isle Miami, formerly part of Marriott's Autograph Collection, will reopen as part of the JW Marriott portfolio in Winter 2018. The property will be renamed the JW Marriott Miami Turnberry Resort & Spa and will include a new 16-story Orchid Tower with 325 guestrooms.
Designed by Nichols Brosch Wurst Wolfe & Associates, the tower nearly doubles JW Marriott Miami Turnberry Resort & Spa's overall capacity to 685 rooms and suites, with interiors led by design studio Champalimaud.
"The hotel's design exemplifies the vibrant culture of Miami and allows each of our guests to enjoy both elevated and sophisticated experiences from the moment that they check in," said Mitzi Gaskins, vice president and global brand leader, JW Marriott. "We are looking forward to continuing to deliver the highly individualized service that so embodies the JW Marriott brand at our new Miami property."
"JW Marriott Miami Turnberry Resort & Spa continues to evolve and we are incredibly excited for our new guest offering with the beautifully designed Orchid Tower," said Jeffrey Soffer, co-chairman of Turnberry. "With critically acclaimed restaurants, a world-class 36 holes of championship golf, and an ongoing reputation for wellness and spa excellence with the âme Spa & Wellness Collective, the Orchid Tower is the next chapter in elevating the overall guest experience with beautifully designed guest rooms that add to JW Marriott Miami Turnberry Resort & Spa's ongoing story of redefining luxury."
The interior design by Champalimaud took inspiration from Miami's art-deco history presenting clean, geometric lines coupled with classic designs and simple details. An ivory color palette, as well as blue and brown accents, reference the natural surroundings of the environment.
The Orchid Tower's room types include one king size bed, two double beds, one-bedroom suites, presidential suites, and a two-bedroom penthouse–all of which have views varying between the resort, golf course, or ocean. Lacquer-painted, wood-fluted paneling is behind the bed to pay homage to the tower's strong art-deco influence and are accentuated by modern bed lamps. Each guestroom has a credenza inspired by a vintage dresser designed by the famous mid-century Italian designer Gio Ponti, who was known for his sea-side resorts in southern Italy. The credenza has a rift-cut white oak with a solid Caesarstone top surface and metallic accents of oil-rubbed bronze at the hardware and legs. Each guestroom also has in-room artwork from established artists curated by DAC Art Consulting.
The bathrooms have a contemporary design with Alabama white marble walls and floors, and vanity countertops in Bianco Dolomiti classic marble with double sinks, a shower with glass door, and a custom vanity mirror with subtle curved corners in an oil rubbed bronze frame, built-in full length.
"It's a gorgeous extension that pulls its inspiration from Miami's best design moments and encapsulates them in relaxed yet elegant spaces," said Jon Kastl of Champalimaud. "Extraordinary design begins with an exceptional story and JW Marriott Miami Turnberry Resort & Spa's rich history served as the perfect setting for our design narrative."