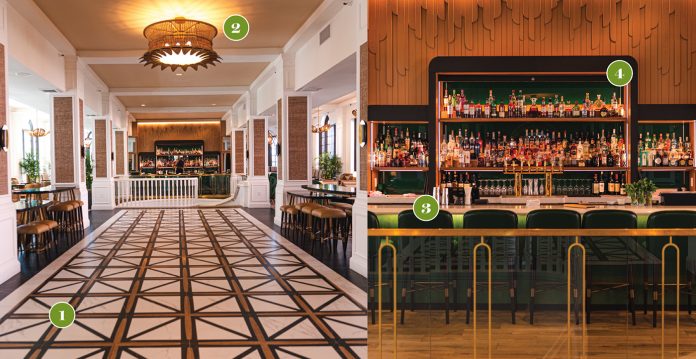 In January, The Don CeSar unveiled the results of a three-year renovation. The property's updated design pays homage to its 93-year history and creates a timeless aesthetic that all generations will appreciate.
Managed by Davidson Hospitality Group's new Davidson Resorts vertical, The Don CeSar's renovation encompassed the entire St. Pete Beach, Fla., property. The meeting spaces, guest corridors, and 71 Beach House Suites by The Don CeSar came first, followed by the retail and food and beverage spaces. The final phase involved upgrading the 277 guestrooms and suites, a new pool bar, a rooftop deck, and full-service restaurant. The guestrooms have designs inspired by the Gulf Coast, with a blush tone throughout that reflects the property's nickname—The Pink Palace—earned from its hot pink exterior. During the renovation process, it was important that new and modern amenities were properly blended with the property's classic appearance, honoring both new and returning guests of all ages.
Thomas Fraher, general manager for The Don CeSar, noted that many returning guests remember visiting the property when they were younger and are excited to share memories with family and friends who have not seen the hotel before. Fraher says the property "has a special place in the hearts of locals and people that have been coming down to The Don for generations.
The Lobby Bar has a number of design highlights, from the custom bar to the geometric tile floor in the center of the space. The geometric flooring is meant to be eye-catching and it "pulls everything together," says Fraher. He adds that currently, the geometric floor has become thoe hotel's "de facto dance floor."
The Lobby Bar boasts many textures throughout, including palm fronds, white plaster columns, and textured wallpaper. A nod to the "high-class era," as Fraher calls it, the large wicker chandelier in the middle of the space is meant to exude the history of the property.
Fraher says the color green "evokes elegance," which is why it was chosen for the Lobby Bar. Both the bar's chairs and underlighting are a shade of green because "it's a throwback to the heyday of the casinos in Cuba. It's a real classic throwback—elegant, high society, yet not too opulent."
The area behind the bar was custom-built, says Fraher, and the shelving structure and lighting is meant to be noticed from the stairs leading to the geometric floor. The green underlighting, Fraher adds, is in fact "two green glass plates with a lightbulb in the middle that shines through, which creates some interesting lighting notes."
---
Like this story? Subscribe for daily updates.