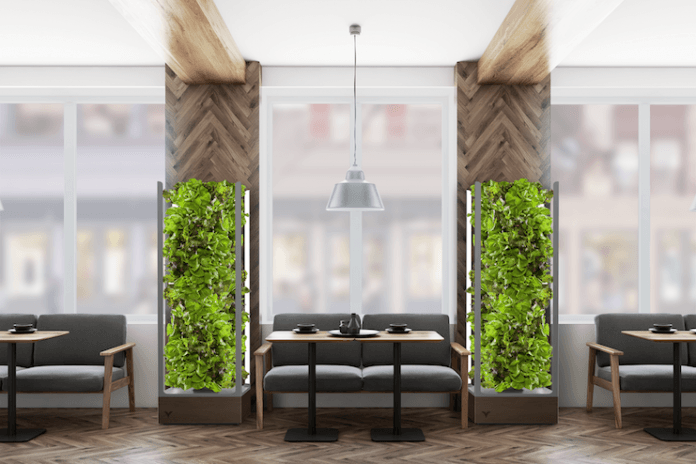 As the farm-to-table movement continues to evolve, hotels and restaurants are looking for ways for their chefs—and, by extension, their guests—to get closer and more familiar with their food and its sources. This is what inspired the minds behind Verdical, a technology-based platform that empowers food service providers to grow all of their own greens and herbs in a very small footprint. Verdical worked with engineers from TE Connectivity, a global technology company that designs and manufactures connectivity and sensor products for harsh environments, to design needed sensors, lighting, and connectivity that "eliminates the distance between farm and fork."
LODGING caught up with Andrew Deitz, CEO of Verdical, Terry Murphy, global director, strategy & business development at TE Connectivity, and Mohammad Ahmed, senior manager of R&D at TE Connectivity, to discuss this leading-edge technology.
Where did the 
concept for Verdical come from?
Andrew Deitz: We started with a vision to make the distance from farm to table less than 100 feet and an aspiration to connect people to their food and where it comes from. What we learned over the last 18 months is that we are not alone in our desire to eat food that is fresh, local, and tastes better. We also love the idea of being able to offer people more flavor and variety. For example, there are 150 types of basil and 600 types of mint. When you have the ability to grow all kinds of herbs and greens on-site, you can add so many exciting flavors to a plate.
How did Verdical and TE Connectivity 
first connect?
Andrew Deitz: My relationship with TE Connectivity began with a chance meeting on a shuttle bus at the Smart Kitchen Summit in Seattle. I overheard Terry talking about startups and how they make decisions on their initial bill of materials on first-generation products. This then led to us talking mostly about focus and what our companies stood for. Terry told me about how they help startups make decisions to produce smarter, more reliable, more cost-effective products.
Terry Murphy: The first conversation we had was around the purpose of each company and if we have the same vision. TE's purpose is to create a safe, sustainable, productive, and connected future. We were intrigued by the problem Verdical was aiming to solve. With our shared purpose, we then started trying to understand Andrew's product platform and what some of the challenges were.
Mohammad Ahmed: It's also all about faster time to market and optimization of costs. We worked with Verdical to design the product in such a way that its design is "first-time-right," so when it goes on the market, it improves the margin for the company and the value for the customer.
What can Verdical do for a hotelier?
Andrew Deitz: Verdical moves production to the point of consumption and provides a nimble platform to meet the changing requirements of individual customers and dynamic menus. Hotel diners can engage in the selection of customized ingredients to meet their palette and the restaurateur can intuitively communicate their commitment to fresh and local food. We can provide a new layer of experience to the hospitality industry: living visuals with smell and taste. The Verdical platform can provide a consistent food experience across locations.
Why do you think wellness is resonating so much with consumers right now, and do you think we'll continue to see wellness-focused innovations?
Andrew Deitz: Wrapped, packed, and processed food does not work. I don't see the wellness trend dissipating anytime soon. Baby boomers want to live longer, and millennials want greater transparency about their food and where it comes from. You know where it comes from, so you don't have to analyze its packaging to get that information. Wellness, to me, is about trust. Who has your best interests at heart?