MCLEAN, Va.—In honor of National Handwashing Awareness Week, Hilton Garden Inn and Hampton by Hilton announced a partnership with Clean the World, the world's largest organization to recycle hotel soap and bath amenities. Furthering Hilton's 2030 target to send zero soap to landfill, Hilton Garden Inn and Hampton by Hilton commit to supporting Clean the World by providing recycled hygiene products.
As part of the global partnership that begins in 2019, more than 670 Hilton Garden Inn and 2,230 Hampton by Hilton properties in the United States, Canada, Puerto Rico, and the Dominican Republic will recycle discarded soap and bathroom amenity bottles to be converted into new bars of soap and hygiene kits. By recycling these products, Clean the World provides soap to those in need, ultimately preventing diseases within communities and reducing mortality rates around the world.
The partnership between Hilton Garden Inn and Hampton by Hilton with Clean the World is an extension of the pre-existing partnership between the global nonprofit organization and Hilton. In October 2016, Embassy Suites by Hilton, Homewood Suites by Hilton, and Home2 Suites by Hilton announced an industry-first standard that has added over 1,000 hotels to the Clean the World program, diverting more than 397,000 pounds of waste from landfills into recycled materials. Hilton's partnership with Clean the World has already helped distribute over 7.1 million bars of recycled soap to people across 127 countries. With this new commitment, Hilton will more than double the number of hotels it has in the program.
"We have witnessed the powerful global impact Hilton's partnership with Clean the World has made and how it continues to serve those most in need and inspires a sustainable future," said Bill Duncan, global head of Hilton's All Suites and Focused Service brands. "We're proud of the work that has been done thus far and look forward to deepening our commitment to providing at-risk communities with access to soap while simultaneously reducing waste across the globe."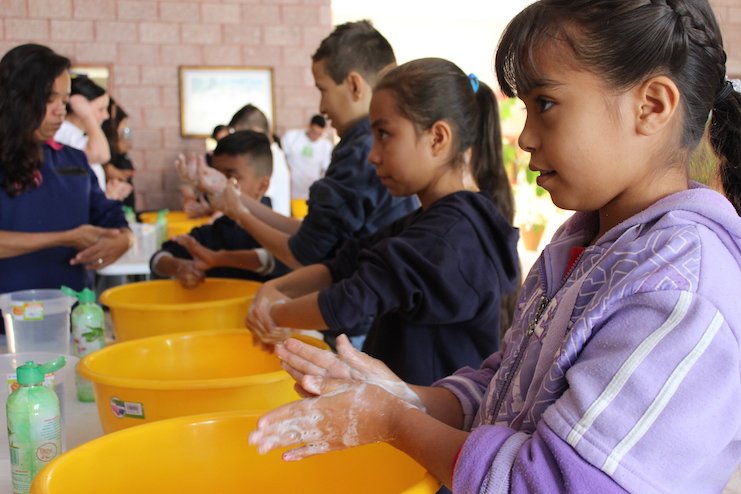 Clean the World's mission began in 2009 and since then, the organization has distributed recycled soap and other hygienic products to families in need, contributing to a 35 percent reduction in the death rate of children under the age of five dying due to hygiene-related illnesses. The soap is made from discarded bars donated by hotels around the world, then crushed, sanitized, and cut into new soap. Clean the World's foundation distributes these soap bars to individuals in need or adds them to hygiene kits along with shampoo, a toothbrush, and a towel as part of its WASH (water, sanitization, and hygiene) education and emergency relief efforts. The recycled bath products go to underserved communities to ensure proper handwashing and hygiene is encouraged to eliminate the threat of numerous preventable diseases.
Hilton has worked with Clean the World since its launch to help overcome this epidemic in various countries, as well as in times of natural disasters, and now will further support the organization through Hilton Garden Inn and Hampton by Hilton.
"Hilton's partnership with Clean the World has already made an impressive life-changing impact around the globe since we joined forces," said Shawn Seipler, founder and CEO of Clean the World. "The very first hotel we collected soap from was Hampton Inn by Hilton Orlando-International Airport in 2009, and today, we are eager to keep the momentum going by extending our alliance among Hampton by Hilton and Hilton Garden Inn brands. Together, we can work to eradicate diarrheal diseases and pneumonia, the two top killers of children worldwide, in our lifetime."