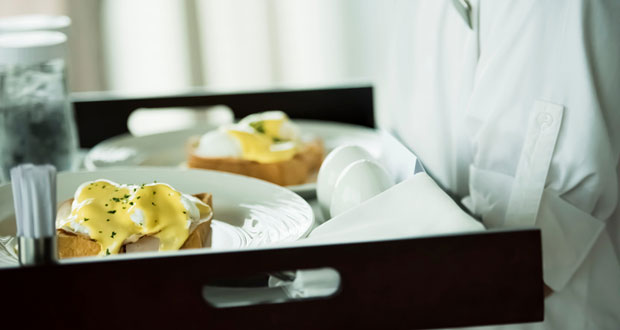 Today's dining options for hotel guests span beyond nearby restaurants and the property's F&B offerings to include app-powered food delivery services like GrubHub, Uber Eats, and more. Hoteliers are searching for ways to remain competitive in this environment, like making their F&B offerings more localized and easier to access. Another approach that hotels are taking to boost their F&B sales and lower operating costs is incorporating digital menus to simplify the process of ordering food—whether in-room or at the hotel's restaurants.
Danielle Gillespie, founder of CorkGuru, a digital wine platform for the hospitality industry, says that even the most well-informed staff can benefit from a technological edge to stand out from the competition today, especially when it comes to her company's forte: wine. "Restaurants embracing digital menus and inventory platforms are subtly helping guests overcome their default routines to the benefit of a better guest experience, sales growth, and operational efficiencies," Gillespie explains. "Behavior analysis shows that when guests get involved in the process of a pairing decision–such as seeing a wine label, flavor notes, and ABV–they will often upsell themselves."
Gillespie adds that the information on CorkGuru's cultivated, digital wine lists is not just being used by guests to find wine pairings, but also by restaurant employees. "I've noticed many restaurant staff members are using CorkGuru's platform as a tool to either learn more about wine or gain a deeper understanding of the properties of wine offerings. It's surprising because it was designed in part to address a guest's knowledge gap, but hospitality workers are embracing it for their own tutelage," Gillespie says.
Digital menus impact guest experience while also helping hotels better manage their ordering systems and F&B inventory. By integrating digital menus with the property's existing systems, hotels can make ordering simpler for both guests and staff. Integrations allow guests to request food and drink from an in-room tablet, TV, or even their own devices. CorkGuru, for example, can operate as both a stand-alone platform or integrate with the hotel's website or app for pre-ordering and real-time descriptions of inventory, Gillespie explains. "Just as guests can check-in and unlock their room with their mobile device, they could pre-order a chilled bottle of wine to be waiting in the room by the time they're pulling up to the hotel."
In addition to making it easier for guests to enjoy a hotel's food and beverage options, digital menus are also frequently easier on a hotel owner's pockets. Gillespie explains that there are two types of cost savings that come with this technology. "First, the hard costs of a wine program, such as printing and updating paper menus, maintaining a wine inventory that doesn't sell, or staff time for a room service order that could be placed electronically. Second, the potential savings on marketing and new guest acquisition costs once hotels are leveraging platform data, analytics, and loyalty functions," she says.
"Hotels already understand how to create incremental value across several aspects of a guest experience–upgrade to a water view, get a morning paper, order the breakfast package, etc. Bringing technology to hotel food and beverage programs would have a compounding effect, giving hotels a greater digital advantage, creating a better guest experience, and ultimately bringing guests back," Gillespie explains, adding that this technology creates a connection with guests even when they are not on property. "Giving guests a feeling of being appreciated and on the 'insider's tract' creates a great experience."