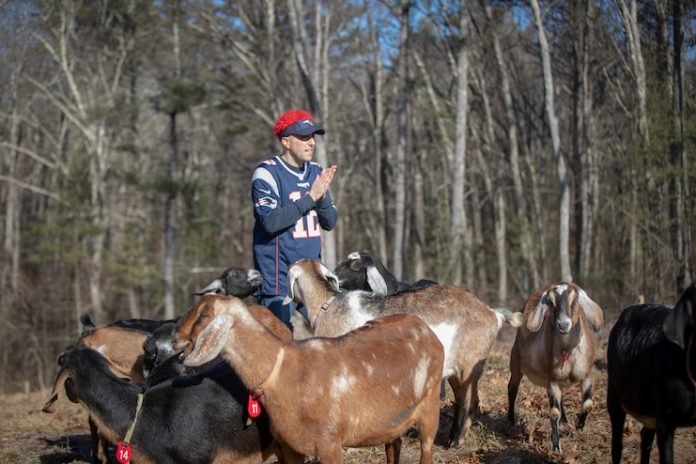 Joe Capalbo, area director of operations for Kimpton Hotels of New England and general manager of the Kimpton Marlowe hotel in Cambridge, is looking forward to Sunday's Super Bowl LIII between the New England Patriots and the Los Angeles Rams. "We've been here before with the Rams," Capalbo said. "We went head-to-head with them back in 2002. And that win started two decades of championship dominance here in New England. And when you've got the GOAT, Tom Brady, as your quarterback, I'm confident enough to issue a friendly wager against our Kimpton hotels in Los Angeles."
With "the GOAT" in mind, Capalbo visited Dancing Goats Dairy at Lillooet Farm in Boxford, Mass., to surround himself with 20 goats. He then issued his wager via video to Marco Scherer, general manager of the Kimpton Hotel Palomar in Los Angeles and area director of operations for Kimpton Hotels of Los Angeles.
"When the Pats #BEATLA and win their sixth title—and let's not 'kid' ourselves, that will happen—here's how the Kimpton L.A. hotels will help celebrate a Pat's victory," Capalbo said in the video before listing his wager. If New England wins, Capalbo said the Los Angeles hotel must serve goat cheese and "LOVE MY GOAT" wine during the property's daily hosted manager receptions for one week. "Yes, LOVE MY GOAT wine actually exists," Capalbo added. The hotel was also asked to bring a real goat in as a mascot for one of these wine receptions.
"Your front desk staff will look great in Tom Brady jerseys when they check in guests for a week," Capalbo continued. "And, since goat yoga is pretty popular on the West Coast, we'll want to see some proof of you taking a goat yoga class wearing Patriots' yoga gear."
In response to this wager, Nick Remedio, general manager of Kimpton La Peer in West Hollywood, accepted on behalf of Marco Scherer and put forth his own conditions. If the Rams win Sunday's game, Capalbo and the Kimpton Marlowe team will need to serve California avocados, avocado chips, and Ram's Gate Winery from Sonoma during hosted manager's receptions for one week at the property. Remedio also recommended Hotel California Tequila, "to help wash down that bitter pill of defeat."
Remedio also challenged Kimpton Marlowe to outfit its front desk staff in Ram's jerseys while checking in guests for a week, or to dress like Rams Head Coach Sean McVay—"one beard, one headset, and a sweatshirt," Remedio explained. He added that if the Rams beat the Patriots, the Boston hotel staff must follow along with a Ram's team workout video.
Lastly, Remedio asked Capalbo himself to jump into a Dodge Ram truck and take selfies of in front of Boston Kimpton hotels—Marlowe, Nine Zero, and the Onyx.
"People say L.A. is not a real football town—that's just simply not true," Remedio said in a video responding to Capalbo's wager. "I know Tom Brady and those Patriots have done a lot over the last 15 years. But you know what? It's time for a change."
Ahead of last year's Super Bowl, Capalbo made a wager with the general manager of the Kimpton Monaco in Philadelphia. After the Philadelphia Eagles beat the New England Patriots, Capalbo reportedly had to run along the Charles River at 5 a.m. daily for 12 days while wearing a Rocky-style robe that said "Balboa."