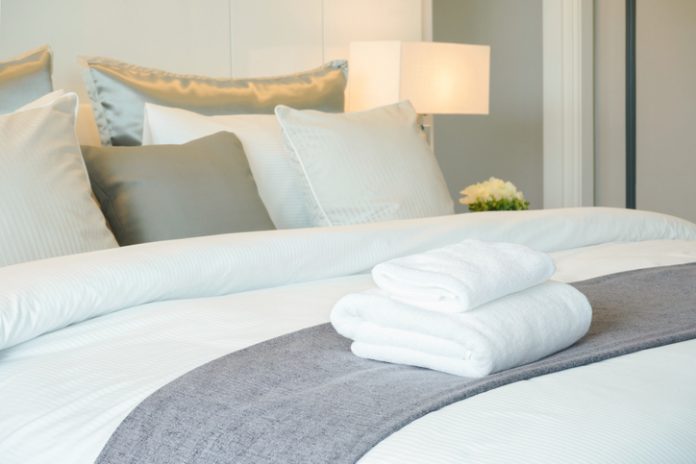 Hoteliers are increasingly looking to reduce the carbon footprint of their properties in many ways, from reducing energy usage to choosing sustainable suppliers. A hotel's towels and linens are often one area that is overlooked when hotels are working to lower their environmental footprint. Greg Eubanks, group vice president of hospitality sales and marketing at Standard Textile, explains what hoteliers should look for when choosing towels and linens that will last longer and have a smaller footprint.
1
Product Quality and Longevity 
"What we recommend are products that last longer and avoid the landfill, as these types of linens will have a higher payoff in the long run in terms of cost efficiency, sustainability, and guest satisfaction," Eubanks explains. "Rather than relying on price or thread count alone, hotels should be considering micro-filaments and more durable weaving technologies that are designed to reduce weight and enhance tensile strength."
2
Pre-Washed and Pre-Laundered
"When hotels receive shipments of towels and linens the first thing they usually have to do is launder them," Eubanks says. "This not only adds a cost for the hotel right up front, but it also creates more of a strain on resources and the environment than necessary." He suggests that hotels instead order linens that have been pre-washed, pre-laundered, and are ready to use directly from the box. "This adds a sustainable advantage for not only the hotel but for the environment as a whole."
"Hoteliers today are looking for textiles that not only offer a pleasant guest experience but also perform efficiently during the laundering process," Eubanks says. He adds that hoteliers should look for a product design that lowers the weight of towels and linens while increasing strength and durability, ultimately reducing the number of resources required during washing and drying cycles. "Hotel guests' primary focus is on having a clean, luxurious bed and bath experience. Engineering products to reduce waste, but yet maintain the absorbency and tactile feel of the textile, is of critical importance to a hotel."
"In the past, if a mattress were to become soiled or damaged in some way, it might have made more sense to simply replace it. Today, however, because of the greater investments being made into mattresses, hoteliers are increasingly using two types of products to protect their mattresses: waterproof mattress pads and mattress encasements," Eubanks explains. He says hoteliers should look for mattress pads designed to protect a mattress from spills, and encasements that will protect against pests as well as allergens.
"As part of the supply chain, hoteliers want to use high performing products that also boast sustainability benefits. A key business priority for many hotels is to reduce their environmental impact, but they often do not want to do it at the expense of their guests' experience or with significantly higher acquisition costs," Eubanks says. When hoteliers choose products made locally, he explains, they reduce shipping costs while also lowering the environmental impact of transporting those products.
"There's not usually a focus put on messaging for energy and water saving initiatives. In the United States, this is primarily seen as the small cards asking guests to put used towels on the floor or hang up their towels if they'd like to reuse them," Eubanks says. "In Europe, however, one hotel chain has started to make this more of a priority. AccorHotels recently converted their linens from bleached bright white linen to natural linen and developed a communication protocol called 'Natural is the New White' for its customers. This has allowed them to educate their guests as to why their products now look beige, rather than white, and what that means in terms of its impact on the hotel chains' sustainability and environmental profile."