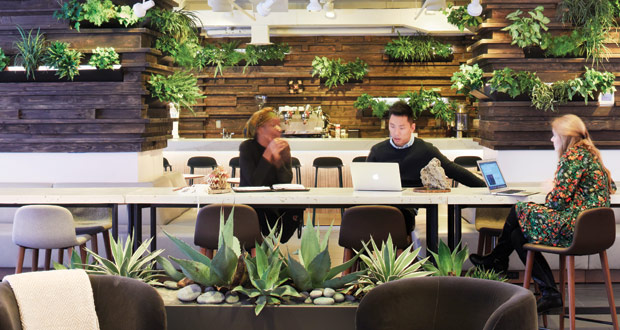 There's a certain comfort that comes with being part of a community—especially for travelers who are far from home and disconnected from their loved ones. The lodging industry has always been concerned with making these guests feel at home in hotels, and some properties have embraced this philosophy in very unique ways.
One such property is The Assemblage John Street, a co-working, co-living, and social space in the Wall Street district of New York City. The John Street property, which first opened its doors in April, is the second of three planned Assemblage "houses"—as the brand calls them—to open in New York City. The property offers amenities cultivated to make members feel at home, such as a tea room, yoga studio, wellness programming, and community events. It also offers spacious guestrooms for travelers.
As a brand, The Assemblage is greatly invested in interconnectedness, and in fostering spaces where that interconnectedness can be realized. The first of its houses, The Assemblage NoMad, opened in November 2017 and functions primarily as a work/relaxation space. However, according to Beth Tufekcic, general manager of the Assemblage John Street, the lodging
component has always been a part of the overall brand. "Our founders really just wanted to provide a holistic experience for members, both in the co-living space and the co-working space.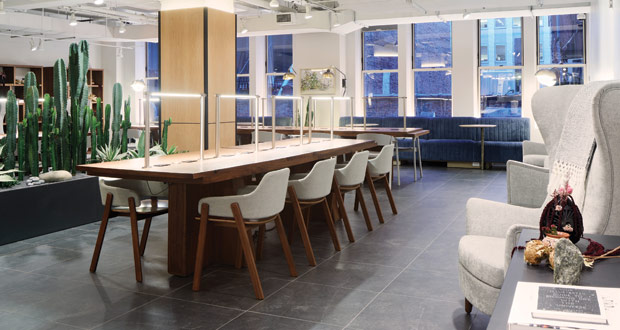 In the case of the John Street house, the building used to be apartments, so making those spaces available for living made perfect sense," she says. Tufekcic says that The Assemblage John Street was designed to feel less like a hotel and more like someone's home. There are 79 guestrooms, all of which are furnished like apartments with dedicated living rooms and a full kitchen. Guests may include tourists, business travelers, or people involved with the companies leasing office space from the John Street house. "There are five floors of shared semi-private and private offices," Tufekcic notes. "And, while we've only been open for a few weeks, we fully expect to see companies use our space for group outings and training seminars, as they can fly in associates from anywhere and have them stay right in the building."
Beyond the guestrooms/apartments and workspaces, the common areas of The Assemblage John Street are also meant to put members and guests at ease. The brand subscribes to the biophilia hypothesis, which holds that humans possess an innate tendency to seek connections with nature and other forms of life. The Assemblage aims to facilitate connections between its members, as well as the buildings themselves, which are full of plant life. In fact, in the John Street house, the entire entryway— walls and ceiling—is covered in a thick moss. "The moss even grows over these old historic brass doors," Tufekcic describes. "Walking through it is magical, and it really helps members and guests feel like they've entered an oasis."
According to Tufekcic, spaces like The Assemblage houses can help people find a sense of peace while working, traveling, or just trying to connect more with themselves and their emotional and physical needs. She adds, "We're aiming to follow a journey of greater good and inspiring others. We want to create an environment focused on health and wellness that's dedicated to connecting with ourselves and creating positive journeys to help others with their journeys."