Loews Hotels & Co, The Cordish Companies, and the St. Louis Cardinals officially broke ground this month on the new $65 million Live! by Loews—St. Louis, Mo. Initially announced last year, the property will be the first St. Louis hotel for New York-based Loews Hotels & Co and will be part of Ballpark Village's $260 million phase-two expansion. Ballpark Village, developed by The Cordish Companies and the St. Louis Cardinals, is a mixed-use dining and entertainment district adjacent to Busch Stadium.
Executives from Loews, Cordish, and the Cardinals were joined by St. Louis Cardinals Hall of Famer Ozzie Smith, St. Louis Mayor Lyda Krewson, Kitty Ratcliffe of Explore St. Louis, local business, and community leaders to celebrate the new addition to the St. Louis hotel landscape.
"We are thrilled to partner with Loews Hotels & Co on their first St. Louis hotel," said Bill DeWitt III, president of the St. Louis Cardinals. "Live! by Loews–St. Louis, MO will be an incredible anchor for Ballpark Village and a tremendous step forward in fulfilling our vision of creating a world-class, mixed-use destination next to Busch Stadium."
Loews Hotels & Co has made a commitment to expand its Midwest presence over the course of the last several years, with the additions of Loews Chicago, Loews Chicago O'Hare, and Loews Minneapolis. Earlier this year Loews announced the 800-room, Loews Kansas City Convention Center Hotel, which will open in 2020.
"We continue to make deliberate investments in growing Loews Hotels & Co, in key markets around the U.S., with nearly $2 billion in hotel development projects underway. Today marks a first as we expand into the St. Louis market," said Jonathan M. Tisch, chairman and CEO, Loews Hotels & Co. "Partnering with The Cordish Companies and the St. Louis Cardinals allows us to focus on bringing the Loews hotel experience to market with absolute confidence."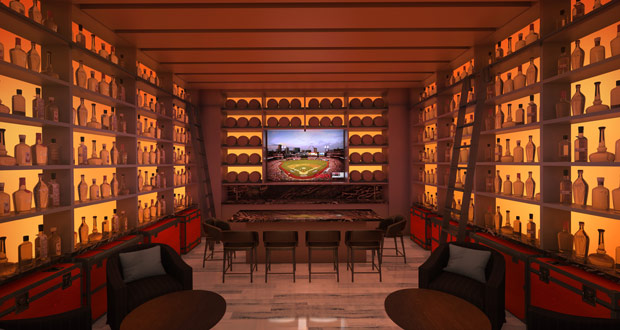 "Loews Hotels & Co is one of the most respected hoteliers in North America and their involvement is a tremendous coup for Ballpark Village and the City of St. Louis," said Blake Cordish, vice president of The Cordish Companies. "Live! by Loews—St. Louis, Mo. represents a partnership between three great companies, brands, and families. Today's celebration is a major step forward in transforming Ballpark Village into a vibrant 24/7 neighborhood for downtown St. Louis."
Live! by Loews–St. Louis will become the second hotel to carry the Live! by Loews name. The first announced location, Live! by Loews–Arlington, Texas, is currently under construction and will open in the heart of the Arlington Entertainment District between the Texas Rangers' Globe Life Park and the Dallas Cowboys' AT&T Stadium. Live! by Loews–Arlington, Texas will anchor the $250 million world-class Texas Live! dining, entertainment, and hospitality destination, opening August 9, 2018, in partnership between The Cordish Companies, the Texas Rangers, and the City of Arlington.
Live! by Loews–St. Louis, MO will be located at the intersection of Clark and 8th Streets and will become a destination for sports fans, families, and visitors, as well as a premier location for meetings and special events. The eight-story hotel tower is part of a dynamic plan to complete a full build-out of Clark Street, transforming it into one of the most unique city streets in all of professional sports.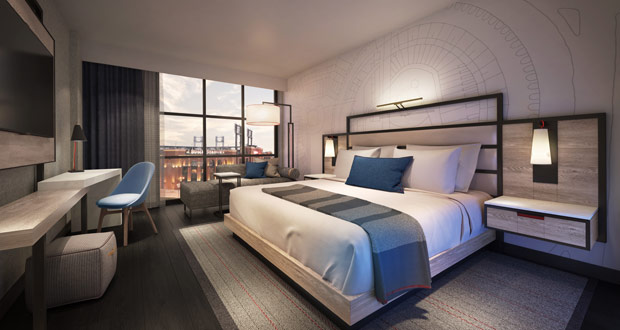 Designed by HKS Architects Hospitality Studio, the hotel's exterior architecture and interior design will be influenced by local St. Louis character and the history of the St. Louis Cardinals, including inspiration used for Busch Stadium. On the exterior of the building, a six-story mural will show the footprints of Busch Memorial Stadium (Busch II) and the current Busch Stadium, a celebration of old and new. Throughout the interior of the hotel, designed elements will be carried through by locally-inspired artwork, fabrics, and textures.
Live! by Loews–St. Louis will provide guests with an upscale experience that blends sports and entertainment. The hotel will have 216 luxury guestrooms, including 19 suites, as well as amenity space including:
An indoor and outdoor lounge on the first level with a bar called the Gashouse Gang (a nod to the baseball team of the St. Louis Cardinals in 1934), seating with fire pits and gas lanterns, private dining options, and a digital AV experience that showcases sports, entertainment, and art;
A dual-purpose area on the first floor that, during the day, operates as an open display kitchen offering breakfast and brunch options and, at night, becomes a chef-driven wine and cocktail bar;
The Bourbon Bar offering an exclusive selection of bourbon to guests and a private event space for intimate parties;
The Terrace Bar, an upscale bar and lounge area on the hotel's second-level amenity deck with views of Busch Stadium, downtown St. Louis, and the Gateway Arch as well as fire pits and an expansive media wall; and
17,000 square feet of meeting and special event space with views of the St. Louis skyline and a Grand Ballroom with all glass doors that can open up to an exclusive event lawn.
Additional four-star amenities include a porte-cochere entrance with 24-hour valet services, concierge services, and fitness facilities.