The revitalized industrial area that is Portland's Pearl District has, in recent years, given rise to boutiques, art galleries, microbreweries, green spaces, and other attractions sought out by travelers visiting the Northwestern city. It's precisely the type of vibrant neighborhood that lifestyle hotels are looking for, says Gary Steffen, global head of Canopy by Hilton, which recently opened a hotel in the heart of this district. However, what attracts guests to this kind of lifestyle lodging option isn't just the location, but how the property brings the flavor of its surrounding neighborhood inside its doors.
From the decorative throw pillows stitched by a local seamstress using fabric from Portland-based Pendleton Woolen Mills to the rose-flavored croissants served during breakfast from neighboring bakery Nuvrei, the hyper-local partnerships at Canopy by Hilton Portland Pearl District give guests a holistic taste of both the region and the hotel's immediate environment. Even the smallest of details—like the crocheted orange flowers on the lapels of the hotel's managers—are sourced locally and commissioned to match the brand's signature color. These partnerships—which support local artisans, women-owned businesses, and minority-owned businesses—all amount to a property that authentically reflects the neighborhood around it and gives guests a sense of place.
Steffen says that during their stay, curious guests want to discover experiences that they will remember and talk about for years to come. "Travelers are continuously looking for the next destination to cross off their bucket list," he explains. Canopy is tapping into this desire by creating hotels that are a "natural extension" of their neighborhoods, connecting guests to art, food, drink, and culture.
To create a property that rings true to its foundation, the brand connects with like-minded ownership teams and what it calls "Canopy Enthusiasts"—team members who are passionate and knowledgeable about the neighborhood—and works with them to identify partners who share a love of all things local. "Guests continue to look for new, local experiences, so we offer programming such as evening tastings and local welcome gifts that can move with current, local trends to showcase the newest local brews and spirits or a local item at check-in that is representative of the neighborhood," Steffen explains.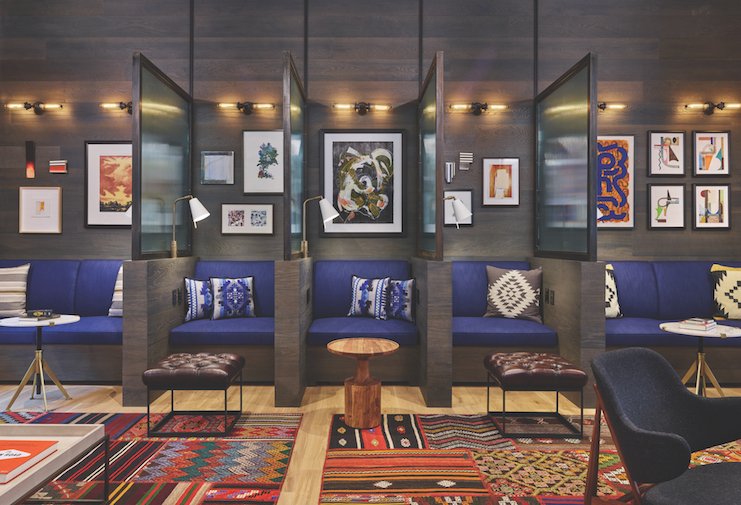 Art is another key way that the hotel connects guests to the region and showcases what the neighborhood has to offer. Located on Gallery Row, Canopy's Portland property partners with its next-door neighbor and gallery owner Elizabeth Leach to curate a collection of quarterly rotating, regional artwork in the hotel's own Jacqueline Rose Gallery, named for a former docent at the Portland Art Museum. Another example is the commissioned Sean Healy piece, "Flight Patterns," which is installed on a more than 25-foot-tall brick wall within the hotel and depicts the annual migration of swifts to a Portland elementary school. "The Chapman School is a popular event where locals come to view the birds flying out of the chimney, and the artwork is an authentic representation of this activity that we encourage our guests to visit," Steffen describes.
The meeting rooms are also designed and named to commemorate local history, including "The Hattie" after African-American suffragette Harriett Redmond and "Japantown" after the Japanese settlement that existed before WWII in what is now Portland's Old Town-Chinatown neighborhood.
"Canopy Portland Pearl District is a great example of how the sense of neighborhood pride by our local owners and our lead 'Enthusiasts' have created amazing partnership opportunities throughout the entire guest journey including the local art gallery, local food and drink, retail wall, welcome gift, and even the decorative pillows in the guestrooms," Steffen says. "Creating key brand differentiators is all about finding local partnerships."