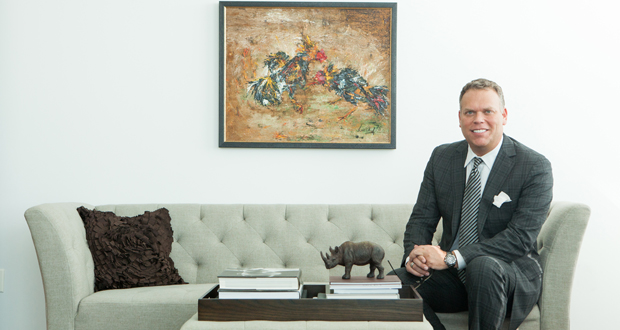 Like many in the hospitality industry, John 
Fareed was not the first member of his family to be bitten by the hospitality bug. The managing director of Horwath HTL, who is the new chairman, North America, as well as current chairman of the International Society of Hospitality Consultants and chairman of the Board of Trustees for the Hospitality Sales & Marketing Association's International Foundation, is an internationally recognized authority in the field of strategic market planning for new openings, repositionings, and turnarounds, who calls his hotelier grandfather "my inspiration." Fareed described to LODGING that he spent summers in Egypt with this brigadier general and ambassador, who later became part of the hotel industry at an historic time. "With Conrad Hilton, he opened Cairo's Nile Hilton Hotel, which was the first international hotel in the post–World War II Middle East. His stories and the numerous long-term relationships he developed over the years through Hilton left a lasting impression on me, so I opted to follow in his footsteps," Fareed says.
Before joining Horwath HTL in 2016, Fareed was principal of John Fareed Hospitality Consulting, LLC, with clients including Fortune 500 companies, national brands, lenders, developers, REITs, management companies, investors, owners, lawyers, and insurers. While he enjoyed having his own consulting business, he says the offer to become a managing director in the United States for Horwath was one he couldn't refuse. "After working on a number of successful assignments with Horwath in Europe, I felt the opportunity to be part of the world's oldest, largest, and most experienced hotel, tourism, and leisure consulting brand was too great to pass up, so I signed on," he explains.
Asked how his experience as a consultant has helped him in his current position and stands to assist in the expansion of his responsibilities, Fareed responds, "I think, as a consultancy, we knew we had to work extra hard to find the right balance of advisory service offerings for the industry at large. This meant we had to identify the offerings that made the most sense—look at planning and development, asset management, appraisals and valuations, and strategic market planning, and make decisions that could affect the business and our clients' businesses in a positive way. To do this, we had to be diligent in our efforts to understand the challenges of all industry stakeholders today and tomorrow and communicate our offerings clearly and concisely to all of them." Fareed says his consulting experience also made clear the need to keep up with and adapt to trends in the industry, and believes the biggest mistake hoteliers can make is to keep their heads in the sand. "Currently I think the most interesting thing in the industry is the massive shift going on as we're morphing into the future with new offerings designed to better meet consumer needs and wants, for example, home sharing companies such as Airbnb, communal-focused hotels like Citizen M, and glamping offerings like AutoCamp," he remarks.
Fareed declares that his first order of business as chairman of Horwath HTL North America will not be under the radar, as it sometimes was while working for clients as a consultant. It will instead be to put Horwath on the map—i.e., to make North America aware of all Horwath HTL has to offer. "The biggest challenge so far has been educating the market about Horwath HTL. We're the global leader in hotel leisure and tourism consulting. While this is well-known in the rest of the world—especially Asia and Europe—we're not as recognized in North America," he explains. "I think of Horwath as being the sleeping giant. Everyone out there knows who Horwath is, but few know what Horwath does. People need to get a sense of Horwath's vast offerings and how we can help hotel and management companies grow their businesses." Familiarizing the industry in North America with what Horwath has to offer involves a twofold approach. "I think people are very much aware of the Horwath name but not all that we can bring to bear."
Achieving that goal, in particular, he claims, often means heeding the counsel they've meted out to others. "I would say we've used the same kind of advice we routinely serve up to our clients. We strive to understand the issue, grasp its full context, craft the possible solution, and maintain that vision, courage, resourcefulness, and persistence to see that solution through to fruition." In terms of their goal to raise awareness, he says, this approach is working. "We're becoming more and more involved in the industry, speaking at conferences, writing articles—getting the word out through traditional and non-traditional marketing. It's all about educating our industry on the history, breadth, and depth the firm and all of our service offerings—we're truly a full-service advisory firm."
GOOD ADVICE

John Fareed is hitting the ground running in his new position as chairman, Horwath HTL North America. To best provide and raise awareness of services by Horwath, which is already well known in Europe and Asia, in North America, he plans to heed the advice he gives as a consultant to the industry.

Make sure to keep up with and adapt to trends in the industry.
"A massive shift is occurring as we're morphing into the future with new offerings designed to better meet client needs and wants."

Communicate offerings clearly
and concisely. "It's all about getting the word out and educating the industry about Horwath's services, as well as its name. When potential clients understand the history, breadth, and depth of the firm and all of our service offerings, the phone rings with opportunities."

Be diligent in efforts to understand and face business challenges—many of which are universal.
"We need to be aware of what's going on today and tomorrow, recruit the best possible talent, ensure that we are pricing our services competitively, and navigate the ever-changing political, economic, social, and technological environment."
Fareed reminds that growth and recognition are all well and good, but to flourish, hoteliers need to keep up with the times and have the best people onboard to handle the challenges inherent in nearly all businesses. "We've encountered the same challenges that all organizations are facing today: recruiting the best possible talent, ensuring that we're pricing our services competitively, and navigating the ever-changing political, economic, social, and technological environment," he says.
He says there is much to be gained—and little to be lost—by charging full force ahead. "The opportunity for us is immense. In my mind, the only way I can screw this up is not to be bold enough." He says the challenges are daunting but finds the process of facing them exhilarating. "I am completely focused on building the Horwath brand in North America, adding offices, service offerings, and identifying and creating the best of the best to further build our bench strength—all of this will help us win more key clients and assignments while further strengthening our role as industry leaders."
Like his grandfather, Fareed finds much to love about the industry. He says he finds it fascinating to interact with the diverse group of players involved in hospitality. "The term hospitality encompasses such a widely diverse collection of industries and practice areas. It's not just owners, investors, lenders, brands, and management companies; there are also architects, designers, and restauranteurs, plus logistics and purchasing experts and a wide variety of service providers—all of whom have an equally diverse and unique range of needs and challenges." He says he especially values the comradery that exists among those who choose hospitality as a career, and, like his grandfather, enjoys many longstanding meaningful relationships with clients and colleagues.
And then, of course, there is the travel. "The fact that I get to travel to experience places and cultures that I may not have ventured to otherwise is an added bonus," he says. Although like a father of equally beloved children, he declines to choose an absolute favorite travel destination, he admits he is particularly drawn to Croatia, calling Rovinj, which is located on the Adriatic, "an amazing part of the world," elaborating, "There's the people, history, fish, wine, and truffles—and it's gorgeous."