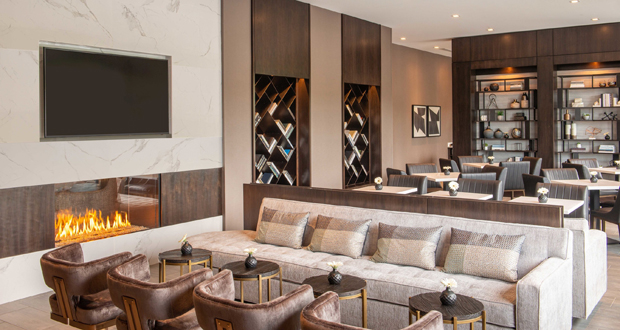 BOSTON—Colwen Hotels and InterContinental Hotels Group (IHG) announced the opening of the Holiday Inn Boston Logan Airport in Chelsea, Mass. The hotel offers complimentary shuttle service between the two miles from Logan International Airport. Downtown Boston is six miles away and the property is close to attractions such as TD Garden, Fenway Park, Faneuil Hall, Boston Aquarium, and Copley Place.
The upscale design is a first of its kind for the Holiday Inn brand. The lobby has rich finishes, artwork, and spaces to relax, work, and socialize around a glass fireplace. The restaurant and lounge has a bar and soft seating zones where guests can order handcrafted cocktails and choose from a full menu of New England fare.
The hotel offers 124 guestrooms equipped with complimentary WiFi, USB-charging-ports, mini-refrigerators, microwaves, coffee Keurig's, 49″ HDTV's, and contemporary bathrooms. The property also has a fitness center, indoor swimming pool, and full breakfast buffet. Other amenities include a 24-hour store and business center, on-site guest laundry, river walking path, and free parking. The full-service hotel also has 1,100 square feet of meeting space that overlooks the rising tide of the Chelsea Mill Creek sanctuary.