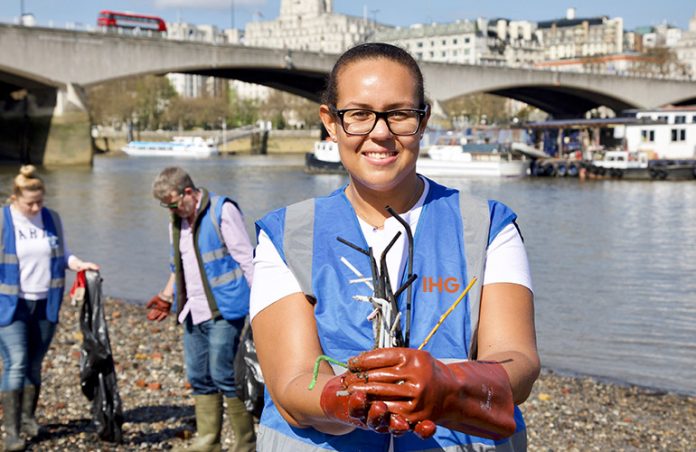 IHG (InterContinental Hotels Group) has announced plans to remove plastic straws from its more than 5,400 hotels worldwide by the end of 2019. Plastic straws have already been removed from nearly 1,000 IHG hotels in Europe, the Middle East, Asia, and Africa. The company is also introducing bulk-size bathroom amenities to several hotel brands in the Americas as part of broader efforts to reduce waste.
"IHG is in almost 100 countries and we touch the lives of millions of people each day. This gives us a responsibility to protect the environment and an opportunity to make a real difference," said Keith Barr, CEO, IHG. "There is always more we can do to minimize waste, but the work we're doing to reduce single-use plastic is a powerful example of how we can come together with guests, owners, and colleagues to drive positive change."
Madhu Rajesh, director of the International Tourism Partnership (ITP), added, "IHG's committed action to reduce plastic waste demonstrates its ability to be a force for good in local communities around the world. With initiatives like these, and through close industry collaboration, the hotel and tourism industry can continue to lead the way in setting clear and quantifiable commitments that improve sustainability. This was central to ITP's 2030 Agenda for Sustainable Development, which supports the UN Sustainable Development Goals and allows our industry to be at the forefront of sustainable growth."
IHG's decision to remove plastic straws is expected to eliminate an average of 50 million single-use plastic straws each year. Laid end-to-end, the would stretch from New York to Tokyo. The removal of plastic drinking straws will be implemented through a global brand standard, with biodegradable alternatives to be made available.
The company is also introducing bulk-size bathroom amenities across several brands in its Americas region. Holiday Inn Express, Staybridge Suites, and Candlewood Suites are all increasing their adoption of larger-size dispensers. EVEN Hotels and avid hotels have included bulk-size amenities since they were launched, and Kimpton Hotels & Restaurants began rolling them out last year. Sustainability was also an important part of IHG's approach to developing its new upscale brand, voco Hotels. The company said that it will reduce single-use plastics by moving away from miniature bathroom amenities, work with suppliers to help retain a quality feel, and explore ways in which it can apply this approach to other hotel brands.