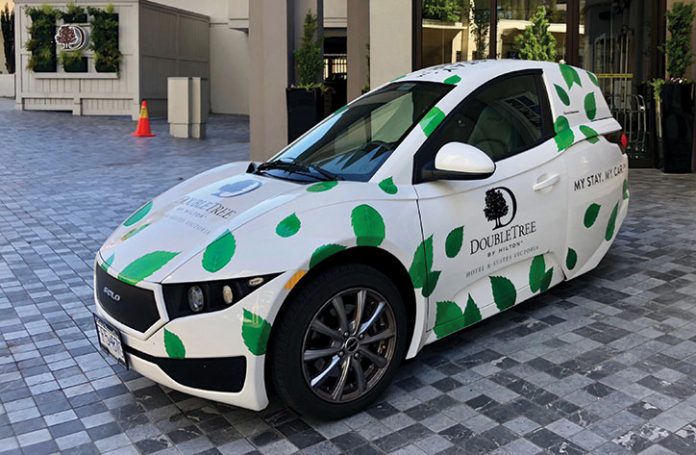 Between planes, trains, rental cars, bike shares, and ridesharing apps, travelers have more options than ever for getting from point A to point B. Even so, for guests staying at a hotel without their own vehicle, not all attractions are easy or affordable to get to. To help guests enjoy a scenic drive or an afternoon road trip, some hotels have begun offering room packages that include a set of wheels.
Driving around California's wine country is an experience that Vintage House and Hotel Villagio of The Estate Yountville began offering this past summer. The 22-acre property became the first hotel in Napa Valley to offer guests the use of a luxury Corvette Convertible or Jaguar F Type during their stay. "It is more than a resort amenity, it's a way of creating a new experience when in Napa Valley," Elizabeth Grillos, area director of sales and marketing at Brookfield Property Partners, explains. "Top Down Napa Valley was created for every automobile enthusiast seeking to explore Napa Valley by car. Our staff can suggest a variety of driving experiences to suit every taste."
The DoubleTree by Hilton Hotel & Suites in Victoria, British Columbia, is also in on the trend of packaging vehicles with rooms. Last year, the hotel began offering the option of a Toyota Prius and in May, it launched a partnership with Vancouver automaker Electra Meccanica and car-sharing marketplace Turo to offer an all-electric commuter car for an additional $20 per night as part of its 'MY STAY. MY CAR.' program.
Francis D. Mairet, principal of the hotel management company Mairet Hotels, explains that just as hotels package breakfast with a room, the DoubleTree by Hilton Victoria packages a car. "The idea is: you come in, you rent a room, it comes with a bed, it comes with all the amenities of a normal room—plus a car," Mariet says.
Mariet explains that these vehicle programs aren't a good fit for every type of hotel. The DoubleTree by Hilton Victoria hosts many travelers who arrive by pedestrian ferry, but still want to explore the region by car. "These vehicles really fit that niche," Mariet says.
Keeping a vehicle available and insured for guest use can become costly. That's why the hotel offsets these expenses by outfitting the cars with graphics advertising the property to raising awareness of the program. The hotel also partners with Turo to make the vehicles available to Turo members when not in use by guests.
"It's not a become-rich program," Mariet says. "The benefit for the hotel is very squarely on business-model distinction." He says the greatest benefit is enhancing the guest experience. The program frees up parking spaces for guests with their own vehicles or rentals, and offers a convenient and efficient way for everyone else to get around. "You don't have to jump through hoops or go to another location and fill out all kinds of paperwork—you come in, you check in, the front desk gives you a key, and if you want to take off right now, you're on your way."