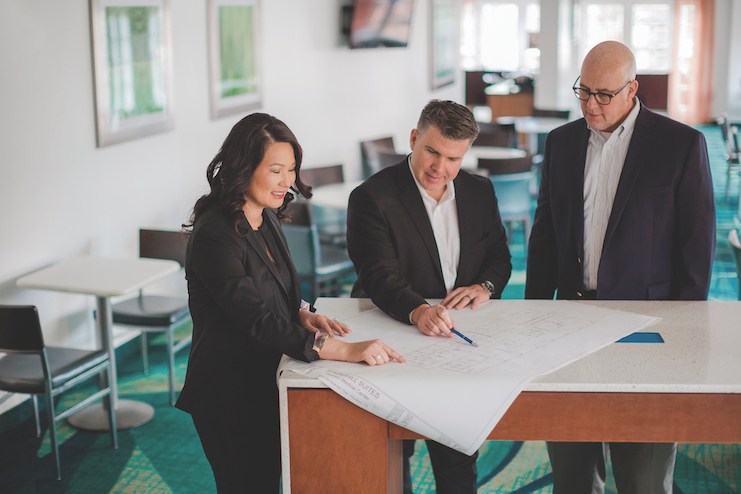 Hotel Equities Chief Development Officer Joe Reardon has traversed what may seem like a charmed path from his first position in the industry 28 years ago to his current one overseeing all aspects of development for this Atlanta-based hotel ownership, management, and development company. However, there were challenges and missteps—along with lots of luck and support from mentors—between the day he asked Spence Robbins, "What's the hotel business?" and his recently telling LODGING, "It worked out better than I ever could have imagined."
Reardon says he had accepted a national fraternity position in college when he connected with Spence Robbins at a benefit at a Marriott Residence Inn in Raleigh, N.C. "Spence called afterward, saying he enjoyed our time together and that he thought I'd do well in the hotel business… to which I replied 'What's the hotel business?'"
A lunch meeting with Robbins led to a series of interviews and the position as a sales manager with a Residence Inn in Montgomery, Ala. Reardon says his first director of sales, Greg Presley—now his VP of business development with Hotel Equities—was a real mentor to him. "Presley really showed me the ropes and had such a passion for the business and people. I immediately fell in love with that extended-stay brand and the Marriott culture behind all their brands."
Reardon says that during his time at Marriott, he was nearly always on the move, changing jobs within the company nearly every year. "I went from sales to director of sales to my first hotel general manager position, and then was offered the position of regional director of sales with Marriott in Dallas by Brian King." These early positions, he says, were all on the extended-stay side; that changed when Ron Paynter—who he considers a mentor and father figure—offered him a position on the full-service side, as director of marketing for Austin Marriott downtown. A highlight of his remaining time at Marriott was opening its first resort hotel in Texas—Horse Shoe Bay and Lake LBJ.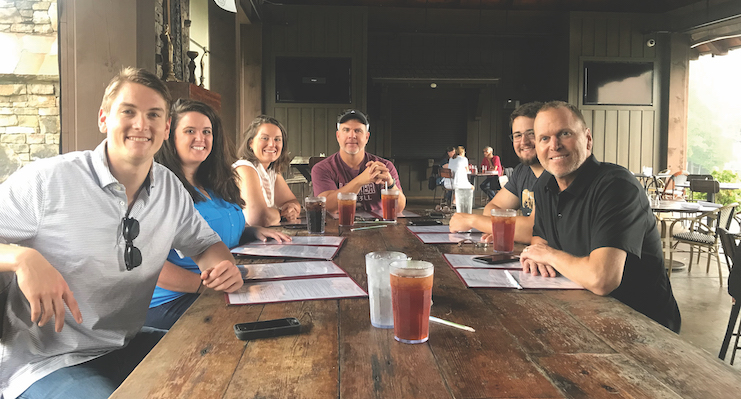 Then, after a total of about 14 years with Marriott, Reardon spent three years as vice president of sales and marketing at Shamin Hotels, followed by five years as vice president of sales and marketing for Noble Investment Group.
Lest readers think Reardon's career was a seamless cakewalk from one perfect opportunity to the next, he says his foray into a joint venture and forming his own management company was a disappointment, a risk that didn't pay off.
As luck did have it, as he was heading to Atlanta on a business trip, he received a call from Brad Rahinsky, president and CEO of Hotel Equities, who asked to meet with him in Atlanta, saying, "I'm about to retool business development, and I'm looking for someone who can take us to the next level." Although Reardon protested he didn't have a suit with him, Rahinsky insisted the breakfast meeting he requested would be "casual," so Reardon showed up at Chateau Elan in shorts, T-shirt, flip flops, and a visor, while Rahinsky was "dressed to the nines." Nevertheless, the two made a strong connection, and after numerous meetings with him and Hotel Equities founder and chairman Fred Cerrone—who nearly everyone calls "Coach"—Reardon had his happy beginning. "I am so blessed to have these two gentlemen in my life. We were 36 hotels six years ago, and today we have over 140 assets and are owners, operators, and developers of some great hotels. It's been an awesome adventure and I am so blessed to be with a company and senior leadership like Brad and Coach that have believed in me from day one."
Reardon makes a point of mentioning that just as he loved and thrived in the Marriott culture in the early days of his career, the Hotel Equities culture provided the combination of freedom and core values that have enabled him to soar professionally. "Brad and Coach made it clear from the start that I was empowered to drive their growth strategy however I saw fit, but as Coach added, I had to make sure our culture remained intact, that our people knew they had a family and career path here, and that we cared about them and would give them the right tools and resources to deliver the high results we expected."