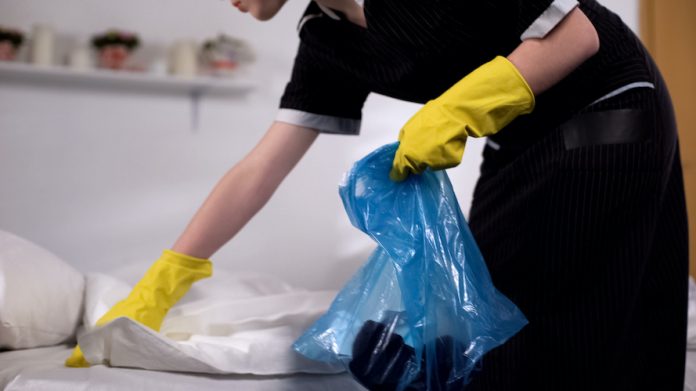 In the wake of COVID-19, hoteliers now face operational changes aimed at preserving guest safety. This is especially true when it comes to servicing hotel rooms. Protocol changes can lead to unforeseen issues—like new pest pressures.
Ensuring employees understand what these operational changes mean regarding pest control is crucial for smooth operations. With hotels halting housekeeping services during a guest's stay, trash and waste can be left sitting for hours—sometimes days—untouched, providing an additional food source for pests such as ants, flies, cockroaches, and rodents. Reduction in housekeeping services during guest stays could also reduce the likelihood of identifying early warning signs of infestations.
Changes like these to prioritize guest and employee safety leave hotels potentially vulnerable to pests. Simple adjustments, however, can help maintain COVID-19-related operational changes while still protecting properties against pathogen-carrying, and sometimes destructive, pests. Check off all the boxes, especially those that help prevent pests, with these five tips:
1
Prioritize trash removal.
To protect employees from potential exposure to pathogens, many hotels are opting to space out room cleanings. When rooms are left undisturbed during a guest's stay, trash serves as a lingering invitation for pests such as rodents and flies. Bagging, sealing, and removing trash from rooms quickly following guest checkout will help keep pests from finding this food source. If the room is not going to be cleaned the day of check out, at minimum, enter the room and remove any and all trash.
2
Inspect for pests when cleaning.
When rooms are being serviced in between guest stays, make sure staff know to check hidden and low-traffic areas for evidence of pests. Any low-movement areas, dark spaces, or spots where crumbs can pile up—like behind trash cans or under tables—can be hot spots for cockroaches or rodents. Prime spots for pest activity include behind curtains, under furniture, in corners, and around drains. Ensure there is a reporting protocol in place for employees who spot pest activity so the issue is not overlooked. Ask the property's pest control provider to help with any training and tips on what and where to look.
3
Check vacant rooms regularly.
Even clean, vacant rooms can provide a dark and unmonitored shelter for pests. Whether rotating available rooms or booking at a limited capacity, rooms should be inspected and checked before the next guest arrives. If it is going to be a few days before the room is used again, check more often in the interim. Touchpoints in guestrooms, such as drawers, may also go untouched, so pay attention to these areas when cleaning and check for pest activity.
4
Store breakfast properly.
Many hotels are now adopting continental breakfasts that include pre-packaged items served "to-go" style to avoid buffet settings and large congregations in dining areas. Proper food storage is always a must to ensure these containers don't attract or house pests. Store supplies at least 18 inches above the floor and a few inches away from walls. Rotate stock on a first-in, first-out basis to avoid food sitting on the shelves for extended periods of time. Also, check hallways, elevator vestibules, and other common areas for packaging and food waste that guests may have left behind, which can offer a snack to unwanted pests.
5
Avoid opening the door to pests.
In today's environment, guests are more consciousness of touchpoints, opting to avoid unnecessary interactions when possible. As guests work to avoid close proximity to others, many choose the stairs over the elevators. A propped open stairwell door makes it easy for pests such as flies, mosquitoes, and rodents to move around and spread out in the facility. Keep doors closed with hand sanitizer stations nearby.
If a pest problem does arise, call on a professional. A hotel's pest management partner may also be able to provide a customized checklist to help properties avoid pests through their new procedures. Keeping pest management professionals up-to-date on the property's efforts and changes in policies can help prevent a headache later.
---
Subscribe to Lodging Daily News for updates.