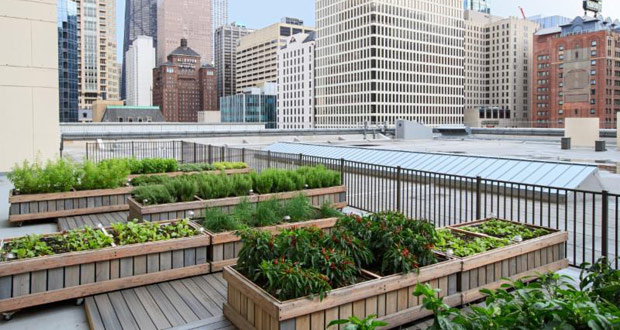 On Thursday, July 26, the Chicago Marriott Magnificent Mile partnered with food delivery service Imperfect Produce to host a rooftop soiree celebrating Imperfect Produce's milestone of saving 2.6 million pounds of produce in Chicago since its initial launch in the Midwest this past December.
The rooftop event showcased creative small plates made with Imperfect's produce along with the vegetables and herbs grown on the hotel's rooftop garden and prepared by hotel's Executive Chef Frank Sanchez. Guests received a $25 produce credit from Imperfect Produce to continue to fight food waste in Chicago, and ticket proceeds benefited The Children's Miracle Network.
During his time as a college student at the University of Maryland, Imperfect Produce CEO Ben Simon noted food waste in the college cafeteria. He founded the Food Recovery Network (FRN), a non-profit dedicated to preventing waste on college campuses. Through his work with the FRN, Ben Simon met Imperfect co-founder Ben Chesler. As they learned more about the country's food waste, the two saw an opportunity to have a greater impact by addressing the billions of pounds of "ugly" and surplus produce that never even made it out of farms and onto plates every year.
They founded Imperfect in August 2015 with the mission of finding a home for the one in five fruits and vegetables that grocery stores wouldn't buy because of their appearance. Imperfect sources this produce directly from the farms and delivers it at a discount to customers' homes. Since its start in the East Bay of San Francisco in 2015, Imperfect has expanded delivery to the entire Bay Area, Los Angeles, Seattle, Chicago, Indianapolis, and Portland, Ore. Milwaukee will be the company's latest city launch in the Midwest.
The hotel industry has launched several efforts to reduce food waste at properties across the country and around the world. Last November, the American Hotel & Lodging Association (AHLA) partnered with the World Wildlife Fund (WWF) with support from The Rockefeller Foundation to launch HOTEL KITCHEN, an initiative to provide concrete ways that hoteliers can reduce food waste at their own properties. As part of the HOTEL KITCHEN initiative, 10 hotels across the United States followed strategies and took steps to reduce food waste for 12 weeks, effectively eliminating at least 10 percent of each property's food waste. The pilot program culminated in the launch of a food waste reduction toolkit to guide hotels through training, best practices, prevention strategies, and how to collect and share data to improve performance.
Marriott International has also taken steps to drastically reduce food waste. Last November, the company launched a sustainability and social impact initiative designed to foster business growth while balancing the needs of associates, customers, owners, the environment, and communities. Under Serve 360: Doing Good in Every Direction, Marriott created new commitments by 2025, including reducing water usage by 15 percent, reducing waste by 45 percent, and reducing food waste in half.
Photo: The rooftop garden at Chicago Marriott Magnificent Mile