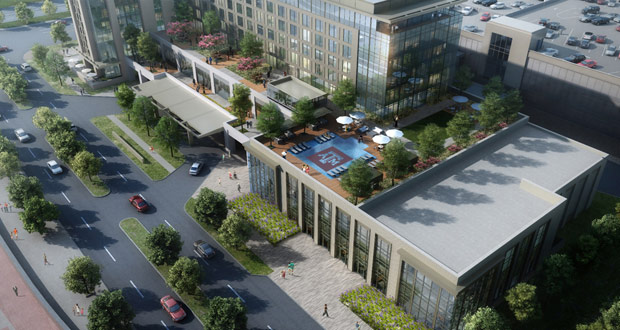 College Station, Texas—The new Doug Pitcock '49 Texas A&M Hotel and Conference Center is scheduled to open this month. The $134 million project combines meeting facilities, a luxury hotel, and the resources of a renowned research university. The new property will be operated by BENCHMARK and part of the Benchmark Resorts & Hotels brand.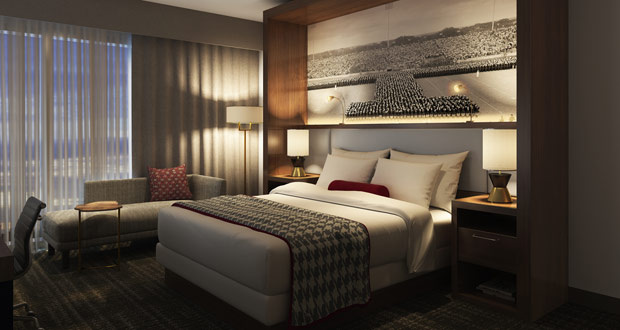 The 250 guestrooms include two penthouses and 11 suites. Texas A&M's colors of maroon and white, with soft accents of gray, reinforce the college theme, and historic photos throughout the property reflect university triumphs and traditions. Hospitality suites overlook the hotel's pool terrace with its swimming pool, fitness center, and food and beverage outlets. A 1,400-car parking garage will be connected to the hotel by a covered bridgeway. Among the in-room amenities are luxury bed and bath linens, a personal refrigerator, complimentary gourmet tea and coffee, spacious writing desk, in-room safe, WiFi, AM/FM/Bluetooth clock radio, telephones, and Smart TV.
"The Aggie Experience—with its emphasis on learning, community, and commitment—fits perfectly into Benchmark's mission," says General Manager Greg Stafford. "Benchmark provides more than space and technical bells and whistles. We create services and solutions that foster the exchange of ideas, problem-solving, and growth. And we don't neglect the amenities that allow our guests to savor the experience and rejuvenate the mind."
Benchmark worked in consultation with Chef and Cookbook Author Stephan Pyles on the hotel's F&B concepts. The menus in each restaurant outlet will reflect the Aggie experience with fresh, local, and flavorful Texas cuisine. Dining options for conference guests and individual diners will include a restaurant open for breakfast, lunch, and dinner, a casual bistro serving drinks and light refreshments, a patio restaurant, and the 12th Man Bar, set on two levels, which will be the first on the campus.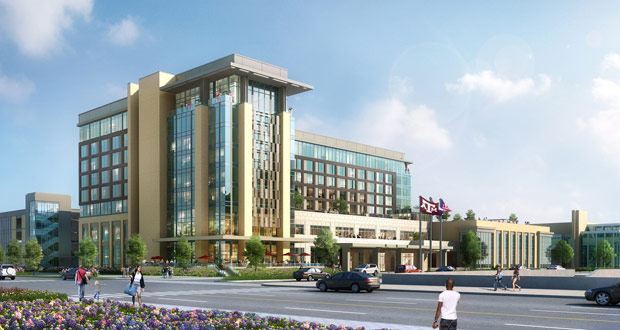 The conference center is modeled after the standards of the IACC (formerly known as the International Association of Conference Centres). With 35,000 square feet of flexible meeting and event space, including an 8,300-square-foot ballroom, the new facility can accommodate up to 1,000 guests. The center will also offer spacious rooms and modern, ergonomic furnishings in all spaces from ballroom to boardroom, built-in audiovisual technology, and an on-site A/V support team.
The hotel and conference center will serve the Texas A&M University market, including scholars, business leaders, and technical innovators from across the globe, and will be open to all markets, regardless of affiliation or event theme. Supporting the need for continued research and innovation, the conference center will offer a LearnLab–a flexible, tech-enabled meeting space that rethinks "the box" and moves away from the traditional setting of rows of fixed tables, chairs, and a lectern. Learning spaces will be able to morph from lecture mode to teamwork to group presentation, discussion, and back again.
Both the university and the surrounding area provide many opportunities for teambuilding activities both on and offsite. Planners can choose from laser tag, war games, challenge works, and other activities that provide a Texan adventure. Additional on-campus venues are available, including the Agrilife Center or The Veranda. These nearby secondary spaces range from contemporary to rustic.
The Texas A&M Hotel and Conference Center is located in College Station in the heart of Central Texas, 90 miles northwest of Houston and a three-hour drive from Austin, San Antonio, and Dallas.