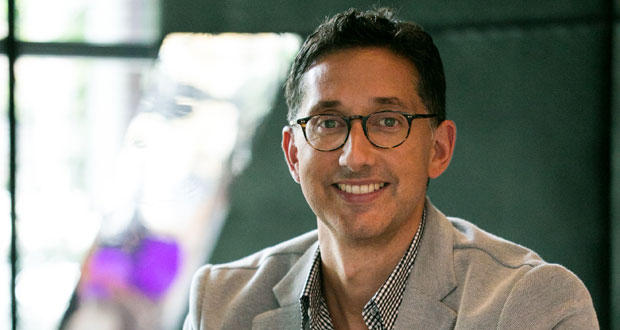 As global brand leader of Marriott International's W brand, as well as its Luxury Collection soft brand, Anthony Ingham lives and breathes branding. His current position has him taking on everything from brand positioning to marketing and public relations strategy, hotel concept and design innovation, guest experience innovation, footprint strategy, and new-build development worldwide. He recently spoke to LODGING about how his past—especially a three-month hotel stay at age six—drew him to the industry, and his part in the evolution of the W brand in recent years.
How did you get your start in the hotel industry?
I knew as a six-year-old that I wanted to work in hotels after my family lived in one in Nairobi for three and a half months. We were in the process of moving into a house there. I was fascinated by everything about the hotel—the kitchen, the general manager's office, everything—so when we left, I told my dad I wanted to be a general manager when I grew up.
With that goal, I studied business at university and did my first work placement at the Chateau Impney in Worcestershire, England, while still a student.
After graduation, I went right into the travel industry, beginning on the business side, basically looking for hotel products in different tourism markets around Europe—mainly Spain, Portugal, and Morocco—and handling contracting and distribution.
How did you get on your current path?
The position that put me on my current trajectory was 
my first with the Marriott organization; I was hired to be Starwood's VP of the luxury brands for Europe, Africa, and the Middle East in 2010, working from their Brussels office. We opened numerous hotels
in Europe—where the W brand was virtually unknown at the time—starting with the W Barcelona shortly after I came onboard. We were designing, building, and launching these extraordinary hotels in London, Paris, Verbier, Amsterdam, etc., in a market that really had never heard of W. That was the foundation 
of W's launch as an international luxury brand.
But as we began to refocus on the Americas—which was a big part of the reason for my coming here two and a half years ago—there was a need to live up to new quality and design expectations we had created for the brand in the rest of the world. In the United States, where it was already quite well known for a relatively small brand, it had begun not as a luxury brand, but as more of an upper-upscale lifestyle brand.
How have you been shaping that brand evolution?
It's important to understand that the original strategy behind W in the Americas was to convert these great-location city center hotels—old Sheratons and a couple of Holiday Inns already owned by Starwood—into this lifestyle concept, one that, arguably, redefined hospitality. The thoughtful and imaginative touchpoints reflected in their bars, restaurants, and marketing programming made the experience very unique compared to anything else in the market, but they weren't luxury products in terms of architectural build or finish.
The business model started to evolve when real estate developers wanted to replicate the bigger, bolder, more expensive properties created in the rest of the world here in the Americas. While refocusing on North America, it became clear that, as innovative and successful as they had been, those original properties were no longer physically aligned with where we need to be now.
The W Bellevue was the first of the luxury W hotels in the Americas, but it's realistic to expect that we will have 10 new-build W's within North America in the foreseeable future, and then many very significant renovations, including W Ft. Lauderdale's recently completed $55 million renovation. I would say more than half of the North American portfolio is under really deep renovation at the moment.
Are there any openings and/or renovations that you're really excited about?
As far as renovations go, the W Washington D.C. is a really exciting one. It's in a historical building in a key location overlooking the Washington Monument and the White House. It has many unique features, and the renovated guestrooms are fabulous. Then, there's the W in Aspen—where it's extremely difficult to open new hotels—which will be the only ski-in, ski-out location in Aspen, apart from the Little Nell. Another W that is really fun and a very different experience will open in Costa Rica at the end of this year. It's a small, super-high-end, very design-forward hotel that will put a modern and lively and energetic spin on eco-tourism.