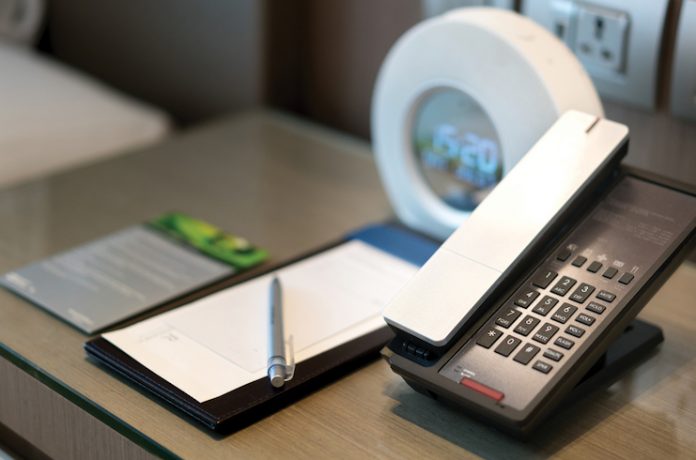 Joseph DeCiantis, co-founder of Think Simplicity, a cloud communication technology provider of all-inclusive voice and chat solutions for the hospitality industry, says hotel owners should look into updating an adequately functioning system well before it becomes a problem. He describes for LODGING the risks of waiting, what hoteliers should be looking for in a new system, and how and why they should be prepared for technology improvements to come.
1
Do it sooner than later.
To those inclined to kick the can down the road, DeCiantis warns, "Legacy telecom carrier services will continue to increase in price and older legacy telecom carrier services can be decommissioned. Simply updating to 'newer' carrier services may not even be an option with an older PBX [private branch exchange] system." By updating their communication system and services in advance, he says, hoteliers can avoid paying the increasing costs of legacy telecom services and circumvent a "rush" scenario in which there is limited time to explore all options. "It is never ideal to be in an 'emergency' situation and forced to replace any hotel service, especially the voice services, so ultimately, making the changes before the hotel is impacted by these changes will eliminate the headaches of rushing to find a solution."
2
Demand these must-have features now.
DeCiantis says communication systems should be able to provide various methods of communication, not just voice. They should also be able to communicate with other cloud-based systems, such as hosted PMS systems, and have redundancy methods with services distributed across different geographies.
DeCiantis says, too, the system should evolve to keep up with improvements in technology and its use. "No one can say exactly how technology will look over the next five, 10, or 15 years; however, we can say for certain that technology will continue to evolve and improve over that time. With that understanding, all hoteliers should take that into consideration and look for a communication system that can keep up with the advancements."
4
Look beyond the initial system cost.
DeCiantis says it's important to look beyond the sticker price to the process and price of the upgrade, saying, "The effort, training, and support during and after the process are key."
5
Be prepared to continually keep up with hotel communications.
Noting how communication evolved to voice, video, text, email, social media integration, web click-to-dial, and web chat, DeCiantis urges hoteliers to get ready for innovative media not yet developed. "These new methods will need to be adopted quickly into the cloud communications solution and made available to hoteliers, so they can stay current with their guests' needs."