COVID-19 significantly altered the hospitality landscape as hoteliers responded to changing
market conditions and evolving pandemic-era guidelines. U.S. hoteliers have had to make tough decisions since March 2020, laying off or furloughing staff, scaling back amenities, and even shutting their doors. Although demand has begun to recover and has even outpaced pre-pandemic levels in some markets, recovery for the industry as a whole is still underway, and hoteliers will need to continue to make smart decisions for their businesses to make up for the past year's losses and survive into the future. To help hoteliers looking to team up with a franchise partner, LODGING is this year spotlighting over 100 brands as part of its online guide to franchising.
The following companies are listed in alphabetical order. 
Best Western Hotels & Resorts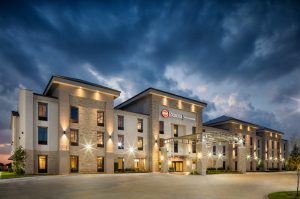 COMPANY SNAPSHOT
Total number of properties (Global): 4,013
Total number of properties (U.S.): 2,133
Rewards program: Best Western Rewards/WorldHotels Rewards
BRAND
FRANCHISING SINCE
CHAIN SCALE
FRANCHISE FEES
PROPERTIES IN SYSTEM
ROOMS IN SYSTEM
Aiden by Best Western
2018
Upper Midscale
Entrance fee: $49,000 minimum + $200 per room for properties with more than 50 rooms
Monthly fee: 5% GRR or 3.5% GRR for qualifying existing Best Western owners
Marketing: 1% GRR + $13.65 per room per month
4
490
Best Western
1946
Midscale
Entrance fee: $49,000 minimum + $200 per room for properties with more than 50 rooms
Monthly fee: 5% GRR or 3.5% GRR for qualifying existing Best Western owners
Marketing: 1% GRR + $13.65 per room per month
1,033
76,870
Best Western Plus
2011
Upper Midscale
Entrance fee: $49,000 minimum + $200 per room for properties with more than 50 rooms
Monthly fee: 5% GRR or 3.5% GRR for qualifying existing Best Western owners
Marketing: 1% GRR + $13.65 per room per month
783
68,509
Best Western Premier
2003 Internationally; 2011 in U.S.
Upscale
Entrance fee: $49,000 minimum + $200 per room for properties with more than 50 rooms
Monthly fee: 5% GRR or 3.5% GRR for qualifying existing Best Western owners
Marketing: 1% GRR + $13.65 per room per month
39
4,759
BW Premier Collection by Best Western
2014
Upscale
Initial fee: $25,000 + $4,000 application fee
Monthly fee (sales, marketing, and technology): 5% GRR
27
7,541
BW Signature Collection by Best Western
2017
Upper Midscale
Initial fee: $25,000 + $4,000 application fee
Monthly fee (sales, marketing, and technology): 5% GRR
14
1,591
Executive Residency by Best Western
2016
Upper Midscale
Entrance fee: $49,000 minimum + $200 per room for properties with more than 50 rooms
Monthly fee: 5% GRR or 3.5% GRR for qualifying existing Best Western owners
Marketing: 1% GRR + $13.65 per room per month
3
278
Glō by Best Western
2015
Upper Midscale
Entrance fee: $49,000 minimum + $200 per room for properties with more than 50 rooms
Monthly fee: 5% GRR or 3.5% GRR for qualifying existing Best Western owners
Marketing: 1% GRR + $13.65 per room per month
8
662
Sadie by Best Western
2018
Upscale
Entrance fee: $49,000 minimum + $200 per room for properties with more than 50 rooms
Monthly fee: 5% GRR or 3.5% GRR for qualifying existing Best Western owners
Marketing: 1% GRR + $13.65 per room per month
0
0
SureStay Hotel Group
2016
Economy
Initial fee: $35,000 + $100 per guestroom over 100 guestrooms + $2,500 application fee
Monthly royalty fee: 4% GRR
Monthly sales and marketing fee: 4% GRR
200
14,999
Vib by Best Western
2014
Upscale
Entrance fee: $49,000 minimum + $200 per room for properties with more than 50 rooms
Monthly fee: 5% GRR or 3.5% GRR for qualifying existing Best Western owners
Marketing: 1% GRR + $13.65 per room per month
1
92
WorldHotels Collection
1971
Upper Upscale/Luxury
Initial fee: $10,000
Annual fee: $50,000 subject to an increase not to exceed 5%
Monthly royalty fee: 3% GRR
21
5,683