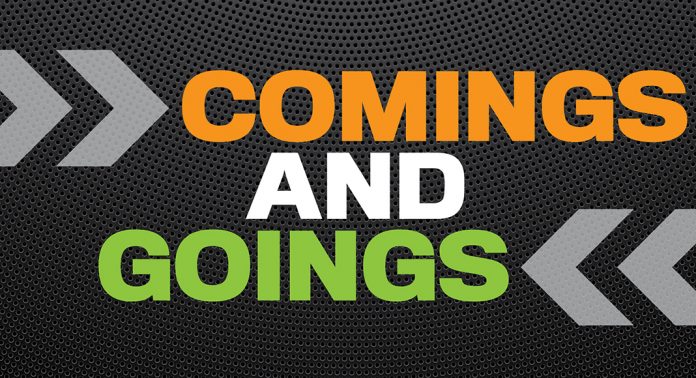 Annette Williston has been promoted to general manager of the Hampton Inn and Suites Halifax-Dartmouth, a New Castle Hotels & Resorts property. She was assistant general manager prior to the promotion. Williston was part of the hotel's opening in 2009, where she was a front desk supervisor, and she had been promoted to numerous positions since.
Here's a look at other notable comings and goings that took place this week.
Choice Hotels International, Inc., has promoted Sireesha Kunduri to vice president of engineering for distribution and revenue management. Kunduri will be responsible for the company's revenue management platforms and distribution.
RAR Hospitality has named Dari DeSousa director of human resources. DeSousa has years of hospitality human resource experience; she worked for Marriott International and Interstate Hotels during her career, where she was responsible for creating and developing employee engagement programming.
Thomas Hoffman is dual general manager at The Otis Hotel and AC Hotel in Austin, Tex., and he will be responsible for establishing these properties in the Austin market. Before joining White Lodging, Hoffman was opening general manager for the Grand Bohemian Hotel Mountain Brook in Birmingham, Al.
JP Dansereau is leading operations for the Germantown Inn in Nashville, Tenn., as general manager. Dansereau will be overseeing the recently opened Carriage House addition to the property. Dansereau comes to the hotel from the Fontanel Mansion & Farm, where he was also general manager.
NewcrestImage is renovating an AC Hotel by Marriott in Houston, Tex., reopening this summer, and has named Pinal Patel general manager and Cathalin Leija director of sales and marketing. Additionally, the dual-branded AC Hotel and Residence Inn, both by Marriott, at Frisco Station in Dallas, Tex., is also opening this summer, with Marissa Maguire as general manager and Kendahl Rasnick as director of sales and marketing.
David Solis is regional director, sales & marketing – the Americas – for Kerzner International Holdings. Solis' responsibilities include managing sales efforts across the region, implementing marketing strategies, and strengthening brand awareness for the company.
M&R Hotel Management has named Brian Athas regional director, revenue management, where he will assist in assessing M&R's revenue management strategy in the greater New York area. Athas was revenue strategy director for TMI Hospitality in Fargo, N.D., where he grew managed strategies for its brands.
Cambria Downtown Dallas has named Zach Lybbert director of sales and marketing. Lybbert has over 15 years of hotel sales and marketing experience, most recently holding the same position for the Curtis Hotel in Denver, Colo., the Embassy Suites DFW South, and the DoubleTree by Hilton North DFW.
Lydia Bates has been named director of sales and marketing for Hotel San Luis Obispo, opening this summer. Bates will be responsible for daily sales and marketing operations. Bates will also be integral in opening the property, and will use her 18 years of hotel sales experience to drive her success in this new position.
Holiday Inn Boston-Bunker Hill, a Distinctive Hospitality Group property, has appointed Edward Tremblay executive chef, and he will manage the hotel's culinary team and update menus for customized social and corporate catering events. Tremblay has worked at multiple Distinctive properties during his career.
Eric Cousin is executive chef for the Omni Shoreham Hotel, where he will manage banquet and restaurant kitchens in this position. Cousin has been part of the restaurant life since he was a child, learning from a family restaurant. He has worked as executive chef at multiple properties, including The Plaza Hotel.
Orlando Iglesias is director of food and beverage for The Embassy Suites by Hilton Mandalay Beach Resort. During his career, he has been the leader of hotel teams as operations manager for the Kimpton Canary Hotel in Santa Barbara, Calif., and director of food and beverage for El Block, Vieques, Puerto Rico.
Tamara Paris is the new catering and events manager for the Crowne Plaza North Augusta, S.C., where she will manage all catered events, including weddings, banquets, celebrations, and group meetings. Paris has work in hotel sales, event planning, and project management during her career; she was sales manager for Auro Hotels in Augusta, Geo., before this position.
Rosewood Washington D.C. hotel has named Gabor Vida managing director. He will lead the property's operational, dining, and recreational outlets. He is also prepping the property to reopen this spring, and will help manage a variety of new public spaces, restaurants, and neighboring townhouses.
BENCHMARK has named Shayd Pecor director of facilities for The Essex – Vermont's Culinary Resort & Spa, a Gemstone Collection property in Essex, Vt. Bethany Hopp is a controller for The Nautical Beachfront Resort, a Benchmark Resorts & Hotels property located in Lake Havau City, Ariz.
Paséa Hotel & Spa in Huntington Beach, Calif., welcomes Prabeen Prathapan as executive chef, where he will be responsible for the property's food and beverage operations and culinary teams. Additionally, Joe Martino has been named director of sales, where he will position the property to be profitable.
M3 – an accounting solution for hotels – has named Scott Watson chief sales and marketing officer and partner. Watson has been with the company since 2011, and has led growth in sales and marketing teams throughout his tenure. Watson will continue to lead these teams as well as build long-term strategies and marketing efforts in his new position.
Joelle Edwards-Tonks is senior vice president of sales, marketing, and communications for Oetker Collection, a new position consolidating the three departments into one. Edwards-Tonks joined Oetker Collection almost a decade ago, and has since been an important part of the sales, management, e-commerce, and communications divisions.
---
Keep up with the industry.