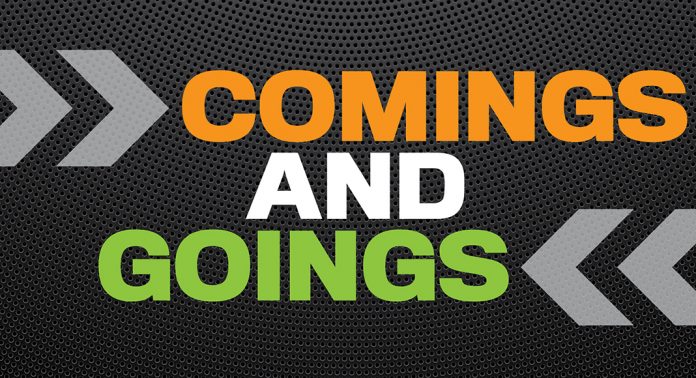 Sonesta International Hotels Corporation has named Georgia Lobban senior director, global sales. She will manage related teams and efforts to grow the company's portfolio. Additionally, Sonesta has named Michael Fruin vice president of operations for Sonesta ES Suites.
Here's a look at other notable comings and goings that took place this week.
Great Wolf Resorts is welcoming Wendy Hoekwater to manage group sales and catering operations as vice president of sales. Hoekwater was most recently vice president of marketing for the WoodSpring Suites brand for Choice Hotels, and before that, served as chief marketing officer for WoodSpring Hotels prior to its acquisition by Choice.
Hai Nguyen has been promoted to regional vice president of sales and marketing for Concord Hospitality Enterprises Company, where he will assist in hotel development and strategic marketing plans. Nguyen's most recent position with Concord was director of sales and marketing, and he was responsible for multiple hotels and taskforce teams.
Outrigger Hospitality Group has appointed Julia Davidson vice president, brand strategic planning and development. Davidson will be running global brand services teams and developing strategic campaigns for the company. Her responsibilities also include overlooking web, email, and loyalty channels.
MGM Resorts International is making leadership changes. Corey Sanders, who is chief operating officer, has been named chief financial officer. Bob Hornbuckle, president, is expanding his role to include chief operating officer.
Mike Nixon has joining Expotel Hospitality as chief development officer. He will manage company growth, acquisitions, and third-party management services. Nixon was most recently with Innisfree Hotels for 25 years, where he worked his way up from general manager to president.
Heritage Resort & Spa, a Dream Hotel Group property, welcomes Norbert Mede as general manager, where he will be responsible for operations and team members. Mede started his own consulting and management company in 2016, and he was most recently senior vice president of Pivot Agency.
Kimpton Canary Santa Barbara has named Ben Thiele general manager. He will lead operations, guest relations, and business development. Before the Kimpton Canary Santa Barbara, Thiele served as general manager of the Palladian in Seattle, where he worked for 4 years.
As general manager for Seven Hills, a historic hotel in Lenox, Mass., James Wolfe will assist in repositioning the property post-renovation completion this spring. Wolfe was most recently general manager of the Comfort Inn & Suites Sturbridge, and during his career, he has held other general management positions for Marriott and Hyatt.
Bob van den Oord is taking on the role of regional vice president, operations – Europe, Middle East, and United States for Langham Hospitality Group, while maintaining his position of managing director of the company's flagship hotel, The Langham, London. His new responsibilities include growing brand awareness and hotel finances.
Nicholas Katz is general manager of food and beverage for The Adolphus, where he will manage operations for the property's food and beverage outlets, including 5 restaurants, a pool deck, in-room dining, and event space. Katz will also be responsible for the hotel's banquets and events.
Mary-Catherine Moore has been named director of events and catering for Shinola Hotel in Detroit, Mi., which opened in January. The announcement was made by NoHo Hospitality Group, the food and beverage operator for the property. Moore has held various positions through NoHo Hospitality Group, most recently assistant director of events for The William Vale hotel.
Kimpton Shorebreak Resort has named Kyra Rydlund director of sales and marketing. In this role, Rydlund will create and implement sales and marketing strategies to target new hotel guests. Her responsibilities also include managing guest satisfaction. Rydlund most recently served as director of sales and marketing for Hotel Indigo Denver Downtown Union Station.
Natalie Caceres is sales director for the Embassy Suites by Hilton Waikiki Beach Walk, a hotel managed by Outrigger Hospitality Group. Caceres's responsibilities include obtaining new accounts, growing existing relationships, and creating new sales strategies to maximize the property's profitability.
Joseph Cavet is director of food and beverage for The Kartrite Resort & Indoor Waterpark, a Benchmark Resorts & Hotels property in Monticello, N.Y. The property is opening next month, and Cavet will be responsible for assisting in culinary aspects. He previously worked as a multi-unit general manager for OTG Management.
The InterContinental Mark Hopkins in San Francisco, Calif., is welcoming back Chad Bayless to serve as executive chef; he was executive sous chef for the hotel in 2013. In addition, Jaap Boelens has been promoted to food and beverage director, having held positions including food and beverage operations manager in the past.
The Ritz-Carlton, Charlotte, is bringing in two new chefs to its culinary team. Derrick Green is executive chef and Hannah Neikirk is pastry chef; together, the pair will design banquet menus, create a property-wide desert menu, and craft new culinary offerings for in-room amenities and services.
Timber Cove Resort has named Ronald Andrade executive chef and Harry Bryan food and beverage director. The pair will manage food and beverage operations for the property's oceanfront restaurant and coordinate with the executive chef to create menus and offerings that match the hotel's aesthetic.
Jason Paluch is director of spa and wellness for the Mandarin Oriental, Boston. Paluch is joining the property from the former Mandarin Oriental Atlanta, where he held the same position. Paluch held several wellness positions before joining Mandarin Oriental Hotel Group, working at the Golden Door Spa at the Boulders and JW Marriott Camelback Inn, both in Arizona.
Timbers Resorts – a luxury hotel brand – has appointed Damon Kolb development manager and Ryan Bell corporate director of asset management. While Kolb will manage pre-development and design processes for new Timbers hotels, Bell will provide support to leadership, oversee portfolio growth, and assist capital planning.
The Lodge at Blue Sky, an Auberge Resorts Collection hotel slated to open this May, has hired 3 new executives to assist pre- and post-opening: general manager Joe Ogdie will oversee operations; director of sales and marketing Jessica Cook will manage marketing-related efforts; and area director of leisure sales Nathan Decker will manage sales.