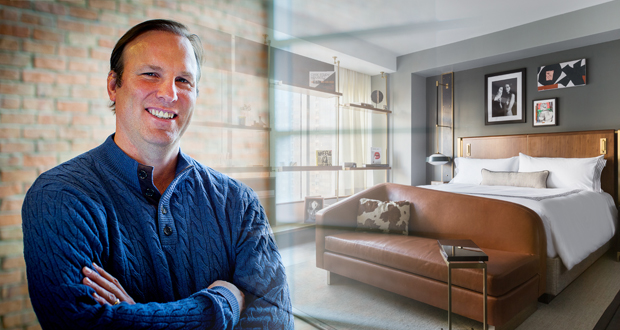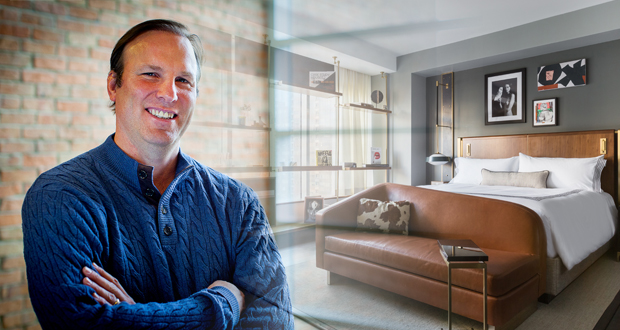 In January of 2016, Commune Hotels & Resorts and Destination Hotels merged to become Two Roads Hospitality. In the months since, Two Roads put a lot of time and effort into making the merger as seamless as possible, but now that the companies are totally integrated, the company has pivoted and is focusing on the future with updated strategies and modern programming that push forward growth. And although smooth internal processes are important, the company's top priority is providing successful guest experiences. CEO Jamie Sabatier is inspired by Two Roads Hospitality's continued growth and how it positively affects team morale and operations. Sabatier spoke with LODGING about Two Roads' position in the lifestyle and independent sector and the future of the company.
How does it feel now that integrating Commune and Destination is complete?
It's a relief. I equate it to driving 70 miles per hour on a highway while also trying to change the car's engine. It's all about finding that balance and trying to do both. In 2016, we were focused on doing both, and I give credit to all our team members for effectively doing two jobs admirably at once. It's gratifying to see how engaged our team is and how successful we are as a company, as well as the record growth that we're having.
So now what are Two Roads Hospitality's top priorities?
Now that the merger is now in our rearview mirror. We grew a lot last year, and this year is looking to be even bigger. What's nice is that the growth is seen across all of our brands and even further, not only in North America, but also in Asia. One of the goals we had for the merger was to build our brands geographically, and we are currently signing deals to expand Alila Hotels & Resorts' presence in North America. We're also bringing brands traditionally in North America to Asia. We're not just growing for growth's sake—we have validation that our brands are strong and owners are buying into this performance.
What about from an operational perspective?
Enhancing property performance and guest experience is important to us. We're continuing that focus by implementing a new CRM program, which allows us to connect our properties and welcome guests who have stayed with us before back to Two Roads properties. Every one of our properties will have this program by the end of October. By focusing on communication, we can create personalized, tailored experiences for our repeat customers. We've also combined different recognition programs into one, and we're maintaining strong brands. If we rest on what we've done in the past, we're not going to be successful moving forward.
How have you adjusted your overall strategy over the past year?
We're thinking about the future, and believe that's the best strategy going forward. It's a wonderful feeling not having to worry about the alignment and integration of our team and just start focusing on optimizing our performance. That shift really took place in 2017, so now in 2018 we have a lot of wind at our backs. We came into this year being completely integrated and focused on running and optimizing the business. Attracting great people who want to be engaged in culture is at the heart of what we do. It took hard work to get here, and it's nice to see the level of engagement and happiness in our team.
How have the past few years of growth and positivity in the hotel industry impacted the way Two Roads is looking at the future?
We've benefited from the economy staying between decent and strong. The supply-demand balance has been favorable and allowed our industry to have a number of successful years. Recessionary environments seem somewhat distant, but they have enabled hoteliers to have a cost-containment mentality and to do more with less. As we go forward, we are mindful that we are pretty late in the cycle, and at some point, things aren't going to be as rosy. We're being prudent in how we grow, with whom we grow, and how we build our infrastructure and properties.
Is there anything coming down the pike that you're particularly excited about?
Over the last six months, we've had some exciting openings in every one of our brands, but there's more to come over the next year. Ultimately, the key to our success is continuing to deliver local and immersive experiences to our guests, which allows us to perform better than our competitors and have happy owners. Continuing to have immersive guest experiences is critical, and it's getting harder and harder in the spaces that we're in because the markets are so saturated.