BETHESDA, Md.—Renaissance Hotels, part of Marriott International, together with The Buccini/Pollin Group, opened Renaissance Philadelphia Downtown following a multi-million dollar renovation. In the heart of Old City Philadelphia, the 152-room hotel was designed by the firm Campion Platt and pays homage to the cultural history of the city while incorporating irreverence and playfulness—from portraits of Benjamin Franklin's five mistresses, created with pixelated $100 bills tucked away in Chez Ben restaurant, to pop-art-inspired images of famous Philadelphians adorning each of the guestrooms.
"We are thrilled to introduce Renaissance Philadelphia Downtown Hotel, offering guests a sense of clever theatricality and an invitation to experience this historic neighborhood in a modern and unexpected way," said George Fleck, vice president of global brand marketing and management, Renaissance Hotels. "With this hotel opening—our third in the city–we continue the brand's design momentum around the world, creating moments that are sure to inspire stories worth sharing."
Upon arrival, guests are guided through The Alley inspired by the city's famed Elfreth's Alley, which was once home to the 18th-century artisans and trades-people—the backbone of colonial Philadelphia. Employing a combination of grit and glittering finishes, the design of The Alley is anchored by a ceremonial staircase clad in blackened steel and backlit with luminous panels, which juxtaposes a 100-foot long graffiti wall by local artist Dan Murphy.
"With its artful design, vibrant and eclectic dining scene, and engaging experiences, the hotel embraces the spirit of Old Town as a one-of-a-kind destination intended to be discovered in a new way," said A.J. Williams, general manager of Renaissance Philadelphia Downtown. "Look no further than the railings that line the hotel's upper level, which mimic Franklin's famous spectacles or the wallpaper that invites you to decipher the Declaration of Independence, to see how we surprise travelers and locals alike."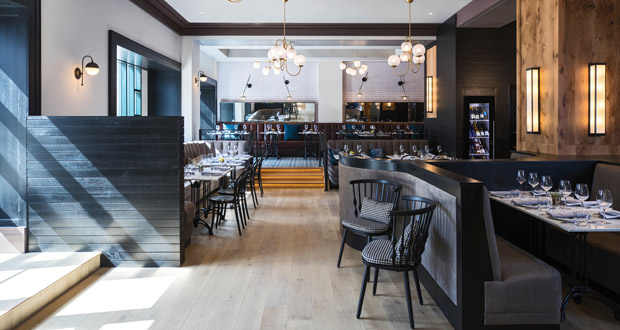 Renaissance Philadelphia Downtown Hotel features all the brand's experiences, including the hotel's Navigator, who helps guests experience the neighborhood's soul by highlighting handpicked local discoveries. The hotel also offers Evenings at Renaissance where guests can experience the locale through nightly programming, often featuring emerging artists and musicians and tastings from local spirits purveyors.
The hotel also offers several culinary experiences. Chez Ben Restaurant celebrates the French brasserie in quintessential Philadelphia Old City language. The bistro features a stone clad bar, an industrial-style wine cave, and a café counter with coffee specialties from Philadelphia's La Colombe, fresh juices, and pastries all day. A raw bar, tarte flambee, and globally-inspired entrees such as blood orange duck breast with sunchokes and whole grilled daurade are a few highlights of the menu.
M. Brown's, a retro-contemporary cocktail bar, specializes in long-aged brown liquors sourced from around the globe, in conjunction with a classic and specialty cocktail menu. The bar's drink and small plates menu (with dishes as Scotch-cured salmon tartine and sliders made with merguez sausage) embodies the idea that "everything gets better with age." A bold painting commissioned by Philadelphia-born artist Marc Lafia hangs above the fireplace. Mixologist and beverage director Rachel Kovenetsky created the lounge's specialty cocktails.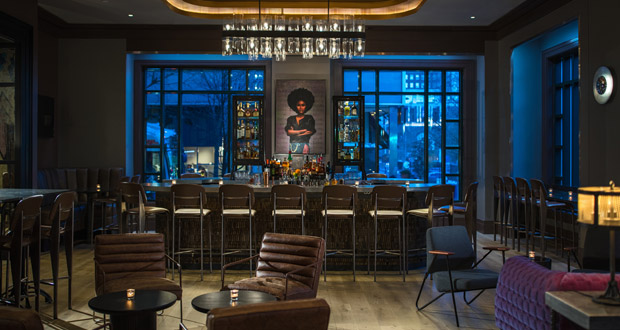 The hotel also has a 24-hour fitness facility with personal training services; an indoor pool and sauna; and four meeting rooms amounting to 4,354 square feet of meeting and social space. The hotel is also pet-friendly, welcoming up to two pets per room.
This anticipated opening further reinforces the brand's growth around the world, with upcoming openings planned in neighborhoods from Harlem to Hangzhou, and from Chelsea to Taipei.
Top photo: Philadelphia-based artist Alloyius Mcilwaine paints a mural in the Renaissance Philadelphia Downtown pool during the hotel's opening party.