Early this year, news broke that the Henn-na Hotel in Sasebo, Japan was laying off half of its workforce. What made this news particularly interesting was that the Henn-na Hotel was staffed almost entirely by robots.
When the Henn-na Hotel opened its doors in 2015, many in the hotel industry were watching the property with great interest. It "employed" more than 240 machines, which covered a wide variety of job duties, including checking guests in, delivering luggage, and serving as in-room concierges.
Certainly, the almost fully robotic staff was something of a novelty that the hotel leaned into—for example, guests could check in via an animatronic velociraptor wearing a hotel uniform—but there was also the question of whether any lessons could be ascertained from an almost fully automated property. Judging from the piece in the Wall Street Journal about these "layoffs," one such lesson was that a human touch is absolutely necessary when running a hotel.
Despite the pitfalls of a fully robotic workforce, in moderation, technologies like artificial intelligence, automation, and big data have the potential to transform how a hotel operates—and they have been steadily working their way into hotel operations for years.
There are several factors contributing to this trend. First, technology has become extremely advanced, with major hospitality players adopting some of the most cutting-edge capabilities to fit the industry. Second, for years now, the hotel industry has been in a period of unprecedented prosperity and growth, allowing big hotel brands and small independent properties alike to invest in solutions that increase efficiency and maximize profits. This puts the industry in a position to implement major technological initiatives, such as the American Hotel & Lodging Association (AHLA)'s 5-Star Promise, which is a pledge to provide hotel employees across the United States with employee safety devices and a commitment to policies, training, and resources aimed at enhancing hotel safety, including preventing and responding to sexual harassment and assault.
As more and more hotels incorporate these technologies, it has become apparent that the "secret sauce" is finding a balance between high-tech solutions and human interaction. "In general, technology should be giving hoteliers more opportunities to be hoteliers and show their guests hospitality," says Shayne Paddock, VP of product development and innovation, GMS, for TravelClick, an Amadeus company, which offers cloud-based and data-driven solutions for hotels to maximize revenue. "They should be able to do what they're already doing, but do it better."
Types of Tech
Technology has greatly impacted hotel operations both tangibly and on a more abstract level. Tangible solutions such as robotics and panic buttons are changing how hotel team members approach their jobs and interact with guests. Abstractly, the insights that can be gleaned from the massive amounts of data now available to hoteliers can help managers streamline and run a more efficient operation. Both offer opportunities for hotels to provide a better overall experience for guests and team members and improve their bottom lines.
"Whether it's property management systems, mining guest data, or the ability to access your guest folio from your phone, there are so many avenues by which technology is entering the lives of hoteliers."
Evan Weiss, COO & Principal, LWHA
According to Evan Weiss, chief operating officer and principal at LW Hospitality Advisors (LWHA), a hospitality valuation and advisory services firm with offices in New York, Atlanta, Seattle, Cleveland, and San Diego, for the past five years or so, hoteliers have been under a lot of pressure to integrate technology into their day-to-day operations. "Whether it's property management systems, mining guest data, or the ability to access your guest folio from your phone, there are so many avenues by which technology is entering the lives of hoteliers," he says.
BY THE NUMBERS

One of the operational areas that Evan Weiss, chief operating officer and principal at LWHA, has seen expanding over the past few years is revenue and asset management, which are not directly related to operations, but can greatly impact a hotelier's approach. "Revenue management can be a tremendous differentiator for a property," he says. "And it has become far, far more sophisticated over the past few years, becoming much more of a science. It's even become a major at a few hotel schools."

Asset management also involves "reams and reams of data," according to Weiss. "The availability of that data and the ability to slice and dice it in dashboards has a dramatic impact on how you operate the hotel. You can compare and contrast from months or years prior, and even account for seasonality and weather. This can affect staffing, payroll, and employee safety. These technologies are affecting the backend and it's trickling down to front-of-house operations."
The proliferation of "big data" in the hotel industry—as well as the solutions that have been developed to analyze and make that data actionable—has changed the way that operators approach certain aspects of their jobs. "The hotel industry has always captured a lot of data, but until recently, it was all very siloed. The survey system, the property management system, the booking engine, and the spa systems were all separate. Now there are solutions that bring all of those data points together and crunch the numbers in a meaningful way," Paddock describes. "Humans can look at data, but computers have a much better chance of finding insights that just wouldn't be apparent from looking at an excel spreadsheet."
So, what does this mean for hotel operations? "I think that general manager roles have become more data-focused," Weiss notes. "They haven't lost any of those old-school responsibilities, the ones that ensure that the guests and employees are harmonizing and having the best experience possible, but now they're focused on the data as well."
If used correctly, data can help general managers forecast staffing needs or how long it should take for rooms to be cleaned, optimizing the hotel's operational capabilities. "At LWHA, for example, we use a lot of historical data to assist in operational planning. We can say, 'This month, we historically ran 65 percent occupancy, so we should schedule this number of housekeepers.' Using technology to help make those decisions has been extremely impactful. Efficiency has been enhanced dramatically, especially when it comes to scheduling flexible and on-demand labor," Weiss adds.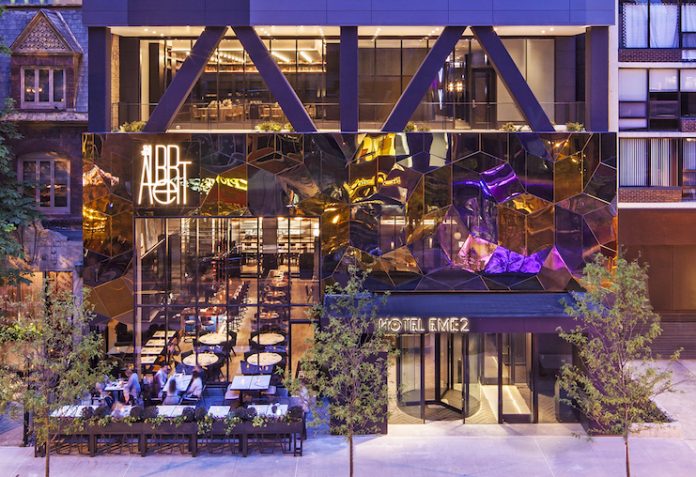 Hotel EMC2 "sits at the intersection of art and science."
Beyond data, certain devices, like panic buttons, are becoming integral in the hotel environment. Yasmine Mustafa, CEO of social impact tech company, ROAR for Good, creator of award-winning safety wearable Athena, and hotel safety smart network, AlwaysOn, says that growing legislative support behind these types of devices is pushing more and more hotels to invest in the technology. "Many big brands are already heading down this path, either looking at outside vendors or developing their own solutions, understanding that decisions will need to be made by the end of this year," she explains. "No one should be afraid while trying to earn a wage. AlwaysOn focuses on reliability, ensuring the ultimate protection for hotel staff with a property-wide smart network and 100 percent dead spot coverage."
While safety devices are a relatively new addition to the industry, they are already deeply ingrained in many hotels' operations. "Ease of use with staff and managers is key," Mustafa adds. "For example, housekeepers will simply pick up the safety alert button at the beginning of the day to go about their shift—no additional smartphone or hardware required." She continues, "Quick, accurate in-room location services allow for real-time monitoring of staff safety and network status. If an alert is sent, the battery is low, or a beacon goes down, managers will know instantaneously."
Another technology becoming more prominent in the hotel industry is robotics. Mark Shouger, general manager of Chicago's Hotel EMC2, an Autograph Collection Hotel, has two on staff—delivery robots Cleo and Leo. "We've been delivering toothbrushes and towels via the robots for a while now," he says. "They have almost become a part of the team." However, Shouger notes, while the robots integrate well with his property, they are not a replacement for people. "It should not be the goal of technology to change or lessen the number of employees available to our guests. Employees are just as much a part of the equation and need to be available."
The Same, But Better
Advanced technologies should enhance a hotel's operations, and should never be used in lieu of common sense. "You want to use your best judgement," Paddock says. "Think about sports, where data and analytics are taking over. During a baseball game, a data set may indicate that you should take your pitcher out after the third inning, but he's having an amazing game. As the pitching coach, I wouldn't pull him just because the analytics say it's time to. The same goes in a hotel setting. If the computer is recommending a package for a guest that doesn't make sense—like a romance package for someone on a business trip—you wouldn't push that package."
He adds, "If hoteliers are doing it right, and they have the right mix of technology and customer service, the technology should only complement what's already there. There is never any reason to take the humanity out of hospitality."
Making It Work
Seamless integration is key to the success of operational technology. Shouger says that hoteliers looking to incorporate guest-facing technologies should ensure that the technology makes sense within the concept of the hotel. In the case of Hotel EMC2, the robots were a natural fit with the hotel's focus on the intersection of art and science. "If you're going to have technology like delivery robots, you really need to engage with the story that your property is telling and present it as an integral part of your operations," he explains.
When looking for a technology that's more on the data side, Paddock strongly recommends meticulously vetting potential vendors. "We don't expect hotels to staff data scientists. Hoteliers should be able to be hoteliers and should feel good about the technology that they're using. They need to able to ask questions about how the program works and what data it is using to come to certain conclusions," he says.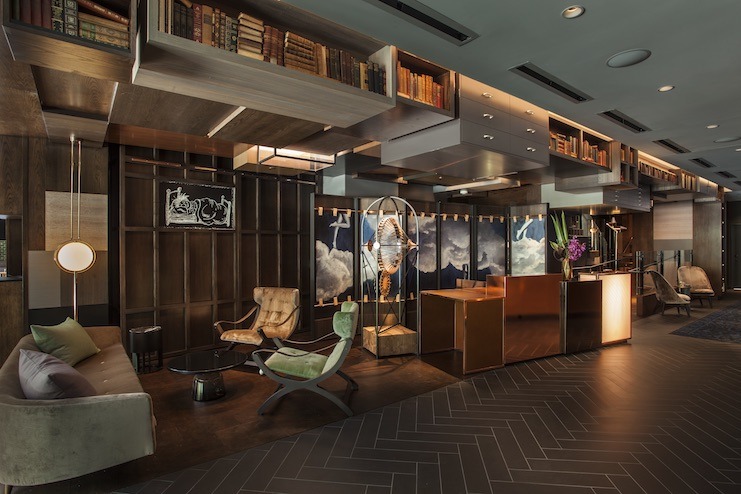 Paddock also maintains that managers shouldn't be the only ones using operational technology—staff should completely buy into the mission of the solution and be able to use it to deliver excellent guest service. "You should empower your staff. If the concierge has an interaction with a guest and finds out that the guest loves Broadway shows, are they inputting that preference into that guest's profile for next time? If everyone is working together to build up and utilize this guest data, it can work really well. It's not just a back-office function that should only be used by managers or the marketing team. Giving everyone this insight into the guest allows the hotel to upsell more amenities and provide a more personalized experience without taxing the team, which in turn can really affect a hotel's bottom line," he describes.
Finally, just as important as making sure a product works for your hotel is making sure that it always works. This is critical in all areas of hospitality, but especially when it comes to personal safety devices. "Reliability is so important," says Mustafa. "What is the point of a security system that may not be communicating in real-time or stops working when the WiFi goes out? Or has a beacon that has been tampered with? Choosing a dependable solution sends a clear message that you care, and that can translate to increased retention and reduced recruitment costs, as well as providing your staff with peace of mind."
Have No Fear
Most importantly, hoteliers should embrace the value that operational technology brings to their hotels. "Hoteliers don't need to be afraid of technology and data. Artificial intelligence isn't going to turn a robot into the Terminator," says Paddock. "When you boil it down, we're looking to solve very niche problems with narrow data sets. It's actually quite simple."