As a new fixture on the uptown Houston skyline, the Post Oak hotel was designed to embody timelessness and elegance in a 38-story mixed-use building. The exterior encompasses limestone, granite, and marble elements, and interiorly, the atrium lobby showcases a custom-made Swarovski crystal chandelier spanning three floors. Heightening the hotel's sense of modern sophistication, the chandelier is inspired by the Dubai Opera House, and has seating underneath and above at the third-level mezzanine.
Post Oak is known for its food and beverage outlets, which are designed luxuriously to bring in customers from all demographics. One such outlet is Bloom & Bee, a decidedly feminine restaurant located centrally on the Post Oak's first floor. The restaurant, which is visible throughout the hotel, overlooks a stylish pool and black-and-white fire pit, as well as five private cabanas available for rental. Offering a contrast to the feminine vibe of Bloom & Bee is the more masculine aesthetic of H Bar in the lobby, which has a darker, heavier ambience.
Rounding out the F&B options is the Craft F&B, a farm-to-table rustic restaurant with televisions featuring sporting events to please both foodies and fans. Jeffrey Cantwell, senior vice president of development for Landry's Restaurants Inc., says, "Bloom & Bee is feminine, friendly, and designed to drive in patrons from outside the hotel. Although the lobby has a bar, the restaurant is meant to be its own outlet and overlooks the pool. We specifically wanted that cool view through the glass."
Chic Chairs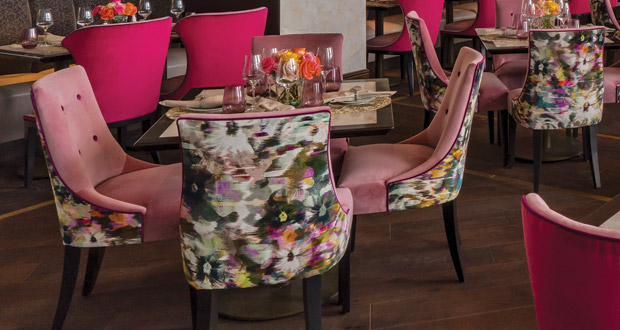 "It was easy to arrive at the pink and purple pastels because of the nature of the cover. Fresh flowers are the theme of the restaurant and dining experience," Cantwell says. Fabric was chosen to complement the floral components with a variety of bright and vivid colors meant to pop.
Booth Bulbs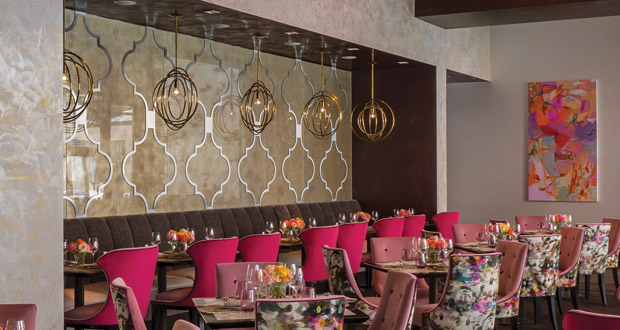 Above the booths, the fixtures were built like a flower bulb's skeletal frame to accentuate the femininity in the space. Cantwell says, "If you pay attention to the shape of the multiple petals, it looks as if they're tucked around as you would see in a flower. It's an abstraction of a flower shape."
Public Privacy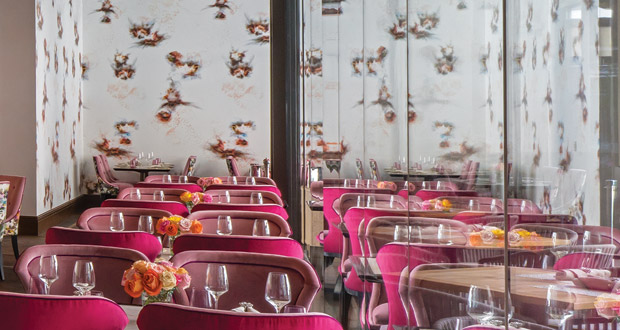 Floral patterns carry into a private dining room in the back of the space, for guests looking to get away from the hustle and bustle of the restaurant or host an event. Cantwell adds, "It has a dramatic floral pattern to carry the theme back into the dining room and draw your eye throughout the space."
Hand-Blown 
Creations
Lighting fixtures are hand-blown glass from the Czech Republic, and are designed to give a significant wow-factor in combination with the lobby's chandelier. Cantwell says, "We wanted to present a five-star, over-the-top design and material elements, and the lights were an important way to make something completely different and dramatic."