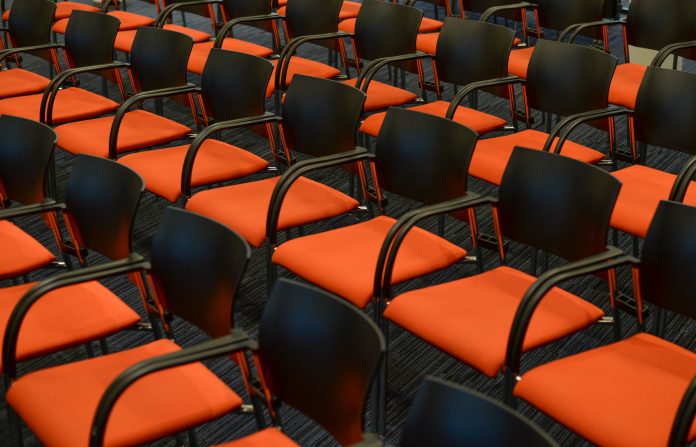 In light of the COVID-19 outbreak and recommendations from public health officials, several industry conferences have announced cancellations or rescheduled dates. The list below was last updated on July 31, 2020.
LATEST UPDATES
ALL ANNOUNCEMENTS
The following shows are listed in alphabetical order. 

AAHOA Convention & Trade Show
On July 29, AAHOA announced its list of speakers for the 2020 AAHOA Convention & Trade Show taking place virtually from August 11-13. This year's featured speakers include Harris Rosen, Florida's largest independent hotelier and president and CEO of Rosen Hotels and Resorts, and Horst Schulze, co-founder of Ritz-Carlton Hotel Corporation. Travel industry CEOs Cecil Staton, president and CEO of AAHOA, Roger Dow, president and CEO of U.S. Travel Association, and Chip Rogers, president and CEO of AHLA, will appear to discuss the industry's response to COVID-19, advocacy efforts, and the road ahead.
Other speakers include Ritesh Agarwal, founder and CEO of OYO; Adam Sacks, the president of Tourism Economics, an Oxford Economic company; Mit Shah, founder and CEO of Noble Investment Group; Jamie Lane, senior research director of Econometric Advisors and CBRE Hotels Research; Amanda Hite, president and CEO of STR; Cindy Estis Green, CEO and co-founder of Kalibri Labs; Justin Knight, president and CEO of Apple Hospitality REIT; DJ Rama, president and CEO of Auro Hotels; Kenneth H. Fearn, founder and managing partner of Integrated Capital LLC; Sima Patel, CEO of Ridgemont Hospitality; Jennifer Miller of Hamilton, Miller & Birthisel, LLP; JR Patel, president and COO of Helix Hospitality; Harshil Patel, vice president of Champion Hotels; Raj Patel, chief development officer of Hawkeye Hotels; Jatin Desai, managing principal and CIO/CFO at Peachtree Hotel Group; and Teague Hunter, president and CEO of Hunter Hotel Advisors.
On July 16, AAHOA announced that registration officially opened for the 2020 AAHOA Virtual Convention & Trade Show, which will take place virtually from August 11-13, and that registration would be free for all members and $199 for non-members (although non-members can join AAHOA and the registration fee will be waived).
On June 23, AAHOA announced that its 2020 Convention & Trade Show scheduled to take place August 9-12, 2020, in Orlando, Fla., will not proceed in person due to new health and safety guidelines for combatting COVID-19 issued by the Florida Department of Health (DOH) on Saturday, June 20. Parts of the convention will move to a virtual space as the association will present industry keynotes and panels, speeches by AAHOA leadership, and secure, online elections for AAHOA's Board of Directors and Secretary.
The 2020 AAHOA Convention & Trade Show was originally slated to take place from April 13-16, 2020, in Orlando, Fla., but was postponed to August 2020 in March due to COVID-19 restrictions.
ALIS Summer Update
On July 8, ALIS Summer Update announced that its planned in-person events in New York, Nashville, and Dallas will be converted to virtual programs. Registration for these virtual events will be complimentary and each event will require a separate registration. The New York Virtual Event will take place on July 13 at 1:30 p.m. EDT and focus on hotel capital markets; the Nashville Virtual Event, "Views from the Boardroom," will be held on July 16 at 3 p.m. CDT; and the final event in the series, the Dallas Virtual Event, is scheduled for July 20 at 1:30 p.m. CDT and will focus on hotel development.
The 20th annual ALIS is currently slated to take place from January 25-27, 2021, in Los Angeles, and next year's ALIS Summer Update series schedule is as follows: July 12, 2021, at TWA Hotel in New York; July 15, 2021, at Margaritaville Nashville; July 19, 2021, at Virgin Hotels Dallas; and July 22, 2021, at Fairmont Century Plaza in California.
Architectural Digest Design Show
On March 6, 2020, the Architectural Digest Design Show released a statement reporting that the March 19–22 show has been postponed to June 25–28, 2020 at Pier 94 in New York.
Boutique Hotel Investment Conference
On June 30, the Boutique Lifestyle and Leaders Association (BLLA) announced that the Art of Boutique Leadership and the Boutique Hotel Investment Conference will take place virtually as the Boutique Lifestyle Digital Summit on September 17. The virtual event will include 48 hours of on-demand content focused on leadership and investment. Confirmed speakers include Jeff Klein, founder of JK Hotel Group; Nicole Robinson, chief marketing officer or andBeyond; Omar Palacios, chief operating officer of Geolo Capital; David Rochefort, president of Graduate Hotels; Jonathan Minkoff, co-founder and CFO of ASH NYC; and Meryanne Loum-Martin, director and owner of Jnane Tamsna. An event app will facilitate private messages with attendees, a virtual trade show, competitions, and "Zoom dates." Attendees with U.S. addresses will still receive welcome bags.
Digital Signage Expo
On July 16, the Digital Signage Expo—originally slated to take place at the Las Vegas Convention Center from March 31 to April 3 and then rescheduled to September 15-18, 2020—extended the show's postponement to November 11-13, 2020, with access to the exhibit hall on November 12-13. Registration information will be retained "as is" for exhibit hall passes and conference selections.
Forward
Due to COVID-19, the American Hotel & Lodging Association (AHLA) postponed its ForWard 2020 event—originally slated to run June 24-25—to May 11-12, 2021, at the Hilton Chicago, and announced the launch of complimentary virtual events for members and their networks.
HD Expo + Conference
On March 18, HD Expo + Conference officially canceled the event, which was scheduled for May 5-7, 2020, at Mandalay Bay Las Vegas.
"This is due to recent developments regarding COVID-19 that include, but are not limited to, the declaration of a National State of Emergency by President Trump, the Nevada State of Emergency announced by Governor Steve Sisolak, the latest measures, including travel restrictions placed on foreign nationals traveling to the United States from certain EU member states and other places, the declaration by the WHO of COVID-19 as a pandemic, and the accelerating pace of confirmed cases worldwide and domestically," the conference organizers—Stacy Shoemaker Rauen, editor in chief, Hospitality Design magazine and senior vice president, Emerald, and Kevin Gaffney, group show director and vice president, Emerald—wrote in a statement.

HFTP Annual Convention and HITEC
On July 27, Hospitality Financial and Technology Professionals (HFTP) shared additional details for its virtual CYBER HITEC, which will consist of three days of live programming starting on October 27. The content will remain available for on-demand access through November 25. Registrants will have access to an education program with more than 25 sessions, and speakers will be available to participants for Q&A. CYBER HITEC will also include virtual exhibit halls and exhibit booths, wherein companies can showcase their products through multi-media tools such as video, photos, and more. Company representatives will be available for one-on-one interaction. HFTP also announced virtual sponsorship opportunities for the event platform.
On July 13, HFTP announced that October's "Best of HFTP" in-person events will pivot to the virtual CYBER HITEC, which will run October 27 through November 25, 2020. The in-person events, which included HITEC San Antonio, HFTP Annual Convention, and Club Forum, were scheduled for October 26-29, 2020 in San Antonio, Texas. In response to the continued health safety concerns and travel restrictions related to the current pandemic, the HFTP Global Board of Directors decided to switch gears and concentrate efforts on a virtual program, making this decision ahead of time to allow participants, exhibitors, stakeholders, and co-located event organizers to plan accordingly.
The HFTP Annual Convention will also be held under the CYBER HITEC banner. Attendees will have the opportunity to attend education sessions for both events.

High Point Market
On July 20, the High Point Market Authority opened online registration for the Fall 2020 High Point Market, scheduled for October 13-21, and announced the debut of a microsite to outline safety measures for the Fall Market. The revised structure is part of the #HPMKTsafe initiative to allow for social distancing and expected reduced capacity requirements within buildings and showrooms. During the registration process, domestic buyers and industry guests will select their primary attendance period based on the designated region for the home state of their company's headquarters.
The High Point Market Authority announced on May 21 plans to expand its Fall Market dates to span nine days in an effort to spread out attendance and account for expected reduced capacity requirements for showrooms and buildings.
On April 16, the High Point Market Authority announced the cancellation of the Spring 2020 High Point Market. Originally scheduled for April, the Market Authority previously announced on March 12 its plans to push the Spring Market to June.

Hotel Data Conference
The Hotel Data Conference, which had been planning a hybrid virtual and limited in-person event in Nashville on August 13, announced plans in July to shift to a fully virtual conference. The virtual event on August 13 will include six hours of programming, and a webinar series will run between June 25 through August 7 leading up to the conference.
HSMAI ROC Americas
HSMAI and its Revenue Optimization Advisory Board are developing a new interactive format to deliver the learning, networking, and best practices sharing that usually takes place face-to-face annually at ROC. This move is due to the ongoing volatility and uncertainty around live events, and the decision by HFTP to move its HITEC event, usually co-located with ROC, to a virtual format.
HTNG TechOvation Award 2020
On April 3, Hospitality Technology Next Generation (HTNG) announced that it had partnered with UgoVirtual to transform the annual TechOvation competition into an online, virtual event. Traditionally held as a live onsite presentation each year during HT-NEXT, the TechOvation Award recognizes and rewards new, innovative industry products and solutions serving the global hotel vertical market.
Hunter Hotel Investment Conference
Originally scheduled for March 18-20, 2020, organizers of the Hunter Hotel Investment Conference announced on April 9 the decision to cancel this year's conference. Organizers initially announced that the conference was postponed on March 12. The next Hunter Hotel Investment Conference is slated to take place from March 9-11, 2021.

HX: The Hotel Experience
On July 22, HX: The Hotel Experience Powered by AAHOA, the longest-running trade show and conference for hospitality professionals, announced that this year's show, which was scheduled for November 8-9, 2020 at the Jacob K. Javits Convention Center in New York, has been officially canceled. The next HX: The Hotel Experience Powered by AAHOA is scheduled for November 14-15, 2021 in New York City.
"We are disappointed that we are unable to bring everyone together this fall," said Kevin Gaffney, HX group show director and Emerald vice president. "But we believe this was the right decision to make for the health and wellness of the hospitality community. We appreciate the loyal support of the exhibitors, attendees, and our partners."
"The COVID-19 pandemic has greatly impacted the hotel industry, but we know we will rebound together and continue to thrive," added Cecil P. Staton, AAHOA president and CEO. "We cannot thank the community enough for its support. We look forward to 2021."
"Our partnership with Emerald for HX is one of our most important relationships and events of the year," added Biran Patel, AAHOA chairman. "While we are disappointed not to gather in 2020, we look forward to the road to recovery, which runs through HX: The Hotel Experience Powered by AAHOA in 2021."
IMN Distressed Hotel Virtual Forum
On July 15, IMN announced the launch of its Distressed Hotel Virtual Forum on September 15, 2020. The virtual event will include multiple panel sessions, exhibits, networking/online chatting, and meeting rooms. Preliminary panel topics include hotel conversions, renovations, and redevelopment; financing distressed acquisitions; hotel valuation in a distressed cycle; a private equity roundtable; a developers roundtable; legal considerations for distress hotel acquisitions and loan workouts; and more.
INDIE Confab: Philadelphia / INDIE Cultivate
The Independent Lodging Congress announced on May 4 that it canceled INDIE Confab: Philadelphia, which had been scheduled for June 22-23, as well as INDIE Cultivate in July.
IPW 2020 and 2021
On April 23, the U.S. Travel Association announced that its annual trade show, IPW, will next be held in Las Vegas from May 10-14, 2021. The previously scheduled 2021 host city, Chicago, will assume the host mantle in 2025. Other future host sites—Orlando in 2022, San Antonio in 2023, and Los Angeles in 2024—remain unchanged.
In a press release on April 15, the U.S. Travel Association issued a statement from its President and CEO Roger Dow announcing the cancellation of IPW 2020, scheduled to convene in Las Vegas on May 30. "When this health crisis is behind us, IPW will clearly be more vital than ever as a catalyst for activating inbound travel and re-growing commerce, exports, and jobs. As always, our top priority is to provide value to our partners, exhibitors, buyers and attending media. The standard for next year will be nothing less than putting on the event that our stakeholders will remember as a key turning point in the process of rebuilding the international inbound travel economy," Dow said.
Meet the Money
Originally scheduled to take place May 4-6, 2020, Meet the Money 2020 has been canceled.
New York Boutique Hotel Investment Conference
The New York Boutique Hotel Investment Conference is also among the conferences rescheduled as a result of coronavirus. On Thursday, March 12, 2020, the Boutique Lifestyle Leaders Association (BLLA) announced its decision to reschedule its annual New York Boutique Hotel Investment Conference from June 3 to November 10, 2020.
NYU International Hospitality Industry Investment Conference
On April 14, the executive planning committee of the annual NYU International Hospitality Industry Investment Conference, which is hosted by the NYU School of Professional Studies Jonathan M. Tisch Center of Hospitality, announced its decision to reschedule the 2020 conference from May 31-June 2 to November 11-12, 2020. The day-and-a-half event will take place at the New York Marriott Marquis.
In addition to the onsite event in November, the planning committee held a virtual version of the conference's "CEOs Check In" panel on June 2 at 2 p.m., which was moderated by Jonathan M. Tisch, chairman and CEO of Loews Hotels & Co. and co-chairman of the Board of Loews Corporation, and included panelists David Kong, president and CEO, BWH Hotel Group; Keith Barr, CEO, InterContinental Hotels Group (IHG); Christopher J. Nassetta, president and CEO, Hilton; Arne M. Sorenson, president and CEO, Marriott International.
Southern Lodging Summit
Officials of the Southern Lodging Summit, an annual hotel conference focusing on development and operations throughout the southern United States, announced on July 31 plans to postpone this year's physical gathering due to the ongoing coronavirus pandemic. Instead, the organization will host a "virtual update." Two of the conference's most popular panels, "Visionary Viewpoints—Crisis Leadership" and "What Do the Numbers Show—A Six-Month Check-Up: Where We've Been & Where We're Headed," will be pre-recorded and shared with all previous attendees and interested parties. The conference will maintain its annual online auction that is scheduled to run from August 10-28, 2020.
Virtuoso Travel Week
Global luxury travel network Virtuoso announced on July 17 that Virtuoso Travel Week—a by-invitation-only event open only to travel agencies and preferred partners within the Virtuoso network—will be held virtually this year from August 10-13. Participants will be able to hold private, 10-minute appointments that flow in succession in virtual breakout rooms. Preferred partners who attend will be able to make upwards of 106 individual appointments. In addition, Virtuoso has organized a line-up of educational sessions hosted by outside speakers aimed at helping navigate and manage for a new future. In addition to 50 destination-focused trainings, the week will include 20 professional development classes. Virtuoso's sustainability summit, "Under One Sky," will also return for a second year, with new sponsorships from andBeyond and the Monaco Government Tourist Office.
Wyndham 2021 Global Conference
On May 26, Wyndham announced plans to postpone its 2021 Global Conference to help relieve franchisees of event-related fees.
---
Subscribe to Lodging Daily News for updates.