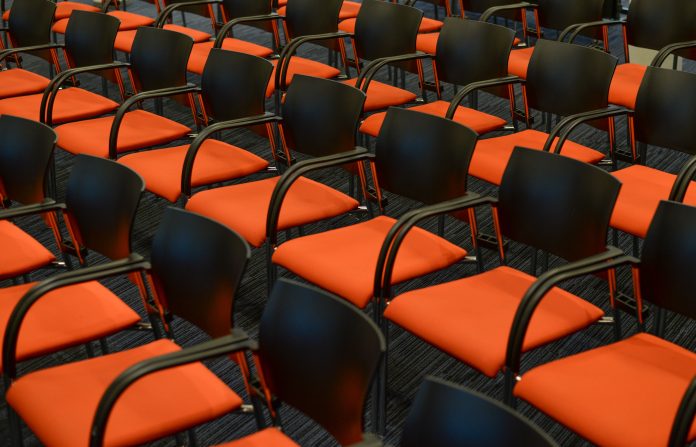 In light of the COVID-19 outbreak and recommendations from public health officials, several industry conferences have announced cancellations or rescheduled dates. The list below is up-to-date as of March 25, 2020.
HD Expo + Conference
On March 18, HD Expo + Conference officially canceled the event, which was scheduled for May 5-7, 2020, at Mandalay Bay Las Vegas.
"This is due to recent developments regarding COVID-19 that include, but are not limited to, the declaration of a National State of Emergency by President Trump, the Nevada State of Emergency announced by Governor Steve Sisolak, the latest measures, including travel restrictions placed on foreign nationals traveling to the United States from certain EU member states and other places, the declaration by the WHO of COVID-19 as a pandemic, and the accelerating pace of confirmed cases worldwide and domestically," the conference organizers—Stacy Shoemaker Rauen, editor in chief, Hospitality Design magazine and senior vice president, Emerald, and Kevin Gaffney, group show director and vice president, Emerald—wrote in a statement.
Hospitality Industry Technology Exposition and Conference (HITEC)
On March 18, Hospitality Financial and Technology Professionals (HFTP) announced that the North American Hospitality Industry Technology Exposition and Conference (HITEC), an annual event held each June, has been rescheduled to October 26-29, 2020. The conference, which will remain in the same location at the Henry B. Gonzalez Convention Center in San Antonio, Texas, will still include a four-day education program planned and presented by industry experts and an exhibit hall hosting over 375 companies.
"The hospitality technology community depends on HITEC to meet, share ideas, and gain knowledge on the latest industry developments," said HFTP CEO Frank Wolfe, CAE, FIH. "HFTP feels it would be a disservice to the industry to outright cancel HITEC in 2020, this type of interactivity is crucial for our stakeholders to build back business. Thus we have committed to still produce HITEC this year with a shift in timing. Hospitality professionals will be able to discuss how best to use technology to accommodate efficiencies, while exhibitors will be able to work with their customers to meet these strategies."
HSMAI ROC Americas
In addition to HITEC San Antonio, the co-located HSMAI ROC Americas has been moved to October 26-27, 2020. HSMAI ROC will have its main program at the Convention Center in San Antonio on Monday, October 26, with Tuesday, October 27, including HSMAI Chief Revenue Officer roundtables, CRME and CHDM review courses, and Partner Insights sessions.
Hunter Hotel Investment Conference
Originally scheduled for March 18-20, 2020, organizers of the Hunter Hotel Investment Conference decided to postpone/reschedule, making the announcement on Thursday, March 12, 2020.
AAHOA 2020 Convention & Trade Show
On Monday, March 9, 2020, Florida Governor Ron DeSantis declared a state of emergency in response to COVID-19, calling on the state's cities and counties to postpone or cancel mass gatherings, including conferences. In response, the 2020 AAHOA Convention & Trade Show, which was slated to take place from April 13-16, has been rescheduled to August 9-12, 2020, according to an announcement from AAHOA on Thursday, March 12, 2020. The conference will still take place at the Orange County Convention Center in Orlando, Fla.
"The travel and tourism industry is facing uncertain times as the public's perception of the risks posed by COVID-19 become the reality for America's hoteliers," said Cecil P. Staton, AAHOA president and CEO, in a message regarding the conference. "AAHOA Members are reporting that occupancy, RevPAR, and ADR are in distress. Hoteliers and our partners need this time to tend to their businesses as the travel and tourism industry adjusts to this new reality."
New York Boutique Hotel Investment Conference
The New York Boutique Hotel Investment Conference is also among the conferences rescheduled as a result of coronavirus. On Thursday, March 12, 2020, the Boutique Lifestyle Leaders Association (BLLA) announced its decision to reschedule its annual New York Boutique Hotel Investment Conference from June 3 to November 10, 2020.
INDIE Confab: Philadelphia
The Independent Lodging Congress has postponed INDIE Confab: Philadelphia to June 22-23.
High Point Market
On March 12, 2020, the High Point Market Authority decided to postpone its Spring Market, scheduled for April 25-29. On March 18, High Point announced new dates for its Spring Market 2020: June 12-14. This condensed Market will run for three days instead of the typical five and will be held Friday through Sunday instead of the typical Saturday through Wednesday schedule. It will likely include minimal programming, keeping the focus on appointments and sales meetings within the showrooms.
Architectural Digest Design Show
On March 6, 2020, the Architectural Digest Design Show released a statement reporting that the March 19–22 show has been postponed to June 25–28, 2020 at Pier 94 in New York.
Digital Signage Expo
The Digital Signage Expo, slated to take place at the Las Vegas Convention Center from March 31 to April 3, has been rescheduled to be held at the Las Vegas Convention Center South Hall Three on September 15-18, with access to the show floor Wednesday and Thursday, September 16-17.
International Shows
In Europe, several conferences have been moved or canceled; HITEC Europe has been postponed, ITB Berlin was canceled, and the International Hospitality Investment Forum (IHIF) was rescheduled.
---
Subscribe to Lodging Daily News for updates.