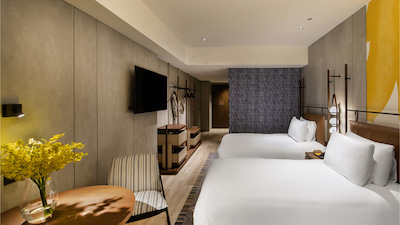 Launched in 2018, IHG Hotels & Resorts' voco hotels has 46 open properties and 55 in its pipeline within 18 countries including Japan, Kenya, Spain, and India. As the brand continues to be a driver of IHG's growth strategy in the conversion space, voco hotels' expansion reflects the IHG enterprise platform.
With a design and operational framework conducive to conversion, the brand allows owners to carry through their own vision for each property with connections to the surrounding community. Three-quarters of voco signings are conversions and the brand requires a lower capital outlay and has a brand identity for its conversion process.
voco hotels was built on sustainability and looks after the planet. The hotels have 100 percent recycled pillow and duvet fillings and refillable, plant-based bathroom amenities. They also support local sustainability initiatives at individual hotels such as estate-grown vegetables at Australia's voco Kirkton Park Hunter Valley or the Hotels for Trees program at voco The Hague, where a tree is planted for every night a guest chooses not to have their room cleaned.
Commenting on the voco 100 milestone, Julie Cheesman, head of voco hotels at IHG Hotels & Resorts, said, "The voco brand has grown at a phenomenal pace over the last five years and is an integral part of IHG's growing family of 18 brands comprising over 6,000 global hotels, and supported by the industry-leading IHG One Rewards loyalty program."
Cheesman continued, "voco is popular with hotel owners around the world as they can get fast access to our enterprise platform and benefit from the brand's high levels of guest satisfaction globally. As the global expansion of voco continues, we are excited to remain on track to grow to 200 voco hotels around the world within 10 years since launch."
Last year, voco expanded into new markets including Southeast Asia with voco Orchard Singapore; Africa with voco Johannesburg Rosebank; and Latin America with voco Guadalajara Neruda in Mexico. Since then, the brand has continued to grow in key markets with its eighth hotel in Greater China with voco Hefei Binhu; its sixth hotel in the United States with voco Chicago Downtown; its fourth in Australasia with voco Brisbane City Centre; and its third in Dubai with voco Dubai The Palm.
voco openings in 2023 will include:
voco Lyth Hill Hotel and Spa
voco Oska Centra
voco Ma Belle Danang
voco Fiorello – La Gaurdia East
voco Paris Porte De Clichy