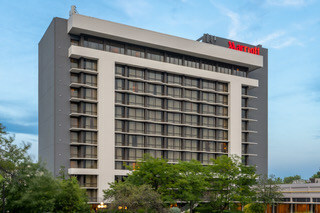 SADDLE BROOK, New Jersey—Hodges Ward Elliott arranged the sale of the Marriott Saddle Brook, a 241-key asset located in the township of Saddle Brook, New Jersey. The property is 20 miles from Manhattan.
An HWE team comprised of B.J. Patel, managing director; Jay Morrow, managing director; and Coby Campbell, vice president, brokered the sale of the property on behalf of the seller.
The asset opened its doors in 1967 as the Marriott Motor Hotel and was the second Marriott hotel ever built. The HWE team ran an auction process in tandem with the Ten-X platform for this investment with a Marriott flag, which resulted in multiple offers.
"HWE, in partnership with TenX, ran a very efficient and successful auction process despite a number of hurdles related to the macro-environment," says Patel. "We will continue to represent our clients well in finding solutions across all segments in a nimble, efficient, and creative way. This is a prime example of such execution."
The new owner plans to upgrade the full-service hotel, which is nearby several attractions including MetLife Stadium, Fairleigh Dickinson University, and Great Falls Park, as well as its proximity to New York City. The Marriott Saddle Brook also offers over 8,000 square feet of meeting space.