As someone who has been in the travel business for the better part of two decades, Cree Lawson is always curious during his own trips. He tells LODGING a story of a vacation in Alabama during which he asked a man at the front-desk at a small hotel where their guests come from. The man began listing the percentages of guests who came from certain states. Impressed by the information, Lawson asked where the hotel sourced its data. The man said, "I just go out in the parking lot and write down all the license plates."
Lawson, the founder and CEO of travel location data company Arrivalist, explains that just as that small Alabama hotel used an astute observation to learn about their guests, Arrivalist observes the movement of people through the proxy of their mobile computing devices (i.e., their smartphones, laptops, and tablets). Unlike data services that measure particular campaigns or time periods using survey data or analytics, Arrivalist is always on and always measuring. "This data set gives us a new perspective on travel," Lawson says. "A user in the iconic Vegas Strip may have stayed at Caesars Palace, but also visited the Luxor, Criss Angel Mindfreak, and New York-New York. We call it panoptic because we're getting different perspectives on visitation than you can't get from other sources."
Indeed, today's hotels are tapping into a number of sources for insights into guest behavior—from benchmarking reports to the hotel's own booking and CRM data. Lawson says Arrivalist provides a panoptic view of a guests' journey because the data on a guest's trip is not limited to the length of that guest's stay at the hotel or where the guest chooses to go outside a resort's walls. The company's live-reporting product unveils the customer's physical journey within the market.
The data can also provide insights into a user's digital path. With the growing number of devices used today by a single consumer, it's easy to lose track of a user when they are planning and booking travel. "We can tie all the devices that a user owns together so that if they saw a video on one device, clicked an ad on another device, went to the website on a third device, and then they just walked in the door, we can track that user's device data," Lawson explains. "People can book a million different ways or see an ad on one device and book on another device. But there's one common thread for success and that is who walks in the door. And 90 percent of the time, they're carrying their mobile phone with them."
Of course, that 90 percent of smartphone carriers may be skewed towards younger or more digitally savvy individuals. "What we do is we strike a balance between a big volume of the population and representativeness of the sample and we come out anywhere between 2 and 10 percent of the total population. Given the fact that we see 120,000,000 different devices move around the country, it's almost always enough critical mass to measure and to get the insights our clients need," Lawson explains.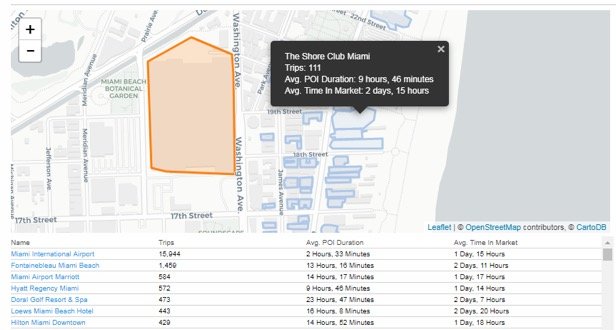 The company has clients in more than 40 states and 130 markets throughout the United States. These clients are using Arrivalists' data to better understand the behaviors of the guests visiting their markets and properties, some of which have integrated Arrivalist with their CRM system. Lawson says that the company is dedicated to remaining impartial and will not ever get into the business of targeting individuals guests with ads or offers. "We made a decision really early on to just provide measurement services," Lawson explains. "We do not target media, because we want to be trustworthy when you try to decide which media is working."
Through all this research, Lawson and his team have found some interesting insights about how guests choose and frequent hotels. One example is how road-warriors choose a roadside hotel. "We've worked with TripAdvisor for a long time. We know that for roadside hotels, they might read up reviews on the different hotels in the area, but then 9 times out of 10 for your traveling businessman, it's where you get sleepy is where you stay," Lawsons said. "What Arrivalists shows is the full picture. If somebody saw your ad and booked the way most hoteliers want them to book—through their website—we can see that. But we can also see the people who saw your ad or went to your website and just walked through the door."
Asked about how this kind of technology could shape the future of travel, Lawson says that his vision is a future where marketers—whether cities or hotels—are more informed and able to provide better visitor experiences. "Before, you were reliant on somebody's subjective opinion about what you ought to go see or do," Lawson explains. "Now, with Arrivalist, the data tells that story. The data can say, where do people go and where should people go?" For hotels, insights into the most popular nearby attractions could lead to smart marketing tactics like bundling experiences with room packages.
"The more you know about your consumers and their behavior patterns—not from past-tense surveys and things like that, but actually from behavioral data like that guy in the parking lot who was reading license plates—the more informed you are as a marketer," Lawson says. "The better experience you can provide to the consumer, the more likely that consumer is to come back and visit you again in the future."
---
Like this story? Subscribe for more.