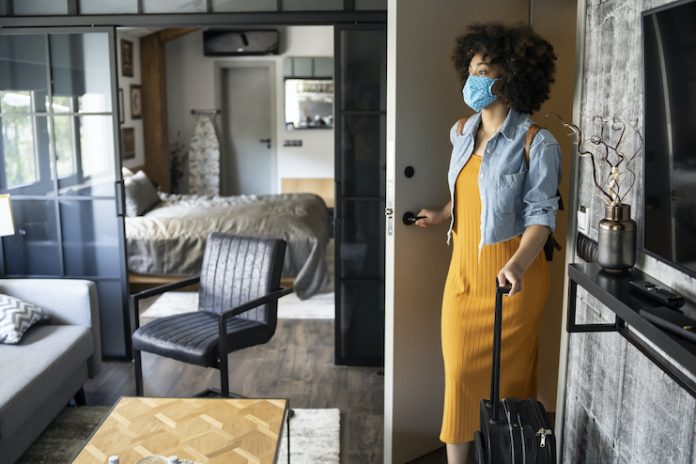 Although the hotel industry is notoriously slow to adopt new technology, that hasn't stopped engineers, developers, and other experts from working on solutions that make hotel operations better and more efficient. Now, though, with the spread of COVID-19, there is great demand for technology that helps hotels meet consumer safety expectations. In the hospitality sector, technology has risen to the occasion, with both long- and short-term technology solutions that improve operational efficiency, employee retention, and consumer satisfaction. Chris Leclerc, general manager for INNCOM by Honeywell, and Ryan Gardner, healthy buildings offering manager for Honeywell, shared with LODGING a few tidbits about how hotels are using technology to stay healthy both now and in the future.
1
Benefits go beyond COVID-19 protection.
Having a healthy hotel means more than avoiding COVID-19. Leclerc says that multiple issues can be "mitigated by improving the overall air quality, including mold, mildew, viruses, bacteria, allergens, carcinogens, standard dust, and wildfire smoke." Alleviating these health hazards helps keep everyone in the hotel safe and healthy in the long-term. And spending upfront on improving air quality can have other positive effects as well. Gardner notes that improving indoor air quality bolsters operational efficiency at hotels because employees take fewer sick days when they are exposed to fewer unhealthy particles and pathogens.
2
New technologies will stick post-pandemic.
Both Leclerc and Gardner agree that consumers will have higher expectations regarding safety precautions and will take safety into consideration before booking a hotel stay once the pandemic has ended. The same goes for staff, who will seek out employment at properties that take health risks seriously. Because of heightened expectations around safety, Leclerc says that there is "essentially no downside to installing technology that enhances well-being and comfort for guests and employees."
For example, many HVAC systems have been upgraded to reduce the spread of pathogens in hotels. Gardner notes that he believes air filtration systems will also see significant upgrades in the months and years to come. "People will not forget this pandemic. It's going to affect consumer behavior for years, and advanced technology that reduces risk will continue to be in high demand."
3
There's always more in the pipeline.
Despite—or, in some cases, because of—the pandemic, there are always people out there trying to solve on-property problems with emerging technology. Leclerc says that there are some technologies with promise—like UVC technology—that he anticipates will break into the hotel market in the near future. Also, hotels have already been implementing futuristic air filtration systems like bipolar ionization to stop the spread of airborne pathogens. The new technologies will also provide hoteliers with a range of options. Gauging the effectiveness of both new and old technologies will be important for hoteliers looking to create a healthy hotel.
---
Keep up with the industry: Sign up for Lodging Daily News!